NORTH LAWNDALE — Over the past few years, Douglas Park has become one of the city's biggest destinations for summer music festivals. With the addition of the Lyrical Lemonade Summer Smash this summer and Lagunitas Beer Circus planned, the park now hosts a series of major music festivals, including Riot Fest and the locally grown West Side Music Festival.
But wherever there are big crowds, loud music and millions of dollars at stake, controversy is sure to follow. There's a fine line between the summer festivals being an opportunity to celebrate the West Side and being a burden for the neighborhood that hosts them.
Case in point is Riot Fest, which was hosted in Humboldt Park for years until it was booted out under a coordinated effort by disgruntled neighbors and Ald. Roberto Maldonado (26th). The punk rock festival relocated to Douglas Park in 2015 after complaints that the event caused $182,000 damages to Humboldt Park, with the repair bill footed by concert organizers. Since moving to Douglas Park, Riot Fest has still run into hefty bills for park maintenance, with repairs reaching as high as $180,000.
Ernie Alvarez, a resident who lives near Douglas Park, isn't a fan of the damage Riot Fest causes to the park.
"I'm upset at all these for-profit festivals being allowed to fence-up and keep us from using our public park while they use and damage it," Alvarez said.
On the other hand, the concerts can present opportunities for people in the area to benefit. Riot Fest partners with community groups like A Safe Haven Foundation and the Chicago Coalition for the Homeless to help fundraise for the charities. They also sponsor several park beautification days across the summer, awarding free tickets to volunteers who participate.
Riot Fest, planned for Sept. 13-15, also offers free tickets to neighbors living near the park, and hosts community job fairs for West Siders interested in working temporary jobs at the fest. The next job fair is happening Aug. 17.
"We're trying to hire as many people from the neighborhood to help work the festival and tickets and all the myriad tasks that have to be done a big outdoor festival," said Heather West, Riot Fest's publicist.
Sheila McNairy lives across the street from Douglas Park, and said she sees some of the benefits the music fests have brought to the area, despite the noise.
"Initially we were thinking this was not going to be a good idea," she said.
But her concern softened when she learned that local street vendors would be allowed to register to sell their goods on Ogden Avenue just outside the fest grounds. On top of that, Riot Fest organizers did a pretty good job of controlling the noise after 10 p.m. and cleaned up park damage fairly quickly last year, McNairy said.
Other neighbors around the park formed a group called Concerned Citizens of Riot Fest in Douglas Park to resist what they see as the fests' unfair footprint on their neighborhood.
Edith Tovar, who lives near the south end of the park and is a member of the organization, said the crowds attending Lyrical Lemonade last month created a nightmare of congested streets, misdirected pedestrians and impossible-to-find parking.
"You just had a lot of confusion. … Some side streets were closed off because the people organizing the concert needed access to those streets," Tovar said.
Despite complaints, Ald. Michael Scott Jr. (24th) said the Lyrical Lemonade festival, staged June 29-30 and featuring headlining rappers Playboi Carti and Gucci Mane, went smoothly compared to others he has seen. The major complaints he fielded from residents were related to noise and traffic, he said.
"There are always hiccups. Not as many because we've been in the festival business for the last four years so we're pretty good at mitigating issues," said Scott, a former Park District official who lives near the park. "But there are always some that arise but we try to take care of them when they do arise."
Tovar said festivals can do a better job of getting neighbors excited about attending these festivals, or just spreading the word about opportunities and free tickets for locals.
"I don't know any of my neighbors that do attend," Tovar said. "We've actually had the opposite where residents try to stay away for certain hours, especially during Riot Fest … so that they're not stuck at home with high traffic or with the loud music."
The West Side Music Festival, which was founded by Scott before he became alderman in 2012, is in many ways designed to avoid the issues that neighbors have come to fear with other events. At Lyrical Lemonade or Riot Fest, concertgoers would expect to drop more than $100 on tickets. But the West Side fest, set for Aug. 17 this year and featuring headliner Faith Evans, is entirely free, allowing all nearby residents to be a part of the concerts taking place in their own backyard.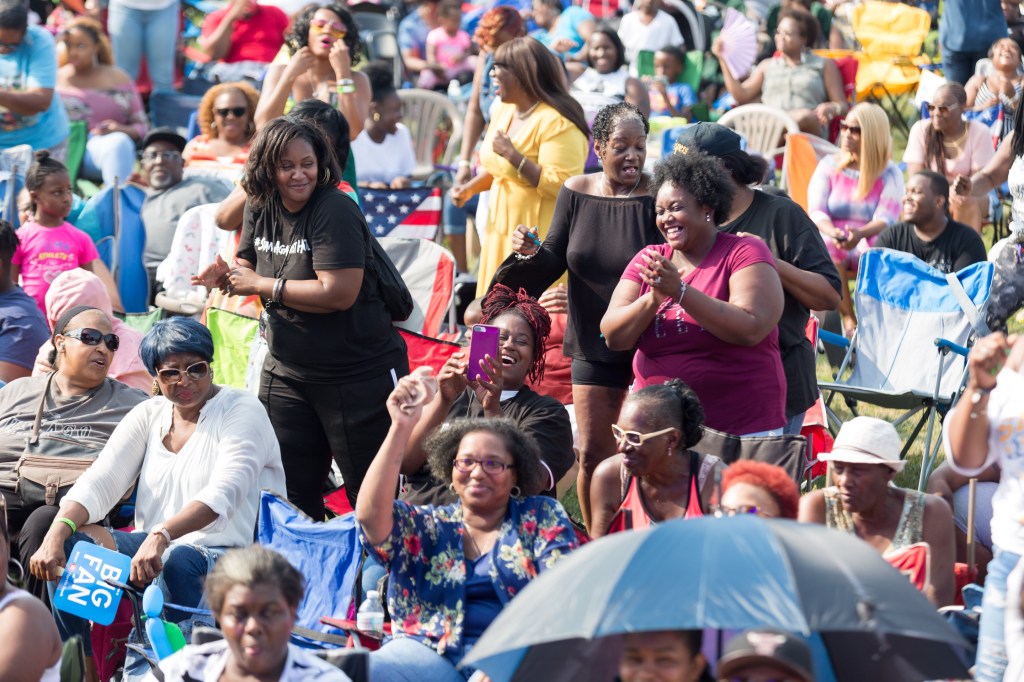 According to the alderman's wife, Natashee Scott, who now chairs the West Side Cultural Foundation that sponsors the fest, engaging the community makes all the difference.
"The community typically can't afford to go to a Lollapalooza and pay $100," Natashee Scott said. "And we shouldn't have to leave our communities for arts and culture."
Tovar agrees that the one-day West Side Music Festival doesn't typically cause the same problems as the bigger, weekend-long events at the park.
"It's more for residents and park users to get to know each other, to have a really great time," she said.
Because the festival is designed specifically for West Siders, Tovar said neighbors are a lot more lenient when it comes to the crowds, the noise and the traffic. They are also more likely to keep the park clean, she said.
"Because it is a free show, the majority of people that are there, they're grateful to have been there, they don't want to cause any problems," she said.
A large-scale Chicago music festival is bound to be hit with heavy rain every so often, which exacerbates damage to parks. But Natashee Scott said that by planning for rain, they can protect the park and dismantle the stage by the next day.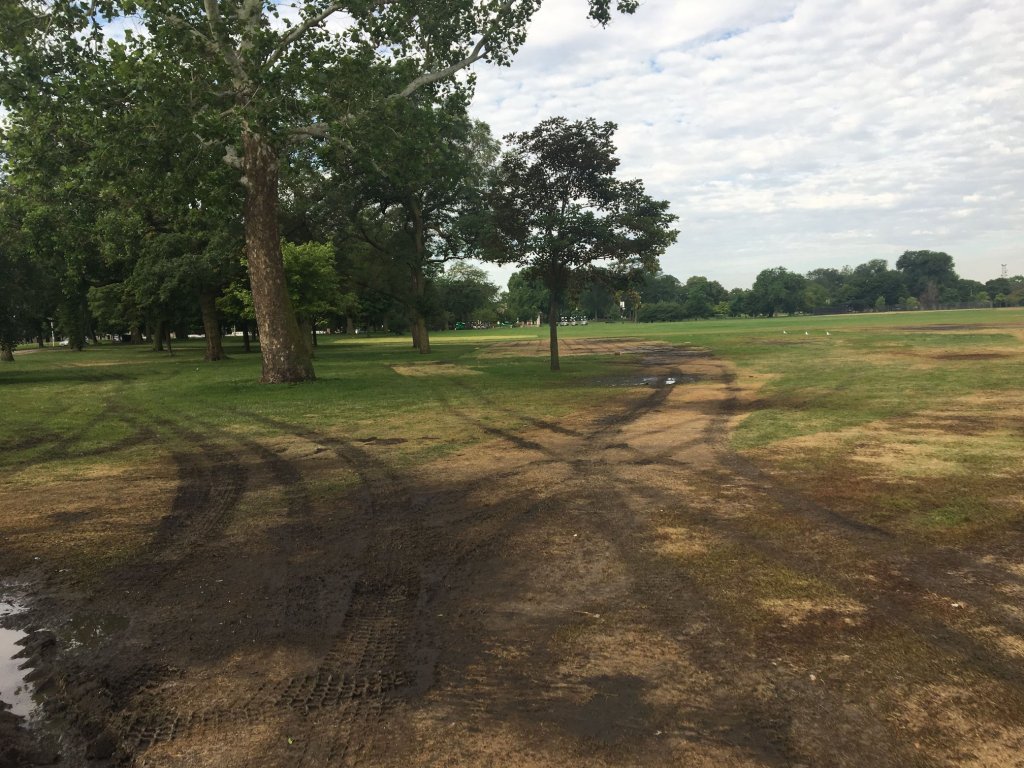 "We try our very best to make sure that the condition of the park is preserved. So we get plywood and put them out so that anything that needs to be driven out of the park, they drive on top of the plywood," she said. "We always assume there's going to be rain to avoid messing up the park."
The Lagunitas Beer Circus, previously staged at the nearby Lagunitas Brewing campus, also plans to stage their one-day fest in Douglas Park Aug. 24.
While neighbors might find parking and crowds irritating, some businesses appreciated the foot traffic.
After the Riot Fest 2017, Guerrero's Pizza owner Martin Guerrero said he had to hire extra workers for the weekend to keep up with the crowds at his pizza place at 2024 S. California Ave.
"For me, it's excellent," Guerrero said at the time. "If they did this two or three times a year, that would be perfect."
With a series of major summer festivals now planned in Douglas Park each summer, Ald. Scott said he likely won't support bringing more music fests to the park. But despite the difficulties, it's worth it to develop the West Side as a destination for the city, he said.
He called the festival circuit "a necessary evil" to bring new people into the neighborhood.
"You want to be able to showcase your community and have people drawn to the community and expose some of the great things that happen," he said. "Being a food desert and not having restaurants, we need to bring people over here."
For the West Side Music Festival lineup, click here. To learn more about free Riot Fest tickets for West Siders, click here.
Pascal Sabino is a Report for America corps member covering Austin, North Lawndale and Garfield Park for Block Club Chicago.
Do stories like this matter to you? Subscribe to Block Club Chicago. Every dime we make funds reporting from Chicago's neighborhoods.