GARFIELD PARK — A small, mostly indoor farm in East Garfield Park is planning to expand into one of the largest urban agriculture operations in Chicago.
Herban Produce, a nonprofit focused on growing leafy green veggies, is set to increase its capacity several times over after buying up several of the lots surrounding its location at 2900 W. Van Buren St.
Most of the farm's vegetables currently grow inside Herban Produce's 4,100-square-foot greenhouse. Its facilities allow the farm to produce about 1,000 units of leafy green veggies each week. That comes to over 50,000 heads of endive, romaine, Bibb and butterhead lettuce a year springing out of one of Chicago's most devastating food deserts.
The farm recently bought 11 vacant lots surrounding the greenhouse to make room for expanding their farm area tenfold.
But the nonprofit had been delayed in using its newly acquired land because the parcels weren't contiguous. The vacant lots were separated by plots of city-owned land, which farm founder Barry Howard said made it cost-prohibitive to scale up production.
They overcame that hurdle in June when the city agreed to sell to them the four lots separating Herban Produce's other properties. The properties were appraised at $250,000, but the city offered them to Herban Produce for $1.
The farm plans to build about a half an acre of raised beds to expand its outdoor growing area, as well as a large hoop house for indoor growing and an area to grow fruit trees. Herban Produce received a $150,000 grant from the Neighborhood Opportunity Fund to finance the new growing areas, as well as a new community event space.
Chief Veggie Officer Alicia Nesbary-Moore said the event space will fill a need in the neighborhood for people to come together.
"There isn't really an event space in this neighborhood or anywhere near to it that is affordable for people," said Nesbary-Moore. "So that's what we're looking to do to, just make it affordable and open to anyone who wants it."
Howard also plans to add a vertical growing system utilizing A-frame planters with an integrated irrigation line, technologies that will allow them to grow several times more produce per square foot than using traditional farming techniques.
The greenhouse currently uses four hydroponic growing systems that use about 90 percent less water than traditional farming techniques, aligning with Herban Produce's vision to be a technology-powered farm.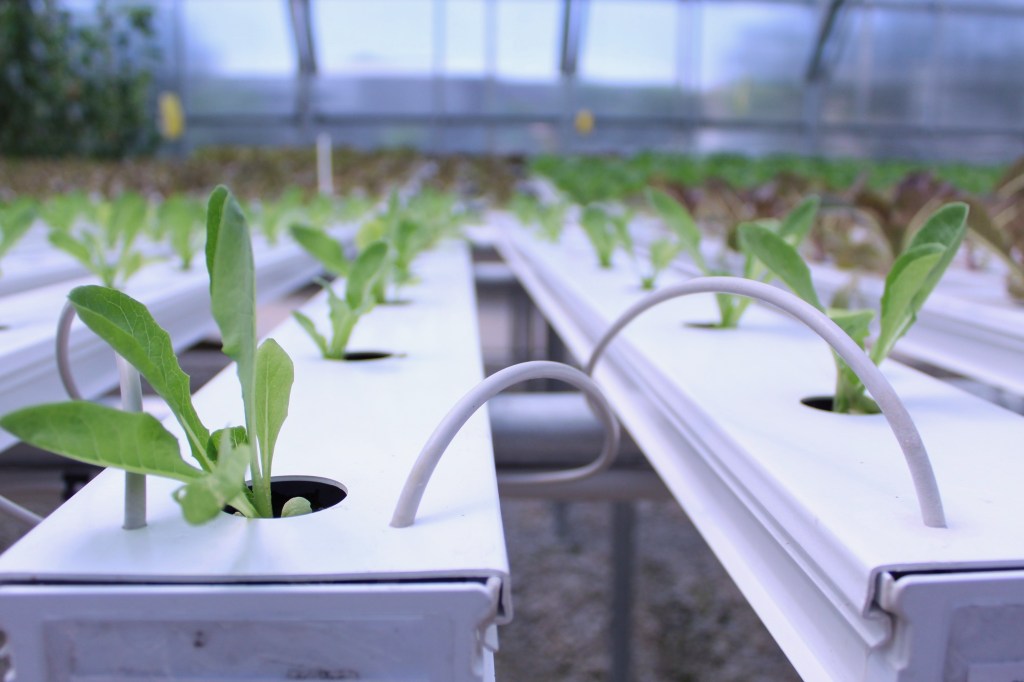 The produce is sold to eight restaurants and three businesses, as well as given to local food pantries including the Marillac House Food Pantry and One for One Chicago.
"They didn't really have a fresh food option before we came along. So now the people in the community get to eat the same lettuce that is in these Michelin-starred restaurants," Nesbary-Moore said.
Howard said his veggies are packed with more nutrients than most others on the market in Chicago because they go from farm to table in less than 24 hours. That prevents those precious vitamins and minerals from degrading while being shipped from California or Mexico where many green leafy vegetables are grown.
And by using innovative growing techniques, Herban Produce is able to bring Chicago high-quality veggies that Howard said wouldn't be economically viable to grow otherwise.
"We focus on really hard to grow, super fresh high quality produce that is specialty. …Hard to transport, hard to find, hard to grow stuff."
Pascal Sabino is a Report for America corps member covering Austin, North Lawndale and Garfield Park for Block Club Chicago.
Do stories like this matter to you? Subscribe to Block Club Chicago. Every dime we make funds reporting from Chicago's neighborhoods.