AUSTIN — A small, injured dog was found in the alleyway behind the production facility of Upton's Naturals, 1826 N. Lorel Ave. Now the team at the vegan meat alternative company is trying to find the dog's owners and raise money to cover her veterinary bills.
A veterinarian said the dog, affectionately named Flapjack by the team at Upton's, has been suffering from a broken jaw for some time. But Flapjack isn't yet healthy enough to have her jaw fixed.
"She just needs a little bit of time to recover from the malnourishment, and so they expect that she should be able to have the surgery in four to six weeks," said Nicole Sopko, vice president of Upton's Naturals who took Flapjack to see a vet.
To raise money for the surgery, a GoFundMe called "Fix Flapjack's Fluffy Face" was started to raise $5,000 to pay for her recovery. Excess funds would be donated to animal rescue group One Tail at a Time, "so they can help even more dogs like Flapjack," according to the fundraiser page.
Sopko said the dog was found by the company's production manager Tony Slater by a stroke of fate. The road leading to the normal entrance to the building had been closed, so Slater had to take a detour down an alley where he saw what appeared to be a Yorkshire Terrier living under an abandoned van.
Slater and his wife took the dog in and gave her some much-needed grooming while trying to find Flapjack's family. But if there is no owner to be found, Sopko thinks that somebody in the company would be able to give Flapjack a home.
"I hope that if we don't find someone else that she belongs to that she'll stay within the Upton's Naturals family, that somebody will have a home for her."
Upton's is known for its wheat-based seitan offerings, meat alternatives that taste like the real thing, including Italian sausage, chorizo and bacon.
Flapjack is a sweet dog who isn't shy about showing affection — she's just happy to have some care and companionship after being on the streets for a while, Sopko said.
Incidentally, all the folks involved in helping Flapjack get the care and love she needs are vegan animal lovers. According to Sopko, the alleyway behind a meat substitute company with vegan values might be the luckiest place for this lost dog to have been hiding.
"We just have a lot of people with big hearts for animals and a real willingness to take on a problem and try to find a solution," Sopko said.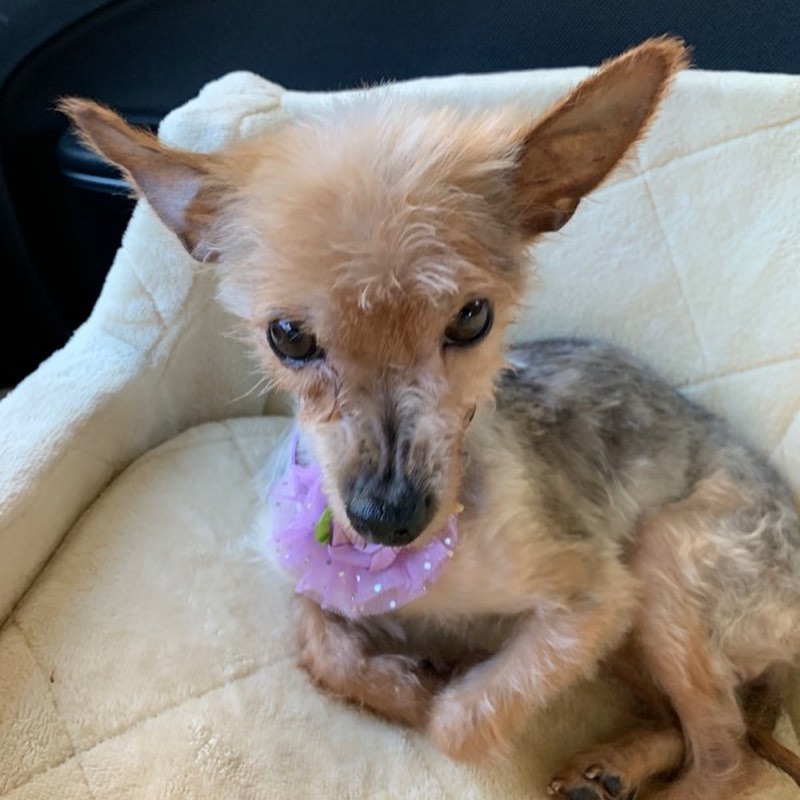 Pascal Sabino is a Report for America corps member covering Austin, North Lawndale and Garfield Park for Block Club Chicago.