CITY HALL — Mayor Lori Lightfoot called the fatal shooting of two anti-violence volunteers Friday in Auburn Gresham a "horrifying" crime.
Lightfoot, speaking during a news conference Tuesday with Police Supt. Eddie Johnson at City Hall, said there was no reason to believe the women were targeted and officers have good leads in the investigation. The shooting has gained widespread attention because two of the victims, 26-year-old Chantell Grant and 35-year-old Andrea Stoudemire, had volunteered with Mothers Against Senseless Killings.
Mothers Against Senseless Killings, also known as MASK, members have sat on the corner of 75th Street and Stewart Avenue every day during the summers since 2015 in a bid to stop shootings and protect kids in the area. They often bring out neighborhood children, playing games and hosting barbecues.
But on Friday night, Grant and Stoudemire — both mothers — were at that same corner when they were gunned down.
"Today is a sad and devastating day," Lightfoot said. "Sad and horrifying." 
The intended target was a recently paroled man who was near the women who were killed and was wounded in the shooting, Johnson said. Chicagoans cannot be "held hostage" by fear, he adds.
"We have nothing to suggest they were targeted because of their work with MASK,"Johnson said.
Lightfoot said it is "critically important" for the community to "push forward" despite Grant and Stoudemire's tragic deaths.
"If we let people who don't care about the sense of community, about civility, about the consequences of gun violence push us into the shadows and push us into our homes for fear of what will happen, we will never get a head of this tide," Lightfoot said. "The Police Department cannot fight this fight alone."
As Lightfoot held a press conference, the group's founder, Tamar Manasseh, was out on the Auburn Gresham corner where the moms were fatally shot. She said witnesses had come forward with information about the gunmen, and she was still raising money to reward people for providing information that leads to an arrest.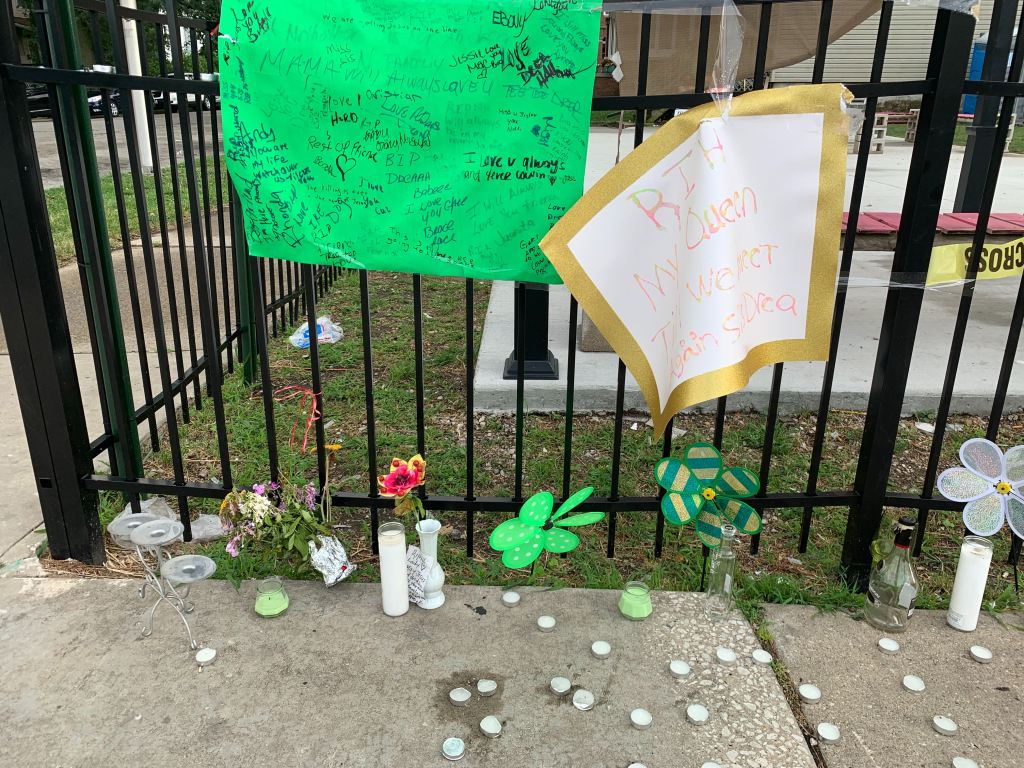 Manasseh said she's not sure if the shooting was a direct attack, but said targeting their corner was a "personal threat."
Manasseh is being urged to get a bulletproof vest and a gun permit, but she won't, she said.
"Why should I be the one walking around like I did something wrong?" asked Manasseh. "This is my home. I ain't goin' nowhere."
She does want more squad cars on the corner and working surveillance cameras.
"If this area is such a hot spot, why isn't it being monitored 24/7? Why are the cameras not working?" asked Manasseh. "Hot spots up north are monitored. Why can't we get that here?"
Manasseh has wanted a meeting with Mayor Lightfoot for months, but has only met with the mayor's new deputy of public safety, Susan Lee.
The meeting didn't go well, she said, giving Manasseh the impression that Englewood wasn't a priority. In the four days since the murders, there has been no call from City Hall, she said.
"I'm meeting with Ald. David Moore (17th) today. [Sen.] Dick Durbin tweeted, said Manasseh. "Even if I did meet with Lightfoot, what particular barn door are we closing now? Maybe if we'd met months ago, things would've been different."
Police said they believe a man in the area was the intended target and have two teams of detectives "actively working on the case."
"There's no information to suggest the two mothers, the two women, were targeted because of their advocacy work," Chicago police spokesman Anthony Guglielmi said. "They certainly were killed and that's unacceptable to us."
In a Sunday news conference, Manasseh said the shooting had crossed a major line.
"Andrea and Chantell were the second and third women to be shot out here in a month," she said. "I take that as a personal threat. When you come for one of us, you better believe they came for all of us."
If these shootings are an effort to scare the moms away, it won't work, Manasseh said.
"The murder of a woman brought us to that corner, so there's no way we're going to let the murder of another drive us away." 
Police said the shooting happened at 9:58 p.m. in the 7500 block of South Stewart Avenue: The victims were standing on the sidewalk when someone in a blue SUV drove up to them and a person in the car fired shots.
Officers went to the scene and found three victims. Two women, 26 and 35, had been shot several times in their chests and were taken to University of Chicago Medical Center, where they were pronounced dead.
The 26-year-old woman was identified as Grant, of the 7700 block of South Evans Avenue, and the 35-year-old woman was identified as Stoudemire, of the 7500 block of South Stewart Avenue, in Cook County Medical Examiner's Office records and by organizers.
A man, 58, had cuts to his arm from falling to the ground and was taken to St. Bernard Hospital in good condition. Another man, 30, was shot in his arm and he took himself to St. Bernard Hospital. His condition was not available but he was listed as "stable," police said.
No one was in custody. An investigation was ongoing.
Do stories like this matter to you? Subscribe to Block Club Chicago. Every dime we make funds reporting from Chicago's neighborhoods.