ANDERSONVILLE — In 2016, conservative radio host Rush Limbaugh went on a tirade against the Obama administration, accusing the then-president's staff of flooding rural areas with… lesbian farmers.
The bizarre rant quickly became the internet's favorite meme, and as the tweets flowed, a scrappy Iowa T-shirt company sprang into action.
"How many lesbian farmers will there be?!" T-shirt company Raygun asked its social media followers. "And why can't they move to agricultural states that are already Blue, like Wisconsin, Minnesota, Illinois, or Iowa? Is Obama making the lesbians move to Nebraska to farm?"
In no time, there was a shirt. And it was a hit. Raygun had done it again.
Now, they're taking on Chicago's neighborhoods.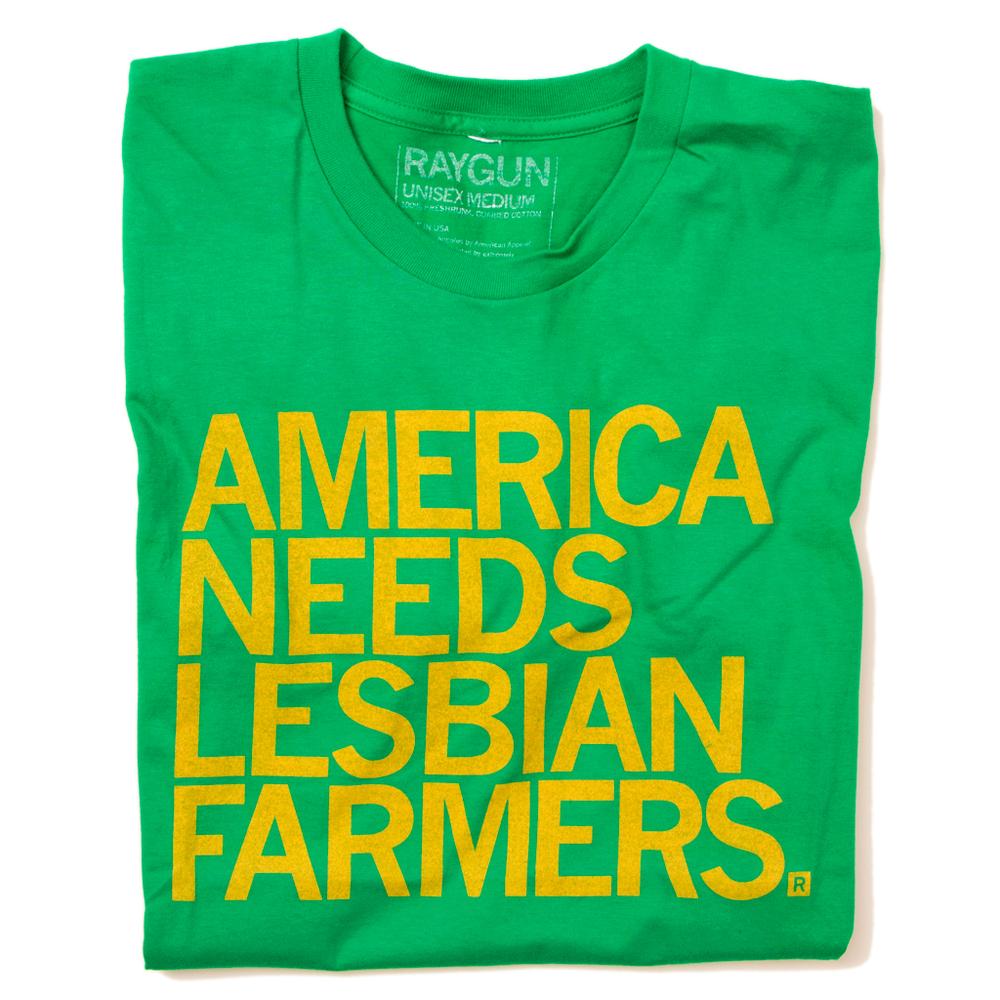 Raygun, which opened its Chicago store at 5207 N. Clark St. in Andersonville in June, was founded by Mike Draper in Des Moines, Iowa, in 2004. Draper started slinging shirts on college campuses that referenced things only locals would understand, and quickly he realized he was on to something.
Shirts that read, "Iowans: The few, the proud, the extremely attractive," were snatched up by the thousands. That local pride is what made Claire Anderson realize the shop would be a great fit in Chicago, where locals really love to wear their city on their sleeves.
"It's words on things, mostly shirts," Anderson said, adding that the goal is not to offend, but amuse and bring a sense of local pride to the wearer.
Originally from Des Moines, Anderson briefly worked for Draper in high school. More than a decade later, she called him to see if he had any plans to expand Raygun's operation into Chicago and a partnership was born.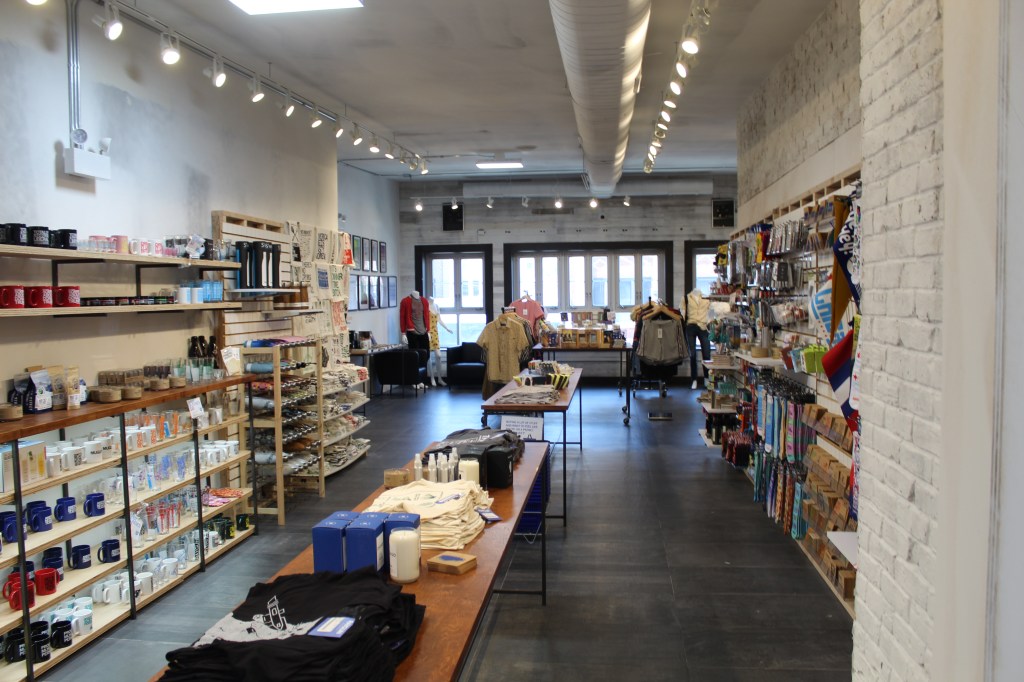 Anderson has lived in the city for over more than 10 years and felt like she had the perfect background to understand Draper's vision while also bringing a fresh Chicago take to Raygun. 
Raygun's Andersonville shop sells shirts, mugs, candles and a slew of other gift-y items with a side of sass. Already, Anderson has jumped on timely local stories and created mega-popular shirts.
When Anderson, who previously lived in Austin, Texas, noticed that the Texas chain Whataburger was acquired by a Chicago company, the staff got moving. Raygun likes to strike while the iron is hot and they pride themselves on making shirts that are timely and relevant.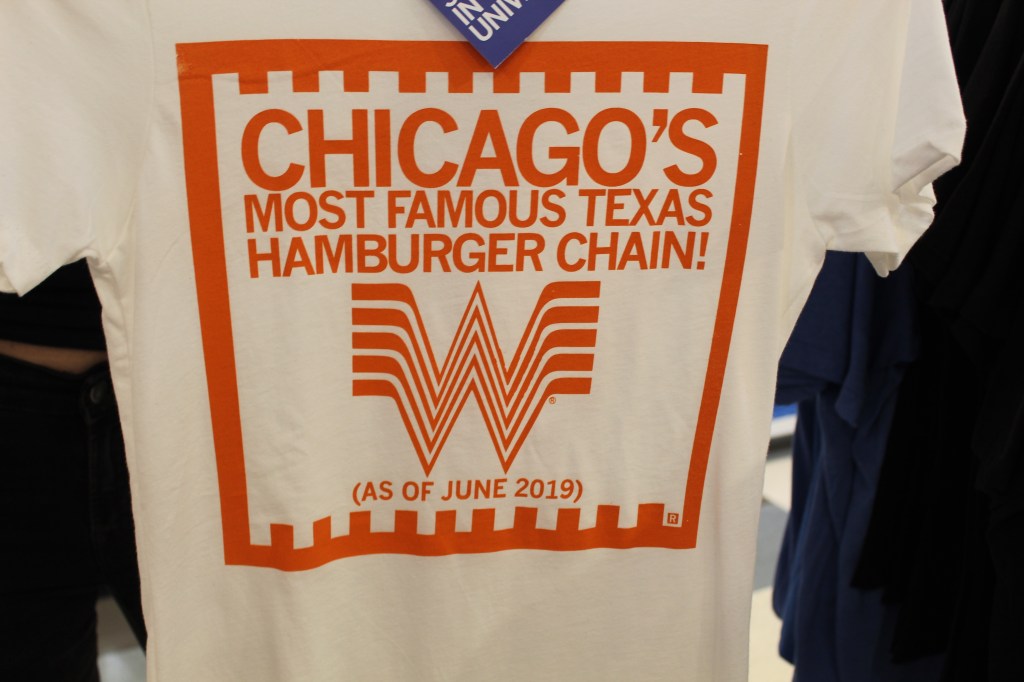 The shirt read, "Chicago's Most Famous Texas Hamburger Chain (As of June 2019)," and although Anderson knew the shirt would have reach, she never expected that nearly every Texas media outlet would cover the tees.
As angry Texas commenters filled her Facebook feed and voicemail, she decided to double down on the state, which she called "the snowflake of America," jokingly.
Shirts like "Chicago: Remember The Alamo," "All My Exes Live In Chicago," and "Chicago: In Charge Of Texas Since June 2019" all followed the original shirt.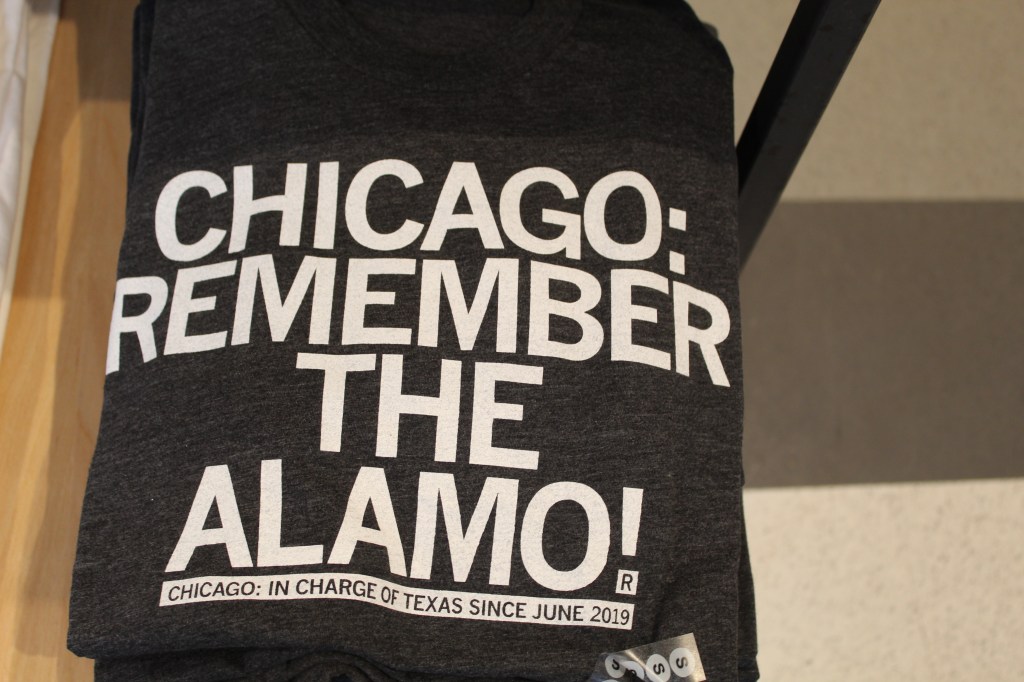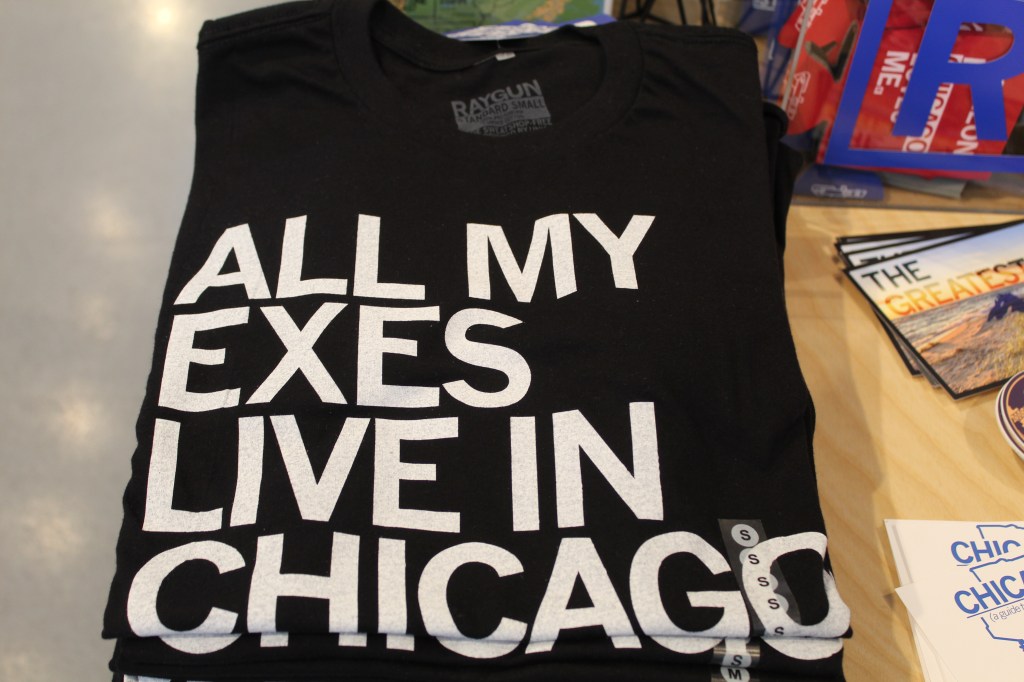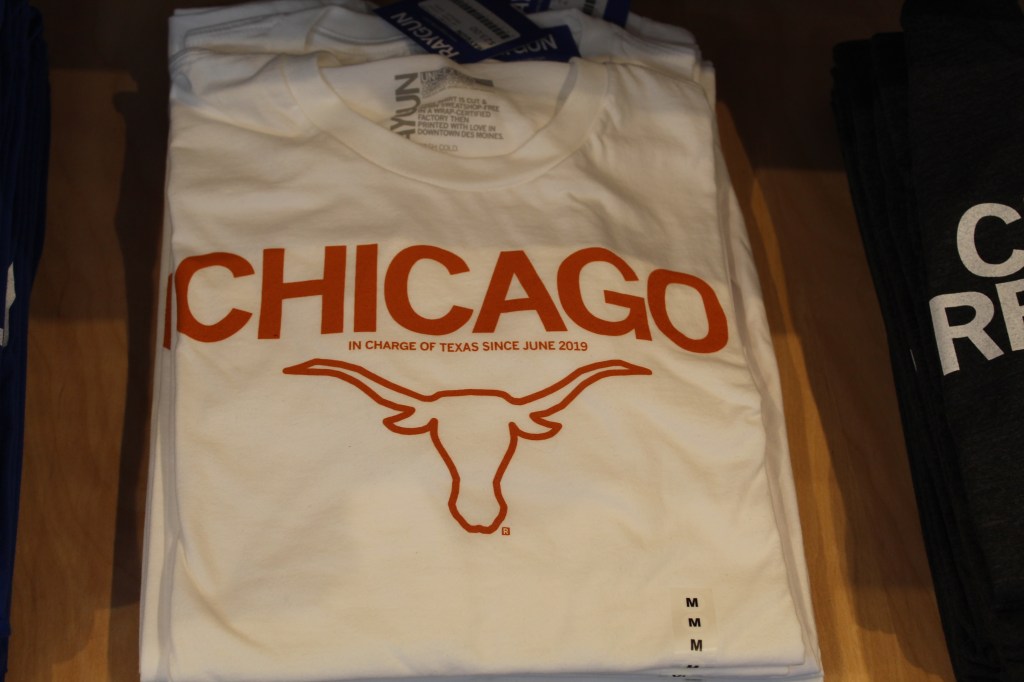 When an internet post calling on people to "storm Area 51" went viral, leading to actual panic in rural Nevada, Raygun was ready.
And, of course, Chicago's favorite gator — named by Block Club readers — is honored with two shirts in the shop.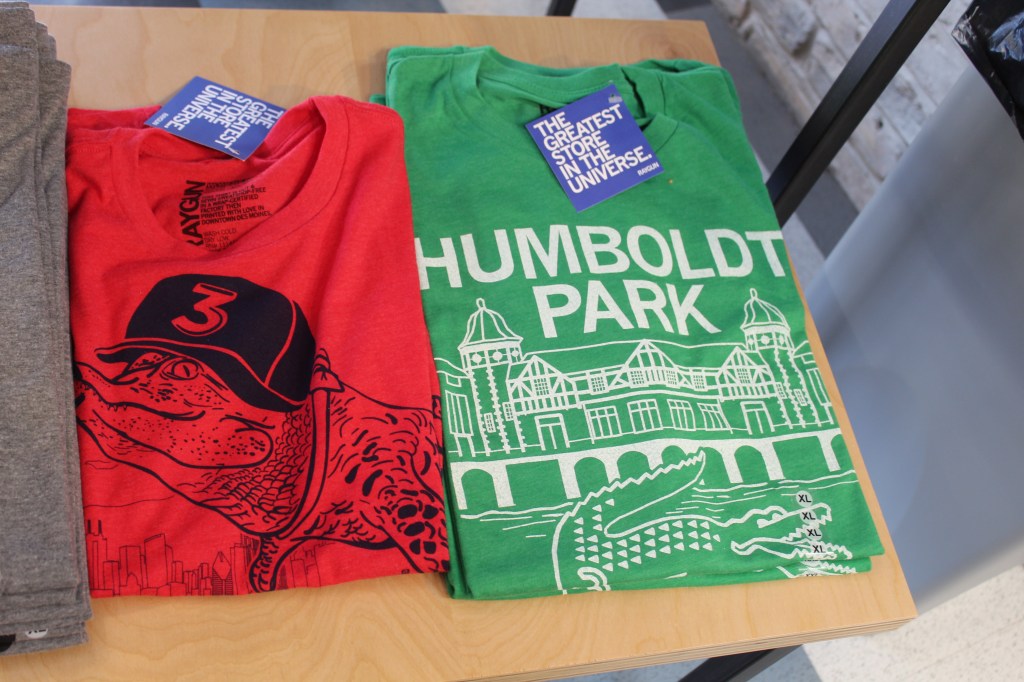 While the humor in Raygun's shirts resonates with many, they also hope to be a shop that does good for the neighborhood.
Anderson previously worked for Women & Children First, an Andersonville bookstore that aims to have community impact, and she said she hopes they can partner together often. She's already hosting self-defense classes geared towards women. 
Raygun's mission in Iowa was to bring representation to tiny towns there. In Chicago, they'll focus on neighborhoods.
Raygun takes requests from anyone who has a design idea, although they have not opened up submissions for Chicago yet. The best ideas come from people who truly know the city and all its quirks, Anderson said.
"I'm from Iowa," she said. "I would never pretend to be the authority on Chicago's neighborhoods."
And if left-leaning political humor offends you, Anderson said Raygun thrives on your outrage.
"We aren't trying to outrage anyone. But if you are outraged we just might make a shirt about it."
Do stories like this matter to you? Subscribe to Block Club Chicago. Every dime we make funds reporting from Chicago's neighborhoods.