WICKER PARK — In a Monday ruling, the city's Department of Buildings upheld its decision to strip "Windy City Rehab" co-stars Alison V. Gramenos and Donovan Eckhardt of their building privileges in Chicago.
The co-hosts both lost their ability to apply for work permits in Chicago after a lengthy series of code violations at nearly a dozen properties meant to be featured on their show, HGTV's "Windy City Rehab," as first reported by Block Club.
Both Gramenos and Eckhardt appealed the decisions, and both lost their appeals.
In Monday's ruling, however, the city decided that Gramenos may continue to work at 1846 N. Damen Ave., 1924 W. Berenice Ave., 1815 W. Augusta Ave. and 1636 N. Wood St. — but only if she addresses various code violations.
According to buildings department records, "Windy City Rehab" projects violated city code by:
Working without permits at 11 different properties
Working beyond the scope of pulled permits at 11 properties
Failure to comply with safety codes related to issues such as electrical wiring. In early April, two different electrical code violations were issued at 1846 N. Damen Ave.
Failure to contact the city to obtain certificates of occupancy at two different properties
Hiring workers who are not licensed, certified or registered by the city at 11 properties
Lying on a permit application at 11 properties
Failure to correct a substantial "defect, error or deficiency" at 2136 W. Belmont Ave.
Performing work that poses an "immediate or imminent threat" to the safety of workers or the public at 11 properties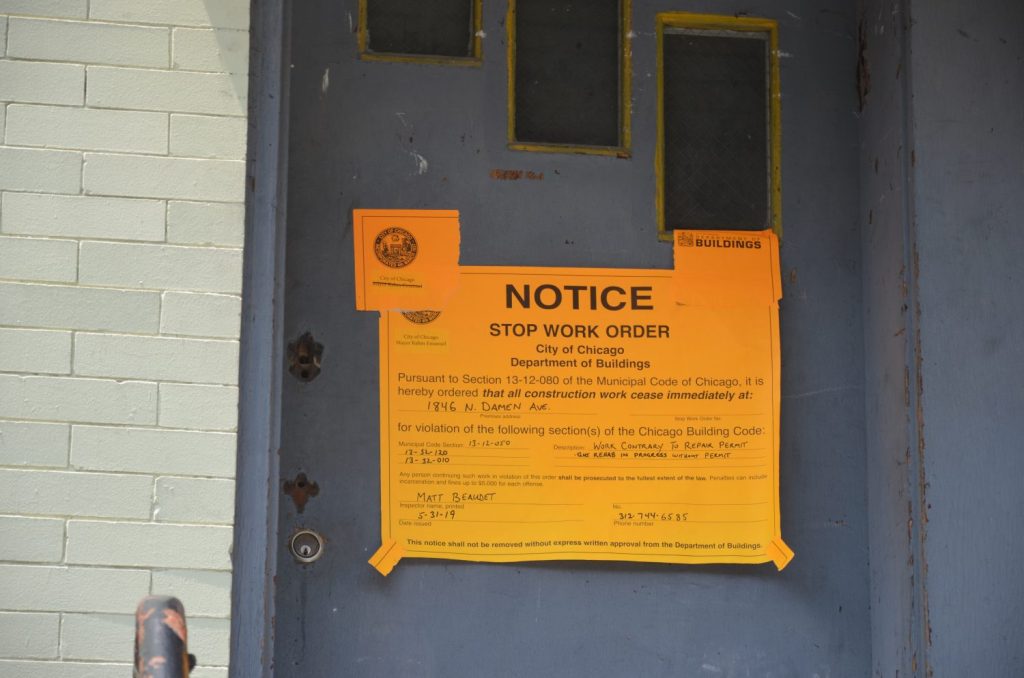 In some cases, these code violations led to stop work orders:
On May 28, Chicago Building Department inspector Matt Beaudet halted work at another Bucktown property at 1906 N. Hoyne Ave.
On May 31, he issued another stop-work order at the old Miko's Italian Ice building, 1846 N. Damen Ave.
In 2017, city officials issued two stop-work orders at 1803 W. Wabansia Ave., the Sun-Times reported.
View the full list of violations here.
Last month, neither Gramenos nor Eckhardt responded to several Block Club Chicago requests for comment, but HGTV issued a statement.
"Issues related to Windy City Rehab have been carefully reviewed," the statement reads. "Appropriate parties are in communication with local building officials and working to resolve any outstanding issues."
On July 15, Gramenos wrote a message to her followers on Instagram addressing the violations.
"I want you to hear it from me directly that I am working closely with the City of Chicago to repair and amend any and all permits with our new general contractors," she wrote beneath a selfie. "The building department says they are pleased with our efforts and we will continue to work closely together."
The Instagram post did not include the name of the new general contractors.
What happens with a developer breaks the rules?
When the city encounters repeat offenders, it has "progressive disciplinary actions" it can take, Department of Buildings spokesperson Gregg Cunningham said.
First, the city strips a company of its ability to apply for permits. That's what happened to Eckhardt and his company in April following a series of reported code violations.
Eckhardt appealed, but in May, the city made its decision final and the ban on permit applications became indefinite. 
On June 20, the city moved to strip Gramenos and her associated companies of permit application privileges. These companies include Alovan, LLC, Alovanward, LLC, and Hot
N Cold, LLC.
Despite an appeal, the city upheld that decision in Monday's ruling.
Second, after losing permit application privileges, a company can face another disciplinary action: a one-year ban on business licenses.
On June 20 — the same day the city stripped Gramenos of permit application privileges — the city moved to ban Eckhardt and Greymark's real estate and general contractor licenses.
The developer appealed, and on Monday, the city ruled to uphold the ban.
The city did, however, reduce the term from one year to 45 days. That means Greymark can apply for a new business license in 45 days, but Eckhardt is out of luck when it comes to permits.
Eckhardt and Gramenos may file petitions for reinstatement of privileges at any time.
'Ruining the character of the block'
Across Wicker Park, Bucktown and the Ukrainian Village, "Windy City Rehab" projects have drawn the ire of neighbors.
As highlighted on a Sun-Times map, the show's projects in the Wicker Park/Bucktown area include 1700 W. Wabansia Ave., 1800 W. Wabansia Ave., 1803 W. Wabansia Ave., 1635 W. Pierce Ave., 1929 N. Leavitt St., 1846 N. Damen Ave. and 1906 N. Hoyne Ave.
In August 2018, Ukrainian Village resident Miriam Ruiz protested construction of a Windy City Rehab project at 2123 W. Thomas St. by starting a petition and meeting with Ald. Brian Hopkins (2nd).
RELATED: HGTV Renovation Is 'Ruining' Our Backyard Views, Ukrainian Village Neighbors Say
"It's ruining the character of the block," Ruiz said at the time of the team's plans to add 20 feet to a cottage on the block.
"They are going to sell it, flip it and they're gone," said Miriam's husband Tony Ruiz.
In March of this year, neighbors of another "Rehab" home at 1929 N. Leavitt St. told the Sun-Times that construction crews had "swept in like they owned the block."
And last month, a neighbor of the old Miko's Italian Ice building wrote in a Facebook post that the vacant lot had become a "safe haven for rats."
On Feb. 15, Gramenos and Eckhardt bought the old Miko's Italian Ice building for $949,000. They also took out a mortgage of $1.234 million under the name Alovan LLC (a portmanteau of Alison and Donovan), Chicago Magazine reported.
The following month, Miko's closed its Bucktown two-flat after 21 years in the neighborhood.
RELATED: Beloved Miko's Italian Ice Bids Farewell To Bucktown After Family Sells Building
After announcing the closing of the Bucktown shop, Miko's co-owner Zach Roombos told Block Club Chicago his family had been approached with an offer they couldn't refuse.
"It's sad to leave, but at the same time the real estate values in Bucktown [are tough]," he said at the time.
Do stories like this matter to you? Subscribe to Block Club Chicago. Every dime we make funds reporting from Chicago's neighborhoods.