LAKEVIEW — At Hawthorne Scholastic Academy, students racing outside for recess were often met with yellow caution tape.
The magnet school's playground, located at 3319 N. Clifton Ave., was 20 years old and flooded whenever it rained or snowed, which happens often in Chicago. But last week, more than 200 volunteers transformed the Hawthorne's deteriorating play space into a newfangled playground, complete with an outdoor classroom and "Learning Garden."
"I'm so excited to see the students use the space," said Stacey Lemp, Hawthorne's art teacher. "When they come back to school, they're going to be able to find a specific element of this playground to just run to, and they'll be able to play like children deserve to play."
Lemp, whose daughter is a rising first-grader at Hawthorne, said much of the old playground was broken and inaccessible. It was missing two swings and two slides, part of the area was boarded up and half of the space was filled with concrete chess tables that students hardly used. When it rained, the playground would be flooded for the next few days, limiting playtime to the adjacent grassy area.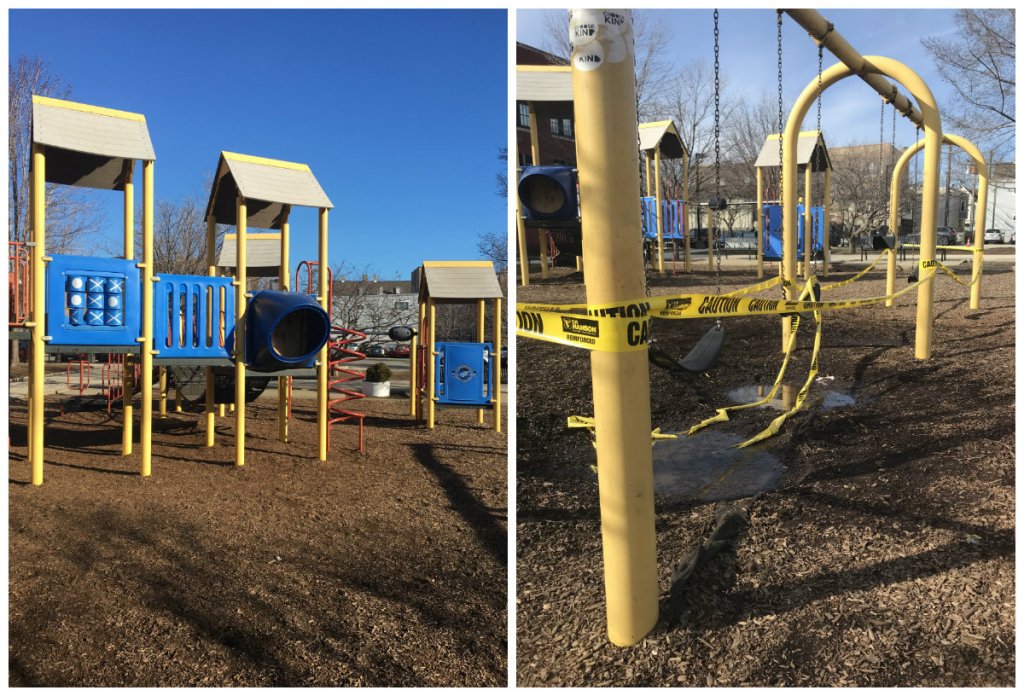 "Even on a nice day, a lot of the playground couldn't be used because it was broken," Lemp said. "It was kind of dangerous too. My daughter broke her arm going on a 20-year-old zipline that didn't zip properly."
About 200 volunteers — 100 from Chicago-based toy company and playground sponsor Radio Flyer, as well as another 100 Hawthorne staff, parents and neighbors — got to work mixing cement, laying out mulch, building new structures and planting a new garden. Construction fencing closed off a second, larger playground with more slides, netted climbing structures and a swing set.
Thanks to their efforts, Hawthorne now has a new, fully-functional playground with swings, monkey bars, slides, a ga-ga pit, stage and benches, playhouse, climbing play dome, net structure, zipline and willow hut. The volunteers also installed a "learning garden" and outdoor classroom.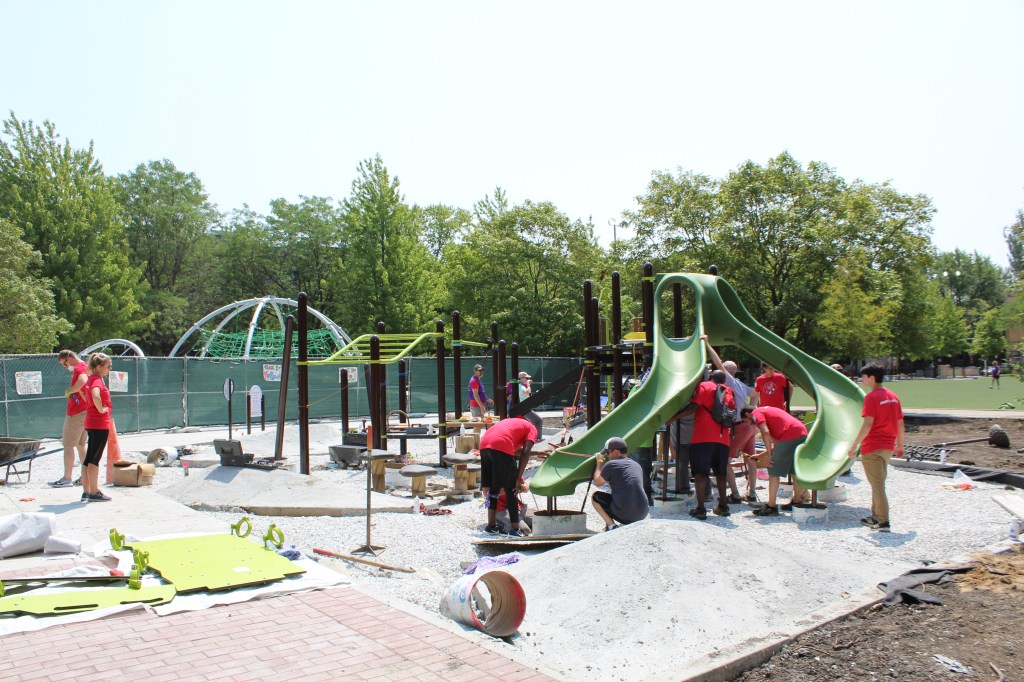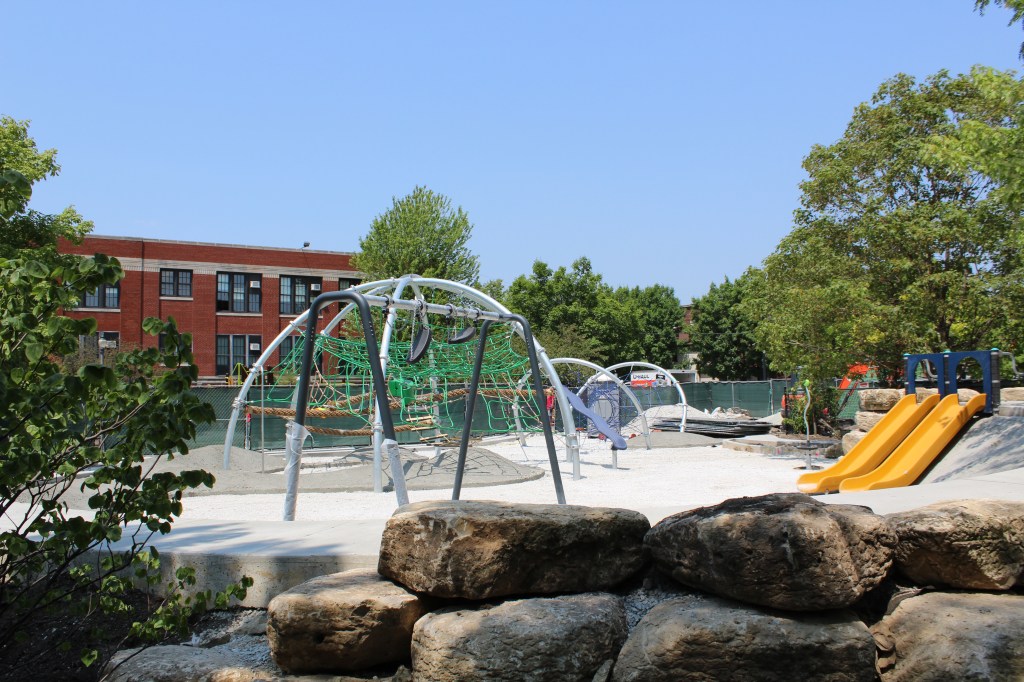 Efforts to replace Hawthorne's playground started three to four years ago, according to Lemp, who served on a committee in charge of the work. The biggest challenge was securing funding, she said.
The total cost of the project was more than $1 million, said Trish Davlantes, Hawthorne Scholastic principal. It was funded by grants from KaBOOM!, a national nonprofit that helps communities build playgrounds; playground equipment manufacturer KOMPAN; and Big Green, an organization that promotes youth wellness through "Learning Gardens" and food literacy programs.
Additional funding was received from Chicago Public Schools, Ald. Tom Tunney (44th), U.S. Rep. Mike Quigley, the Hawthorne PTA and larger school community, Purple Line Adventure, and various neighborhood businesses.
Through Hawthorne's partnership with Big Green, the school was able to install its "Learning Garden," an educational program in which students can have input on what grows in a spiraling set of planters and sell those crops in an after-school farmers market.
Kim O'Malley, a PTA member with a rising third-grader and an incoming kindergartener, said it was important to make sure the new playground appealed to children of all ages and not just the younger Hawthorne students. About 570 students attend Hawthorne, but the playground is open to the larger neighborhood community, as well as students from L&L Academy and Preschool.
"Living in Chicago, our children need to be outside in nature more often than they're able to be," O'Malley said. "There are also older children in the neighborhood, so we wanted a playground that appeals to our whole student population but was also a community space."
O'Malley said students played a hand in designing the new playground. In May, KaBOOM! Visited Hawthorne and asked students to draw pictures of their dream playground. Certain elements of those drawings — like the swings and monkey bars — were then incorporated into the playground's final design.
"I'm excited about the sense of community we can foster with this space," Davlantes said. "Our old playground was so outdated, and this new one will be very helpful to us."
Do stories like this matter to you? Subscribe to Block Club Chicago. Every dime we make funds reporting from Chicago's neighborhoods.