CHICAGO — A pair of bright green and blue parakeets have made a home out of Portage Park.
The duo of monk parakeets have delighted residents of the Far Northwest Side neighborhood by fluttering around the trees and stealing seeds from local bird feeders.
It's the first time Brian Elias, of Portage Park, has seen them living wild in the city, and his neighbors told him they've lived in the same home since 1980 but had never seen the birds before.
Now Elias and others in Portage Park are looking for the birds every day, some toting binoculars while trying to take photos and sharing updates among neighbors. Elias has started calling the parakeets Benny and Joon after characters from a '90s movie.
"It's kind of a thing on our block at this point," Elias said. "We're on parrot watch, almost. Everyone's been trying to snap pictures.
"As soon as I hear [them] now I'm on the lookout."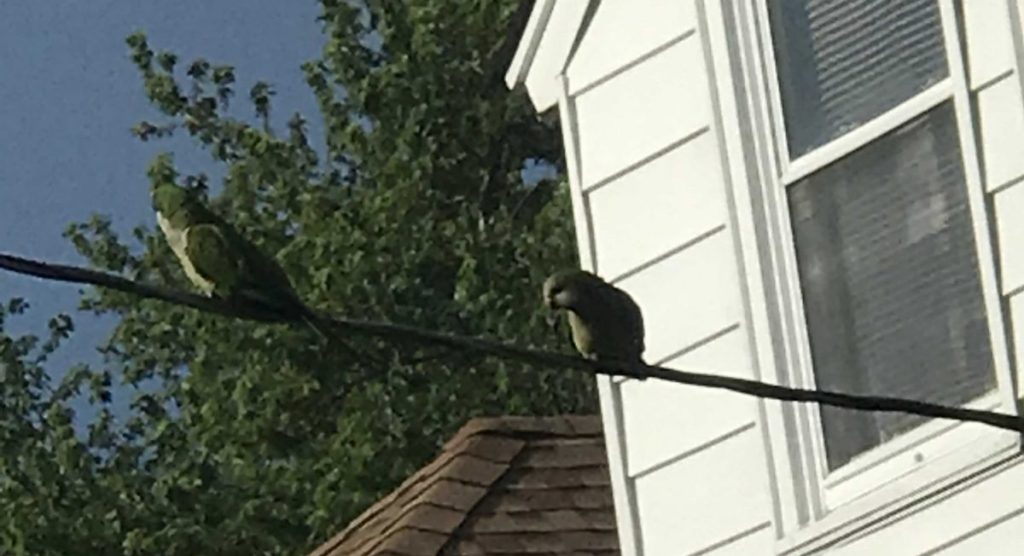 As it turns out, monk parakeets like Benny and Joon have been calling Chicago home and spreading throughout the city for more than 40 years.
Monk parakeets were first spotted in Chicago in the late '60s in Hyde Park, said Stephen Pruett-Jones, an ecology professor at U of C who has studied Chicago's population of the birds.
In the early '70s, several of the parakeets nested and started breeding in a park across the street from the home of then-Mayor Harold Washington, who considered them good luck. The tropical birds attracted a flurry of attention with their large nests.
No one is absolutely certain how the birds, which are a type of small parrot and are native to South America, got to Chicago. But Pruett-Jones said there are really only two possibilities: Hundreds of thousands of parakeets were brought into the United States to be used as pets in the 50s and 60s, so someone in or around Chicago must have had them as pets and either released them or the birds escaped.
Whatever the case, their population grew and spread throughout the city. By 2006, about 300 of the colorful birds lived in Hyde Park, with others spotted elsewhere in the city.
Pruett-Jones' undergraduate students used to do annual counts of the birds, and by 2010 their data showed the birds were moving out of Hyde Park but their population was still growing and they had been seen in every part of Chicago save the Far Northwest Side.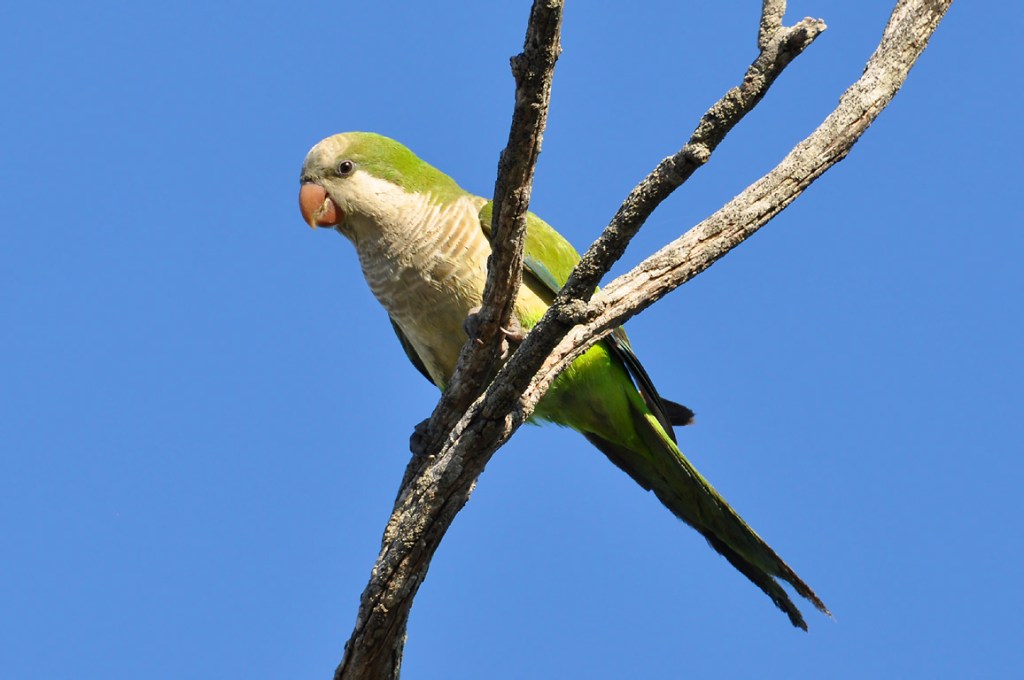 Data from eBird, which allows people to share bird sightings, shows people didn't start reporting monk parakeets in that area of the city until recently — and no one had ever recorded a sighting in Portage Park.
In comes Elias: A month ago, he was taking his dog out in his backyard when he heard "this unusual animal noise," he said.
He looked up and saw "this green parrot, parakeet thing."
His first thought: "That's really bizarre."
After all, the most exotic bird he'd seen before that was a Cooper's hawk, and Portage Park's wildlife tends to be of the raccoon and rabbit variety.
But then another parakeet flew up and landed beside the first one. Now, Benny and Joon come every day.
The colorful, long-tailed birds hang out with local cardinals, make noise, munch on seed from nearby bird feeders and sit in a pine tree next door to Elias.
They're "just kind of enjoying life," Elias said. "It's really weird."
Elias' neighbors are avid bird watchers and were "baffled" by the birds but think Benny and Joon are "the coolest thing."
Pruett-Jones, who saw photos of Benny and Joon to confirm they're monk parakeets, said the two could be juveniles who were from a nest in another neighborhood but have moved out and are exploring Chicago.
It's possible the two may set up a more permanent home in Portage Park by building a nest there; if that happens, they'll likely do it in the fall, Pruett-Jones said.
Monk parakeets are unique among parrots in that they build large nests and sleep in them every night, sometimes sharing the nests with other parakeet couples.
"If they build a nest this fall, winter, it's almost certain they'll stay in the area throughout the winter," Pruett-Jones said. "Next spring, they'll either stay in the nest and try to breed or they might choose a new location and build a much larger nest for nesting."
The parakeets are among 25 non-native parrot species known to be breeding in 23 states. But monk parakeets are the only ones of the 25 who have been spotted breeding in colder climates and have proven they can make it through Chicago's cold winters.
That's because the birds have adapted to human-modified habitats, Pruett-Jones said: They've changed their diet to subsist on seed from bird feeders in the winter, then eat seed and fruit when it's more freely available in the warmer months.
But they aren't made for Chicago, and in times of brutal cold and snow Pruett-Jones said he does get reports of people finding dead monk parakeets on the ground. They'd also likely die if not for humans providing seed through feeders come winter, he said.
As the birds have spread, they've been seen less frequently in Hyde Park and Pruett-Jones' students no longer count them. While the South Side neighborhood once had several hundreds of the birds, it's now home to only 10 or so, Pruett-Jones said.
Instead, many of them are now living underneath the Skyway from Chicago to Indiana. Go under, look up and you'll spot dozens of parakeet nests along the steel girders, Pruett-Jones said. They've been spotted around Zion and Rockford, too.
And though the birds are non-native, Pruett-Jones said they haven't been shown to prove a threat to Chicago's native species. They might reduce the food supply by eating seeds, but those who have studied the issue have found the birds had no effect or a negligible effect, he said.
Elias has noticed Benny and Joon eating from local bird feeders. Though his block is active with wildlife and other types of birds, he said it seems the monk parakeets haven't disrupted anything.
"Everything seems to be in odd harmony," Elias said. "I love them. I hope they hang around."
Do stories like this matter to you? Subscribe to Block Club Chicago. Every dime we make funds reporting from Chicago's neighborhoods.