HERMOSA — A group of high school-bound teenagers spent this past week painting a colorful mural along an underpass in Hermosa, both as a creative outlet and a way to get acquainted with their new schoolmates.
The teenagers are all incoming freshman at North-Grand High School 4338 W. Wabansia Ave.
As part of Chicago Public Schools' Freshman Connection program, the teenagers were invited to come up with a design for a mural along Kostner Avenue and then paint it together under the guidance and supervision of teachers and professional teaching artist Juan-Carlos Perez.
The goal of the project, school officials said, is to get the incoming freshman mingling with one another, faculty members and administrators before school starts in the fall.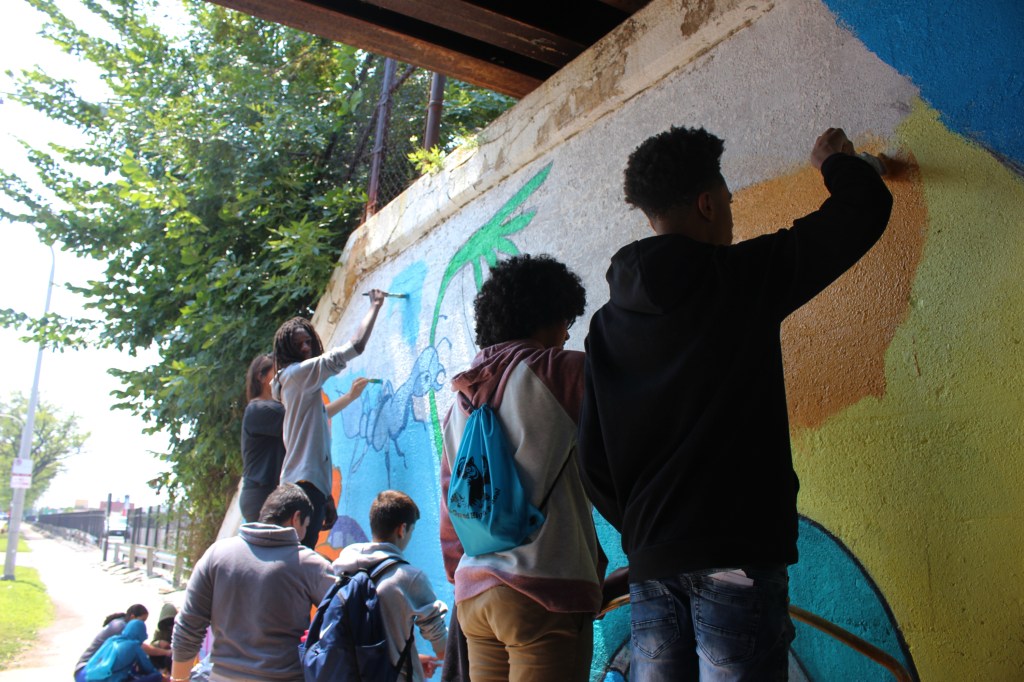 North-Grand High School assistant principal Kevin Bacon said many of their incoming students are from outside of Hermosa.
"What we thought was really cool about this program is not only that we're acclimating the students to the school, but also to the community itself," Bacon said.
Kizzanna Nicholson, 14, is one of the students involved in the program. Nicholson hails from the Garfield Park/North Lawndale area, or K-Town, as she put it.
Nicholson said she chose North-Grand High School because it "meets [her] academic level of success."
"I wanted to get out of the neighborhood and meet some more people," she said, adding, "I wanted to meet people who are unlike me and people who have the same personalities as me and people who have the same intellectual ideas."
The mural project allowed Nicholson to tap into her creative side and meet new friends in the process.
"We try to make plans to meet after Freshman Connection ends," she said. "We try to imagine what it'll be like in high school: What classrooms are we gonna be in, what lockers are we gonna have, what are we gonna do with our lives after high school."
Another student involved in the program, Keturah Oats, also 14, said she's "very nervous" for high school but the program is helping.
"I like that they have Freshman Connection because. … at least you know somebody so you don't feel lonely and stuff. If you're going through something and you met someone over the summer, you can talk to them," said Oats, who lives in Austin.
"If I didn't come to this, I wouldn't have just walked up to someone and started asking them to help me [on my first day]. I would've just dealt with it on my own even though I know I couldn't."
The mural's theme is "breaking out from the inside," according to Juan-Carlos Perez. Perez said he only helped with composition, and that the images and the ideas all came directly from the students over the duration of the months-long project.
The mural depicts rollercoasters, for example, which are meant to convey "emotions going up and down," as well as silhouettes of people trapped in bubbles trying to "break out and become who they are."
"We feel what's happening in the community, in our neighborhoods, in the city, and in the world, but it's like we're trapped. We have this voice, but we can't get out. We're learning how to break out of all of these narratives imposed on us," Perez said.
Chicago Arts Partnerships in Education, or CAPE, tapped Perez to lead the mural project.
Bacon said North-Grand High School, which enrolls mostly Latino, low-income students, has been offering the Freshman Connection program for at least seven years since he started at the school. Last year was the first year the mural project became a big component of the program at North-Grand, Bacon said.
Last year's Freshman Connection mural, an equally colorful and eclectic artistic display, is on the opposite side of the underpass.
The program can take on different forms depending on the school. Each school is given the freedom to dictate how the program is run, Bacon said.
North-Grand is just one of many CPS schools participating in the program this summer, according to the program's website.
A district spokesman couldn't immediately say when the program started or how it's funded.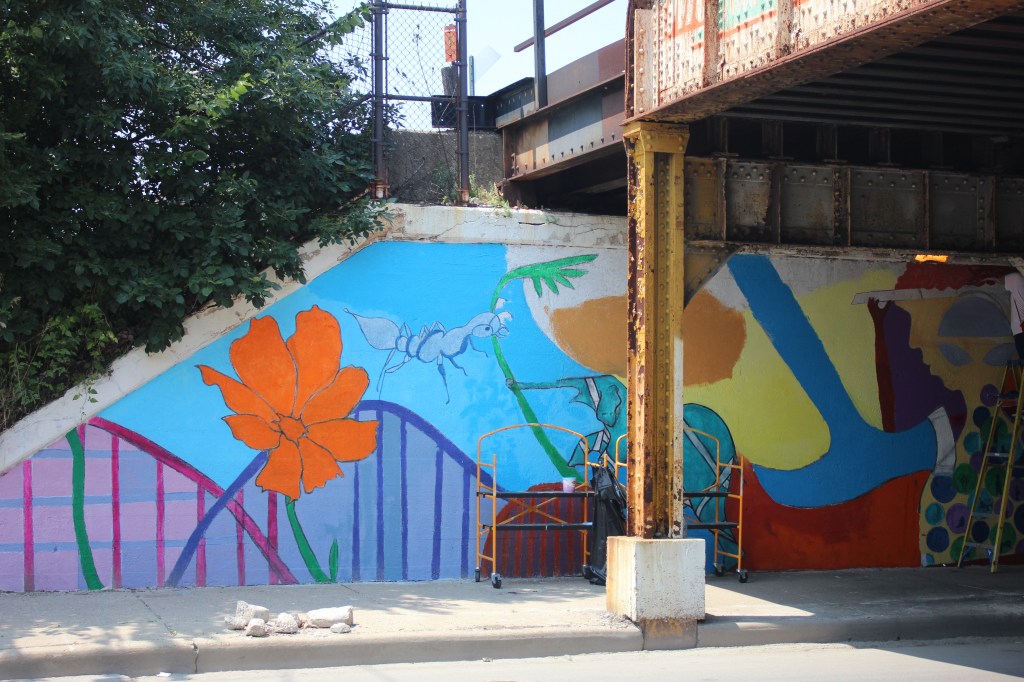 Do stories like this matter to you? Subscribe to Block Club Chicago. Every dime we make funds reporting from Chicago's neighborhoods.