UPTOWN — The Chicago Market, a co-op grocery store coming to Uptown, has released floor plans that detail what customers can expect to see when the store opens next year.
The market is coming to Uptown's historic Gerber Building, 4620 N. Broadway, at the intersection of Broadway and Wilson Avenue near the renovated Wilson Red Line stop. If all goes well, the shop could open in April 2020.
After dozens of drafts, Chicago Market officials released schematics of what the floor plan may look like, including a host of amenities.
Plans call for a "Grab-n-Go" section for the hungry commuter on the run. There is also a cafe, floral section and a special area for grinding fresh nut butter.
There will also be a health and wellness section, fresh produce and beer, along with wine and spirits.
There will be two entrances — one in the front at the intersection of Broadway and Wilson Avenue, and another in the back where a parking lot will be located.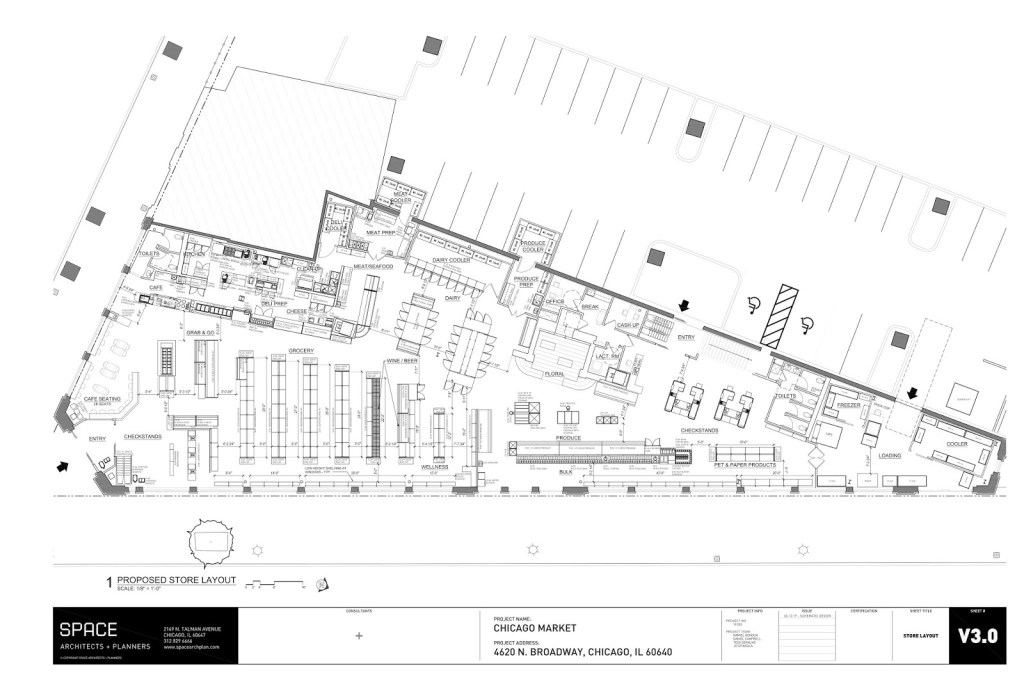 Click here for a larger image of the market layout.
The market aims to carry "as many local products as possible," said Grant Kessler, president of Chicago Market's board. That means local produce, but it also means local craft beer, local honey and local health-and-wellness products.
"Our goal is to be a grocery store that is packed with as much local goods as we can carry," he said.
Becoming a community hub is at the core of Chicago Market's ethos. With 1,687 partial owners who have bought into the co-op, Kessler said it represents an investment from the community into their own grocery store.
Partial owners (people who have bought in for at least $250) will get discounts for shopping at Chicago Market. They also can see a return on their investment (based on how often they shop) and can vote at board meetings.
"It's a way to invest in your local community," he said.
Chicago Market even has the ability to take out loans from co-op members. Members of the co-op can bet on Chicago Market and then have their loan repaid, with interest.
"We are hoping that people will recognize each other when they shop and everyone will be invested in the grocery store's success," he said.
If you want to buy into the Chicago Market, becoming a partial owner, it's not too late. Kessler said there are plenty of options available for those who are interested.
They hope to have at least 2,000 owners soon. Later this year, the goal is to make the first significant personnel decision and hire a general manager.
"That's going to be a critical hire for us," he said.
Although Chicago Market has a goal of opening in April 2020, that isn't a guaranteed timeline, Kessler said. .
"We are hopeful about that timeline," he said. "We are going to shoot for it and do our best."
Do stories like this matter to you? Subscribe to Block Club Chicago. Every dime we make funds reporting from Chicago's neighborhoods.