BUCKTOWN — The first installment of Lincoln Yards, a massive riverfront development between Bucktown and Lincoln Park, will officially open this weekend.
"Fleet Fields," three green astroturf soccer fields at 1397 W. Wabansia Ave., will open from 11 a.m.-3 p.m. Sunday following a 10 a.m. ribbon-cutting ceremony, according to a Lincoln Yards email newsletter published Tuesday.
The "opening day kick-off" will include soccer drills, face painting, food trucks, balloon artists, kids' games, refreshments, giveaways and "swag," according to the email.
After that, the three fields will be open 8 a.m.-11 p.m. daily.
Lincoln Yards has asked the public to RSVP to the Sunday event via email.
"Fleet Fields" marks the border between Bucktown and what is soon to be Lincoln Yards — a Sterling Bay project that aims to turn 55-acres along the North Branch of the Chicago River into a new neighborhood with housing and retail.
The fields lie across the street from The Hideout, a popular bar and music venue at 1354 W. Wabansia Ave.
Ald. Brian Hopkins (2nd) said in March that his office would hold a public meeting on each phase of the project as Sterling Bay prepares to build it, in an effort to give residents a chance to review the plans.
No public meeting was held regarding the soccer field. It is unclear when Sterling Bay will hold any public meetings.
It is also unknown whether the developer will construct a school, library or community center as previously promised — nor is it clear how the developer plans to finance this concession.
Earlier this month, Sterling Bay spokesperson Jaime Grodsky declined to answer questions related to Fleet Fields or the promise of the school, library or community center. A Tuesday request for an interview has yet to be answered.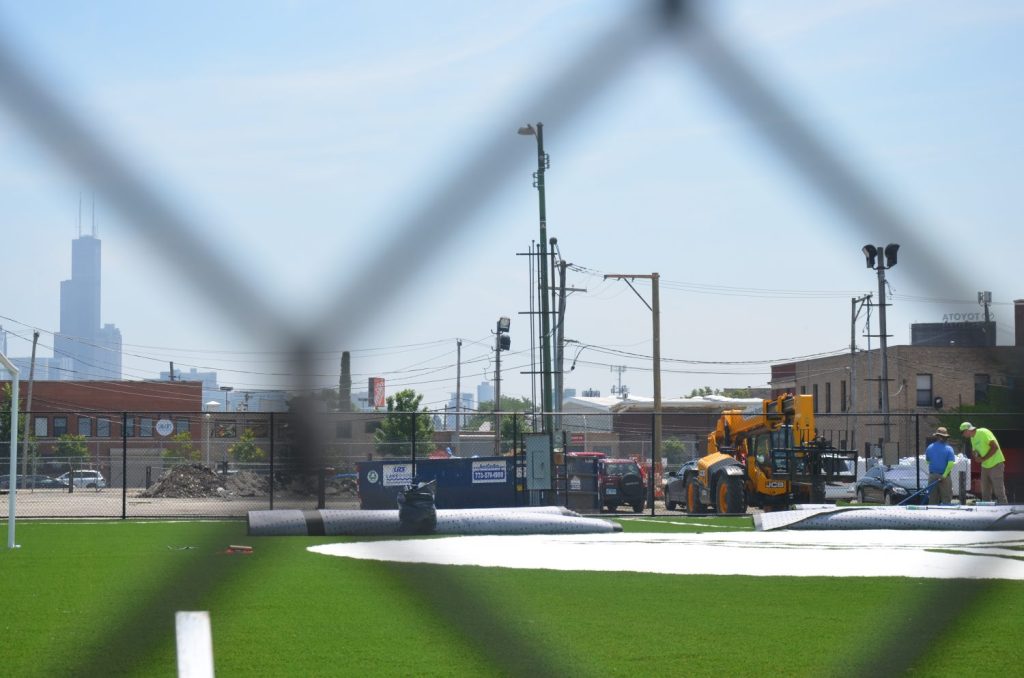 What's the "Fleet" in Fleet Fields?
The "Fleet Fields" name is a nod to the Department of Fleet and Facility Management vehicle maintenance facility that previously stood on the site, the Tribune reported earlier this month.
In a move that kickstarted the entire Lincoln Yards development, Sterling Bay bought the Department of Fleet and Facility Management site from the city for $104.7 million.
RELATED: What Are These Soccer Fields Popping Up At Lincoln Yards? Ald. Hopkins Announces Fleet Fields
Hopkins (2nd) recently said the soccer field is just one piece of what will eventually become 21 acres of public space. Of those 21 acres, 11 will be "contiguous green space" called "Fleet Fields," Hopkins said.
The sports fields will be completed 18 months ahead of schedule for residents to use while the rest of the larger public park space is being designed, Hopkins said.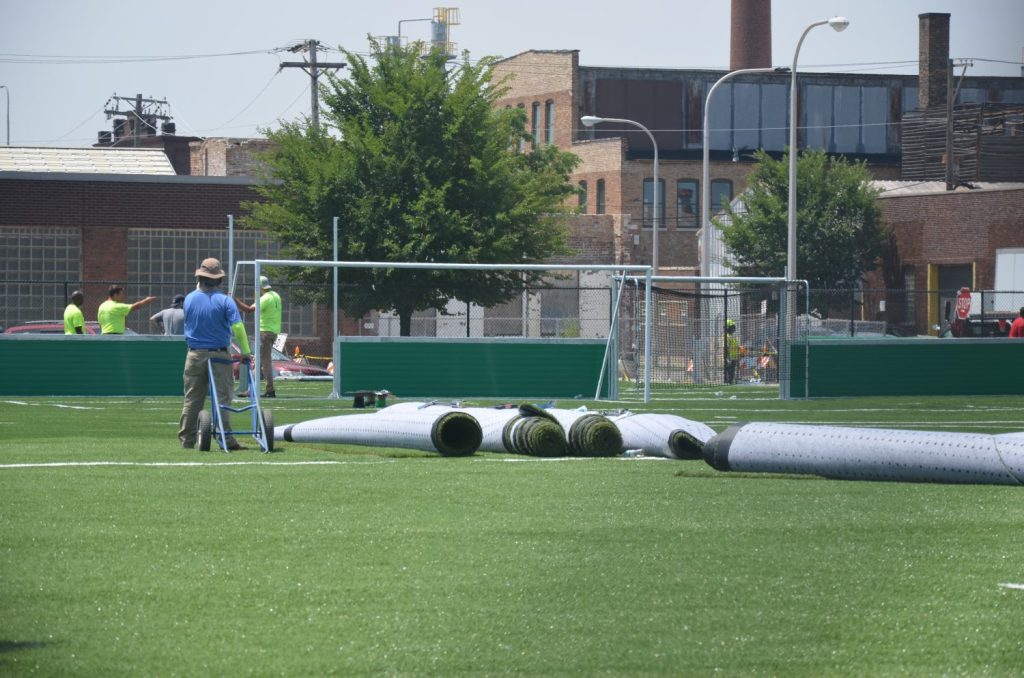 Hopkins added that he will host community review meetings on permanent park designs once designers and architects are selected.
"Throughout the community review process, I made it clear to Sterling Bay that local benefits and amenities must be prioritized in the phasing of the development," Hopkins said.
According to the Lincoln Yards website for Fleet Fields, the site will include three different fields open to the public for free use as well as league play.
The website also states, "Fleet Fields marks the first step in a series of developments coming from the Lincoln Yards team to connect Chicagoans and create open space for all."
What is Lincoln Yards?
Lincoln Yards is a $6 billion project from Chicago developer Sterling Bay that aims to turn 55-acres along the Chicago River into a new neighborhood with housing and retail.
During months of meetings and hotly contested deliberations, some aldermen and several neighboring residents and business owners opposed the project, or at least opposed the idea that Sterling Bay deserved public financial support in the form of a Tax Increment Financing (TIF) district.
On April 10, however, City Council voted to approve $1.6 billion in subsidies for Lincoln Yards and The 78, a separate development.
The Cortland and Chicago River TIF will generate at least $900 million to cover the cost of infrastructure projects to pave the way for Lincoln Yards to be built.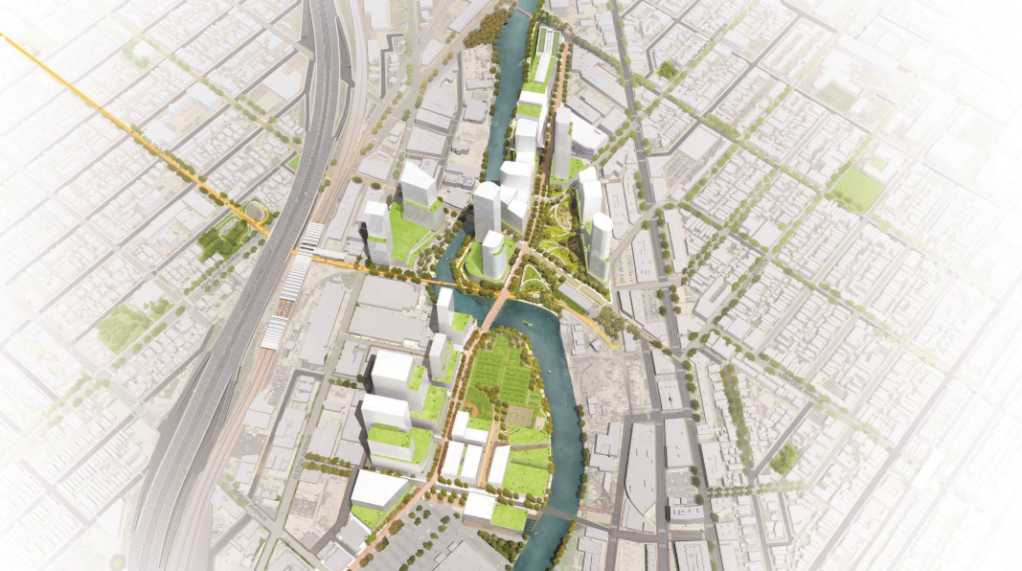 These projects include:
New bridges over the Chicago River
A new Metra station,
An extension of the Bloomingdale Trail (The '606' park system)
Water taxis
Dedicated bicycle lanes
A potential light-rail transit way and extension of the city's street grid.
What about affordable housing?
In total, Lincoln Yards is obligated to construct 1,200 affordable units.
Ahead of a March 7 zoning committee vote, Hopkins announced a last-minute agreement from Sterling Bay to double its on-site affordable housing requirement from 300 units to 600 units.
Sterling Bay also plans to pay $39 million into the city's housing trust fund. Half of the trust is earmarked to subsidize individuals' rent in existing buildings, and the other half is set aside to build new homes for the poorest Chicagoans.
Another 300 units would be allowed to be built outside the development, but within three miles. Sterling Bay could also pay into the trust fund instead of building some of those remaining units.
Who will build it?
Days before City Council voted to approve the TIF for Lincoln Yards, Lightfoot — who was Mayor-elect at the time —negotiated with Sterling Bay to increase requirements for minority and women-owned business enterprises from 26 to 30 percent for minority-owned and six to 10 percent for women-owned businesses.
The added language is part of a protection already outlined in the city's municipal code, planning and development spokesperson Peter Strazzabosco said.
The code states that if Sterling Bay does not fulfill its obligation to hire a certain quota of Chicago-based labor, it must pay the city a fee equal to 1/20 of 1 percent of the entire project's construction costs.
The 11th hour negotiations followed Lightfoot's initial plea to delay the entire vote. Lightfoot defended her actions in an interview with reporters in Springfield.
She warned developers: no more giveaways.
"We were able to increase those numbers in a material way, and I was very clear with the developers: Enjoy this moment in the sun, because you're never going to get a deal like this again out of the city of Chicago as long as I am mayor."
Read the redevelopment agreement — a document that outlines rules and requirements for Sterling Bay's use of the TIF funds — here:
Do stories like this matter to you? Subscribe to Block Club Chicago. Every dime we make funds reporting from Chicago's neighborhoods.