JEFFERSON PARK — So far, the CTA's Blue Line station overhauls have been anything but run-of-the-mill.
In Avondale, the new Belmont station looks like a "big, blue waterfall," visible from blocks away. And now Jefferson Park is getting a creative, if not confusing, new look.
Construction on the nearly 50-year-old train and bus station near the Kennedy Expressway began in October. Part of the upgrade plan included custom bus shelters at the station's bus terminal designed by Indiana-based artist Jamie Pawlus.
Construction crews started installing the new shelters at the train and bus stop at 4917 N. Milwaukee Ave. last week. On Monday afternoon, commuters could see playful, yet slightly confusing, signs directing them to "The Center Of The Universe" and "Outer Space."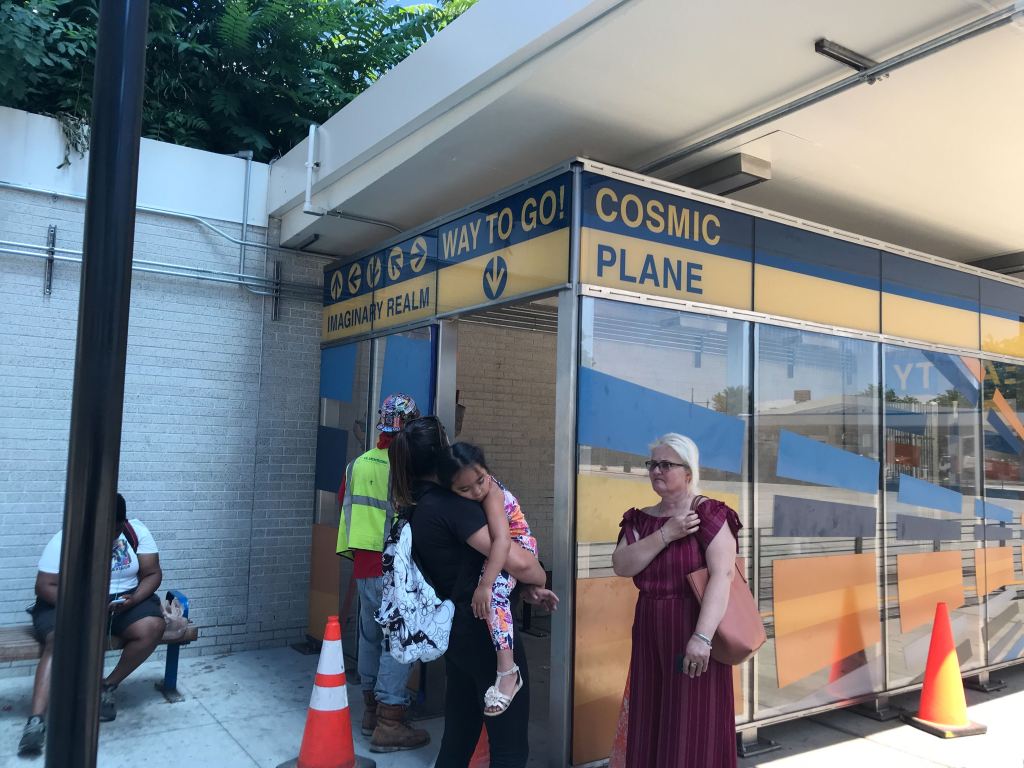 "They should have kept the windbreakers like they usually have them look at other stops. Why do they have the outer space signs?" said rider Auneza Monroe said. "And the design underneath the signs and arrows, it's usually a better design."
Jefferson Park is the fourth busiest station along the O'Hare branch of the Blue Line with about 2.1 million commuters passing through it in 2017 alone. Before construction began on the current $25 million upgrade, the station's last major renovation was in 2000 when wheelchair accessibility was added.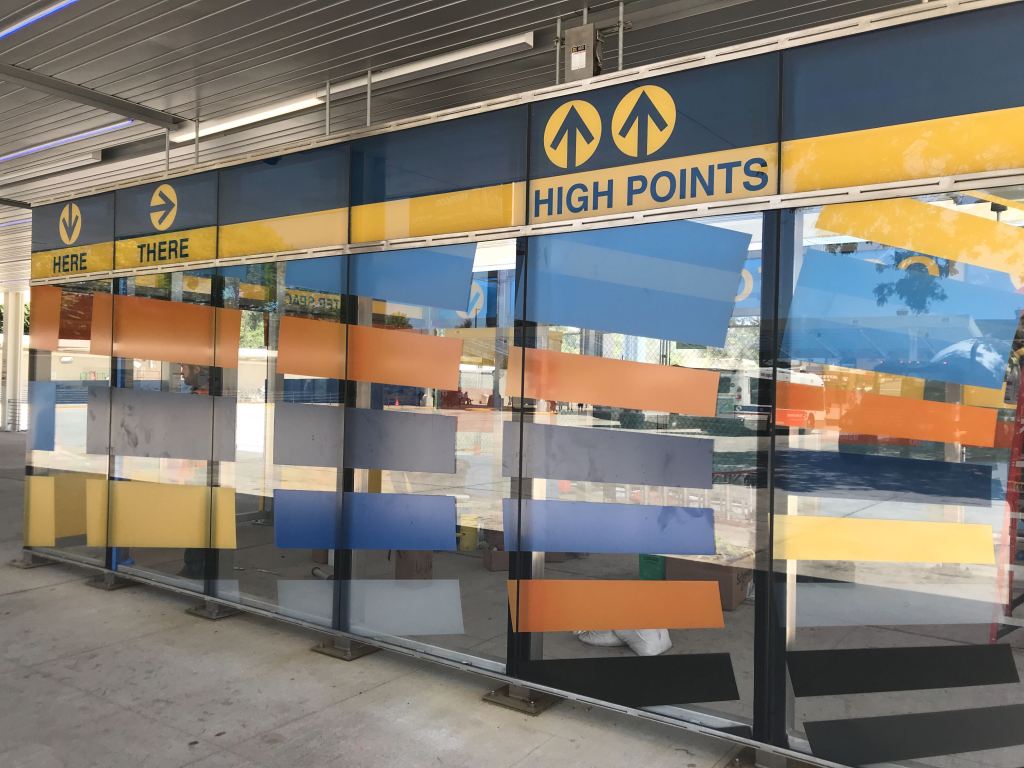 On Monday, arrows pointed people "here," "there," and to "high points," but normal signage remained in place near the train station and buses.
"Growing up here, I think the new signs make the place feel a bit more energetic. It was a pretty plain place before," said Kevin Gregorio, another Monday afternoon commuter. "I don't see them as being confusing or bad, in fact I wish the CTA did more stuff like this."
Ald. Jim Gardiner's (45th) office confirmed the shelters were commissioned by the CTA. The CTA did not immediately respond to a request for more information.
Other improvements to the Jefferson Park station include making the bus terminal ADA compliant by widening its loading islands and adding audio assistance, new bus and rail station canopies and improved signage.
New LED lighting and additional security cameras will also be added to increase public safety once the work is complete.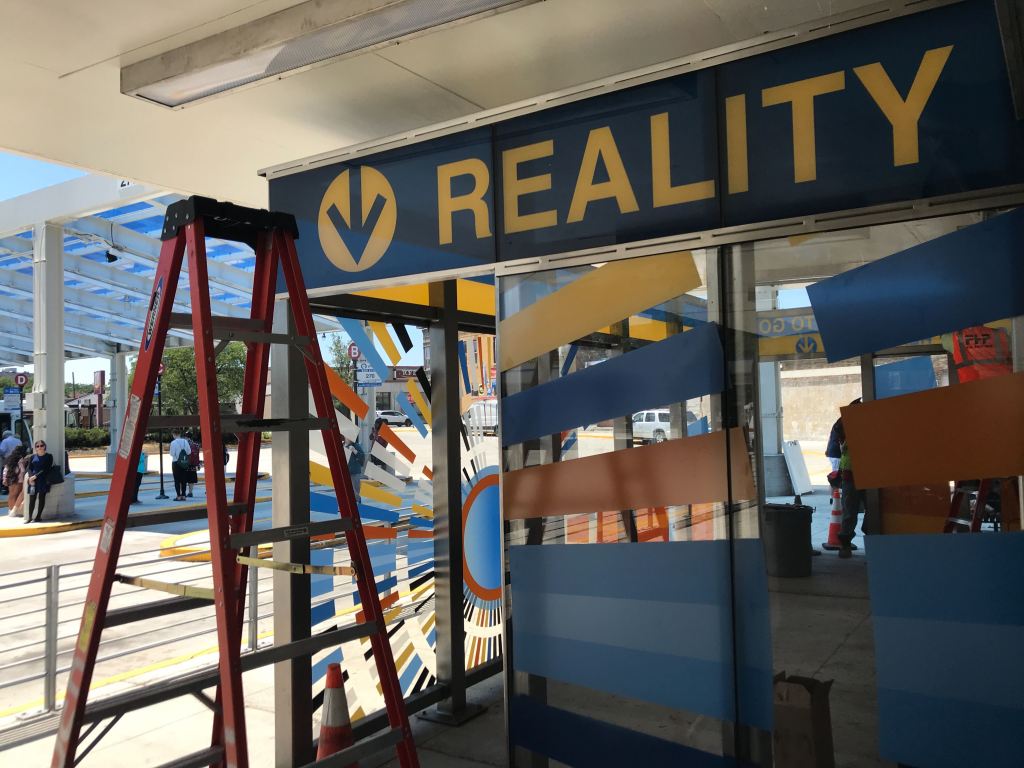 The Jefferson Park train and bus station was originally built in 1970 as an extension of the Milwaukee "L" and was designed by Skidmore, Owings & Merrill.
"These signs are beautiful, but I don't think people will keep them clean," Irena Nanaj said.
She was standing near signs that said "Imaginary Realm," "Way to go!" and "Cosmic Plane" Monday afternoon.
"I but I do like them," she said.
RELATED: Blue Line Trains To O'Hare Will Bypass Jefferson Park Stop Beginning Monday
Do stories like this matter to you? Subscribe to Block Club Chicago. Every dime we make funds reporting from Chicago's neighborhoods.