ENGLEWOOD — You feel the energy as soon as you walk into the room. The group of eight greet one another as if they've been friends all their lives. One by one, they grab a chair from a stack in the corner, forming a semicircle, pens and notebooks firmly in hand.
It's the fourth week of the Freedom Songbook Workshop, a program that allows people of all ages to experience the "transformative, cathartic power of song" by coming together to sing protest songs and other empowering anthems.
For eight weeks, the group meets in a large conference room inside the Howard Brown Health Center, 641 W. 63rd St., in the heart of the neighborhood.
The idea for the workshop came from an Old Town School of Folk Music employee, who made the suggestion to the Chicago Torture Justice Center Co-Executive Director Aislinn Pulley. A longtime activist familiar with the emotional and physical demands of the work, Pulley believed it would be the perfect complement.
"It's an outlet," said Pulley. "It allows people to share, to release. Sometimes [activism] can be lonely, isolating. There's something cathartic about coming together to do this."
On this day, participants will take what they've learned and record their personal anthems. Workshop facilitators, mother and son team Cynthia M. Johnson Woodfolk and Martez L. Rucker work together seamlessly, one guiding the class through a writing prompt as the other ushers them one by one into a tiny closet, where they record their work in a makeshift recording studio.
"When you think of a protest song, there's always a question: What are you protesting for? What are you protesting against? But there's also the why," said Rucker—stage name "Mister"—who has worked with the Chicago Lyric Opera House. "Once you begin to understand those reasons—especially the why—you'll understand the place music has in protest. Words can do so much by themselves but a beat automatically unifies."
Each member of the collective said they've been touched by violence in some way, either through the loss of a loved one, or through police brutality. Gregory Banks was sixteen when CPD detectives, led by notorious former Commander Jon Burge, tortured him into confessing to a murder he didn't commit. Nearly four decades later, the emotional scars are still with him.
"When you first start something there's always some skepticism because you don't know how it's going to turn out," said Banks, who is now a learning fellow at the Chicago Torture Justice Center. "It's been challenging. It grabs you and makes you be who you are."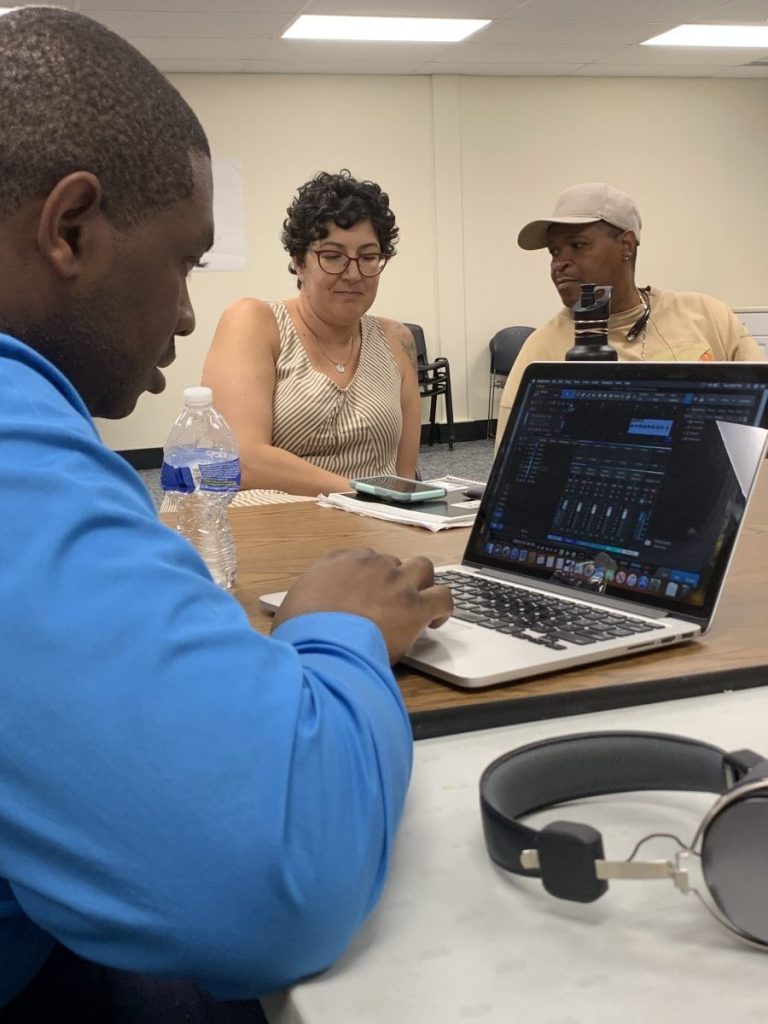 Though the workshop is scheduled to end in three weeks, Woodfolk made it clear that it isn't over until she says it is, no doubt due to the reception it has received.
"We came in to do a job, but from the very first moment we stepped through that door, every lesson we came in to teach went right out the window," said Woodfolk, an Englewood native. "Because of the people. They were so open, receptive, and willing. We thought we were coming to teach. We came here to learn."
For her and Rucker, bringing their work here is a way of giving back to a community that has given them so much.
"Englewood has already dealt with so much trauma, so much destruction, so much negativity that there has to be a vehicle to cleanse that," said Rucker.
To learn more or participate in the Freedom Songbook Workshop, click here.
Do stories like this matter to you? Subscribe to Block Club Chicago. Every dime we make funds reporting from Chicago's neighborhoods.