PILSEN — Pablo Serrano made his karaoke debut at around the age of four, accompanying his father on the mic. 
In the time before CDs, his dad would buy pistas, cassette tapes with instrumental tracks with the lyrics written in tiny type in the liner notes. "Dad would rewrite the lyrics on big pieces of cardboard and sing along," Serrano said. 
He took a long hiatus after that, until a college friend brought him to one of the private karaoke rooms on the North Side for a birthday party. He loved it so much, he wanted to create that experience for his own birthday party. The former art teacher gathered his fellow cultural worker friends in Pilsen for a karaoke open mic, which turned into an annual event, which evolved into Serrano hosting parties for friends.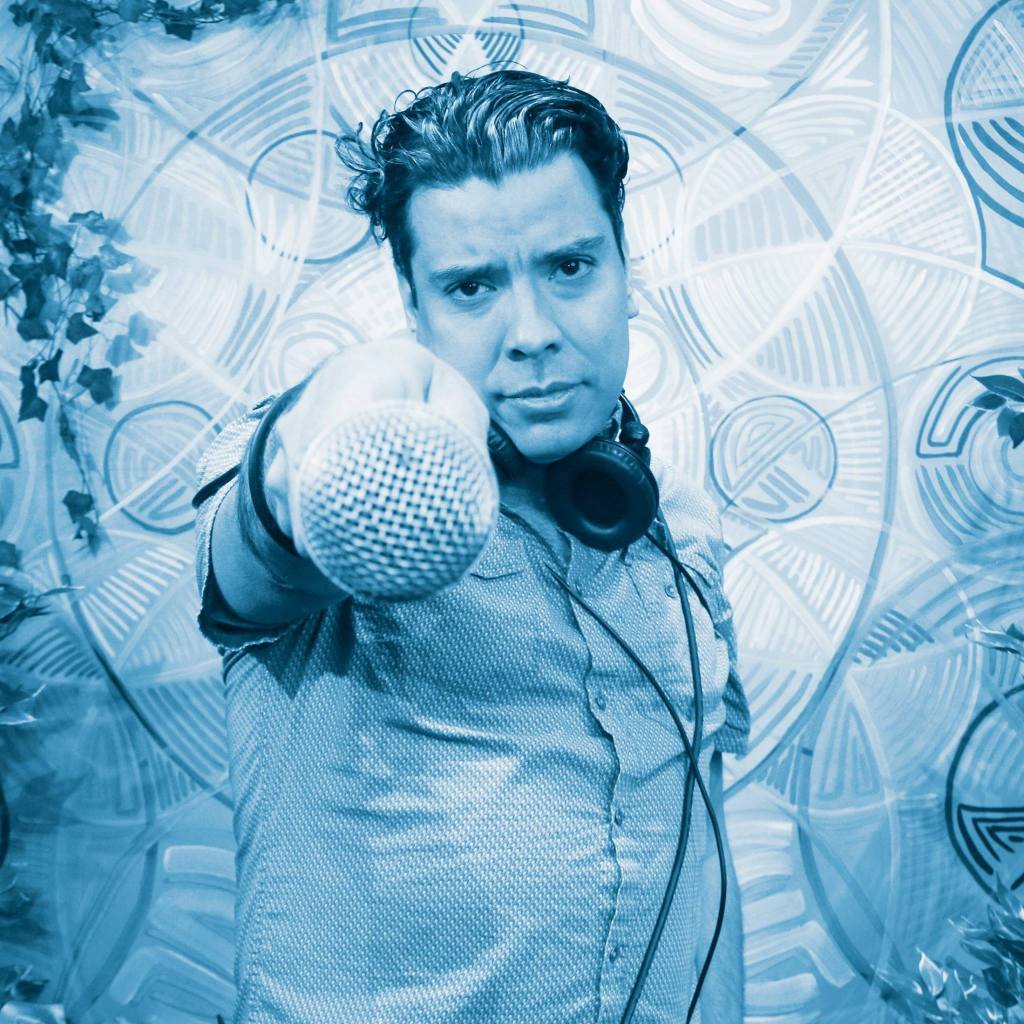 Since 2011, with host/DJs Rich Contreras and Gonzalo Jimenez, he's been running karaoke parties at bars, parks and events around the city under the name The People's Stage and his entertainment company, Kombi. In addition to three weekly events in Pilsen and University Village, the team is working to bring karaoke to the people this summer through a collaboration with the Chicago Park District for a five-neighborhood tour beginning July 20th. 
The People's Stage is all about bringing communities together and bridging cultural divides through the medium of karaoke. Serrano describes karaoke as a "civil window," a perfect conduit for encouraging people to share in each other's experiences.
"There's a superhero quality too," Serrano said. "I thought you were a regular citizen, but when you grab a mic, you're absolutely amazing."
Serrano's personal experiences as a visual artist and art educator, as well as the child of immigrants—his mother was seven months pregnant with him when she arrived in Chicago from Durango, Mexico—inform his karaoke and musical ethos. He grew up appreciating and absorbing a variety of styles, everything from hip-hop and R&B to polka. He seeks to create a supportive environment for singers wanting to express themselves and their cultures in a myriad of languages and genres, including providing backup dancers or backing vocals if need be.
"We're creating the experience and the conditions for people's individuality and their differences to be embraced," Serrano said. "We have someone who is an elder, or someone who is four years old, all the people in between."
Serrano and his team launched the Chicago Karaoke Festival last summer in his home neighborhood park, Dvorak Park in Pilsen, in partnership with the Chicago Park District's Night Out in the Parks program. He said parks were the ideal site for an initiative like this as the "ultimate civic spaces" that bring all kinds of people together for recreation.
"Our cultural work should focus on bridging what is systematically divided, so we're not looking each other as less than, but as peers and citizens as people who belong and share this world," Serrano said. "That's always been the goal of the karaoke, especially when we do this in very public spaces."
This summer, with support from the Park District and community partners, they're taking the show on the road across the city. 
The People's Stage Chicago Karaoke Festival and tour kicks off this Saturday, July 20th at Horner Park in Northcenter, with subsequent dates throughout the summer planned at Dvorak Park (July 27th), Ping Tom Memorial Park in Chinatown (August 10th), the South Shore Cultural Center (August 26th) and Humboldt Park Boathouse (September 14th) ("Next to the alligator," he joked.). The bulk of appearances are tethered to another community event, such as HornerFest, Pilsen's iconic Fiesta del Sol and the Movie Night in the Parks screening of The Wiz in South Shore. 
In a pretty toxic political climate, Serrano wants to create an experience in collaboration with everyone, where the audience is connecting across race and generation, and using the medium to foster mutual respect and listening. 
"It's amazing how people respond to our youth dancing, our people singing, and I mean everyone," Serrano said. "If you want to say you're from Chicago and Chicago's an international city, we have to act that way. We have to understand that Chicago is a cultural heart of this region and we have to model the kind of global society that we're capable of."
He's thoughtful about song selection, and making karaoke approachable to all.
"As a host, I ask myself: 'What are we not hearing? How do we enlarge our sense of being? Can we integrate another language? If everything is stuck in the present, can we do something old-school?"
Serrano agrees with the conventional karaoke etiquette, that it's important for singers to know their limits, consider the speed and register of a song and to know when to ask for support. At the same time, he advises singers to trust their gut about their why they chose a particular song.
At one event he hosted, on the last song of the night, instead of a crowd-pleasing sing-along, the singer opted for Andrea Bocelli's "Por Ti Volare" (made popular by Will Ferrell's rendition in Step Brothers). He brought the house down. 
Serrano's own go-to songs include soul classics like Al Green's "Let's Stay Together" and "It's Alright" by (Chicago's own) Curtis Mayfield & The Impressions, but he will choose salsa or cumbia selections in an effort to encourage people to get up and dance. 
Serrano is particularly humbled by opportunities to create space for youth to shine on stage. He said kids often seize "the Carpe Diem mentality" better than anyone, owning their rendition of Lil Nas X's "Old Town Road."
"You have to understand that performing is sharing," he said. "You're already on stage. Give it everything you got."
Catch The People's Stage Chicago Karaoke Festival and Tour at the following dates:
Saturday, July 20th, at Horner Park, 2741 W. Montrose, as part of Horner Park Advisory Council's Concerts and a Movie at HornerFest, 5-7 p.m.
Saturday, July 27th, at Dvorak Park, 1119 W. Cullerton St., as part of the annual Fiesta del Sol, from 2-8 p.m.
Saturday, August 10th, at Ping Tom Memorial Park, 1700 S. Wentworth Avenue, from 2-8 p.m.
Monday, August 26th, at South Shore Cultural Center, 7059 S. South Shore Drive, prior to the Chicago Park District: Movies in the Park screening of The Wiz, 5-9 p.m.
Saturday, September 14th, at the Humboldt Park Boathouse, honoring Hispanic Heritage Month, 2-8 p.m. 
Organizers and groups interested in partnering with The People's Stage Karaoke Festival and Tour can contact Serrano and his team at kombichicago@gmail.com. 
Do stories like this matter to you? Subscribe to Block Club Chicago. Every dime we make funds reporting from Chicago's neighborhoods.