GOLD COAST — Garden walk season is in full swing in Chicago, with neighborhood groups from Pullman to North Center hosting events to showcase residents' backyard blooms.
But the Dearborn Garden Walk, the longest-running walk in the city, won't be on the calendar this July, according to the North Dearborn Association, the neighborhood group behind the event.
It's the first time the event, typically held the third Sunday in July, has been canceled in its 61-year history.
Residents who regularly open up their backyards for the walk were sad to hear the news.
"I know it came as a very big disappointment to a number of people to hear that there wouldn't be a garden walk," said Deb Cole, a lawyer who has shown her backyard garden on the walk every year since she moved to the Gold Coast in 1986. "I hope that it comes back."
In the past, garden enthusiasts from across the city and the world paid $35 to gain access to about 20 backyard and rooftop gardens along LaSalle Boulevard, Dearborn Parkway and smaller side streets in the Gold Coast, like Astor and Burton Places.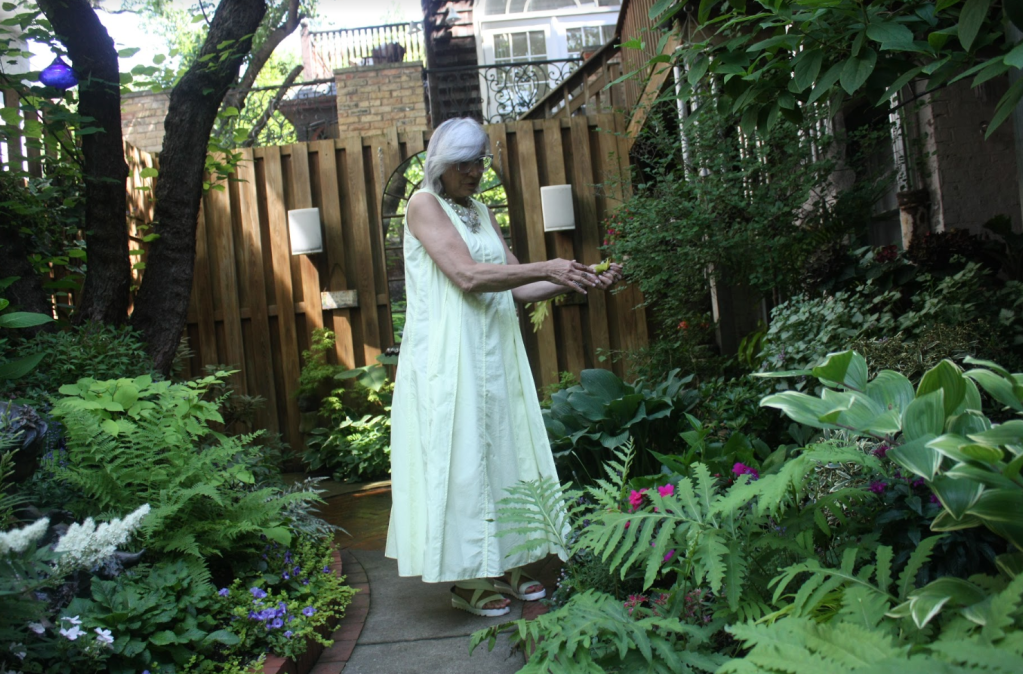 Some of the gardens are lush, award-winning gardens, like Cole's, which has been featured on Good Morning America and in Country Living magazine; others are more humble stretches of green lining building courtyards.
In previous years, the lineup has included the gardens of the Lurie and Pritzker families.
"You wouldn't know that some of these [gardens] were there," said Carol Truesdell, an North Dearborn Association member and Gold Coast resident since 1980. Many of them are tucked away behind walls and in backyards, out of sight from the curious eyes of people passing by.
Although it's a self-guided tour, the Dearborn Garden Walk is fairly luxurious in the grand scheme of garden walks. Every year, local designers create themed displays for the gardens (recent themes have included "Hollywood" and "literature"). Multiple sites feature either live music or a horticultural presentation. And, at least in Deb Cole's garden, there's wine. 
Last year, attendees had the option to ride a trolley from garden to garden.
While the president of the North Dearborn Association did not respond to requests for comment, residents with attachments to the garden walk say the cancellation likely happened because of several factors, including a change in leadership, a dwindling pool of volunteers and bad timing.
The one-day event requires months of organizing work, thousands of dollars for security and publicity and as many as 80 volunteers to check tickets at each garden on the day of the event.
"It takes a village to put the garden walk together," Cole said. 
One year, she recalled, she had as many as 3,000 visitors to her 20-by-40-foot garden. The line to enter curved around the corner of her block.
The North Dearborn Association first started the garden walk in 1958, when the Gold Coast neighborhood was considered a slum and residents struggled to obtain mortgages for their homes. Over the years, Truesdell said, the walk helped to rehabilitate the neighborhood's reputation and to spearhead a preservation campaign to safeguard some of the neighborhood's historic houses against demolition. 
It grew to become one of the neighborhood's biggest traditions.
For Truesdell, the walk provided a welcome opportunity to share the area's history and architectural legacy with visitors — as well as to dispel the Gold Coast's "snooty" reputation. 
Visitors are routinely "astonished" at how welcoming the gardeners are, Truesdell said.
"That's the one thing people would say over and over again, how hospitable everyone was," Truesdell said.
Former Gold Coast resident Mark Weyermuller remembers the garden walk as a big event for his mother, who tended a fern-filled garden in the backyard of the family's property on Dearborn for 46 years. Although she is unable to garden anymore, and the house is now rented out, he keeps the garden for the sake of tradition. 
But in recent years, some of the neighborhood's most beloved gardens have been uprooted.
As Weyermuller approached the Lurie family's old garden on the corner of Dearborn and North Avenue this month, he realized there was now a dusty stretch where the garden used to be. The Latin School had recently purchased the property and was in the process of replacing the garden with what looked like a play yard.
Truesdell and Cole counted off several other gardens that had either been paved over or razed along with their houses: the Victorian house on LaSalle that had a garden with a waterfall and Mandarin ducks, Mrs. Penn's garden on Schiller Street with the decades-old ferns and a pink wrought-iron table set.
Seeing the gardens go is part of living in a changing neighborhood, Truesdell said.
"We knew these gardens wouldn't be around forever." 
She helped the North Dearborn Association compile a book about the neighborhood's most noteworthy gardens in 1999, entitled The Gardens of Chicago's Gold Coast, and she's glad to have those gardens preserved in its pages.
Without a walk this year, Truesdell said she's not sure what she'll do.
"You know, you schedule your summer around it," Truesdell said. "I haven't had the third Sunday in July open in three decades."
But Cole says she's still got her work cut out for her.
"This year my garden is really magnificent, and there's no walk," Cole said. "But it hasn't lessened the amount of work I do, because I love it."
Do stories like this matter to you? Subscribe to Block Club Chicago. Every dime we make funds reporting from Chicago's neighborhoods.