FULTON MARKET — As developer Sterling Bay aims to bring two new office buildings to booming Fulton Market, a West Loop alderman is asking the prominent developer to consider renting some of its retail storefronts at a discount to local businesses.
Sterling Bay unveiled plans for an 18-story building at 1000 W. Carroll Ave. and 11-story tower at 345 N. Morgan St. in Fulton Market at a community meeting at the West Loop library last week. If approved, the buildings will be the fourth and fifth office buildings Sterling Bay has developed in the booming area in the last two years.
At the meeting, Ald. Walter Burnett Jr. (27th) asked Sterling Bay officials to consider setting aside affordable retail space to make way for local businesses to open in the neighborhood.
"As you know, a lot of small businesses in the community are being priced out of the neighborhood, which is very unfortunate," Burnett said. A lot of our longtime restaurants can't afford to be here. The landlords are trying to get the highest rent."
If the developer was building a residential building, Burnett said he'd ask for affordable units to be part of the plan. This ask is no different, the alderman said.
"For a commercial building, we would like for you to consider affordable retail. I would appreciate it and I know the community would appreciate it too," Burnett said.
Fred Krol, a Sterling Bay attorney, said the developer would look into it.
The proposed 178-foot, 11-story tower on Morgan, just north of the Ace Hotel, would include ground floor retail, parking on the second floor, and eight floors of office space. The top floor would be used as an amenity space for office tenants.
The masonry, dark metal and glass structure was designed by Eckenhoff Saunders Architects.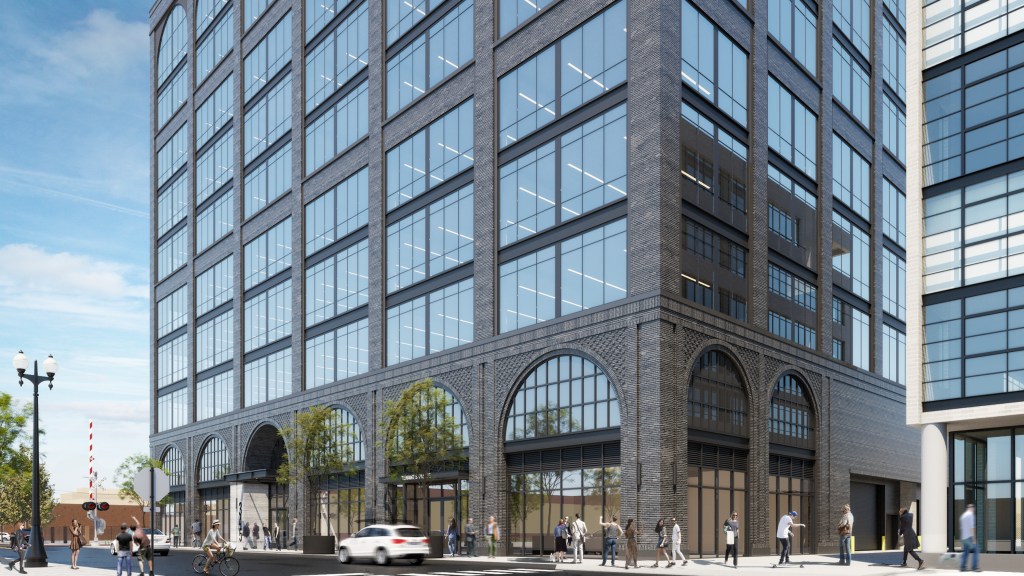 The proposed 288-foot, 18-story office tower on Carroll, just north of Google's headquarters, would include ground-floor retail space and two levels of parking.
RELATED: Sterling Bay's West Loop Office Tower Push Continues With Two New Building Proposals
The 18-story building's facade, designed by Skidmore, Owings & Merrill, would be constructed with glass and metal.
The development would include 181 parking spaces across the two buildings, according to Krol.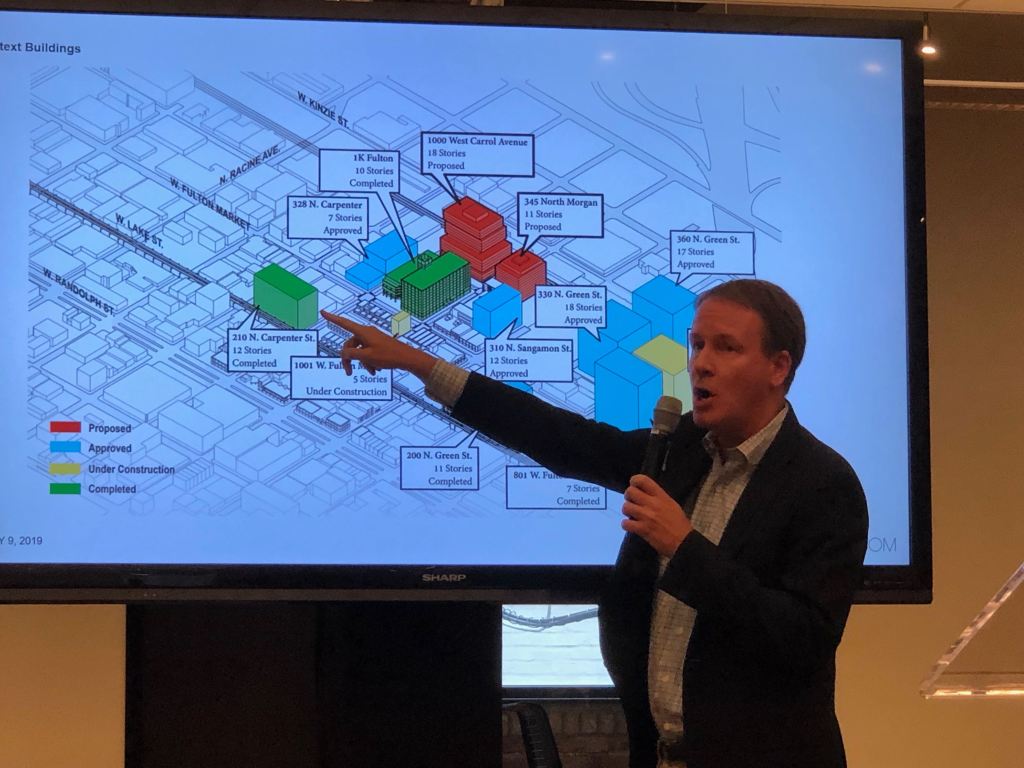 The Carroll property currently houses meat wholesaler Pioneer. The Morgan property is a one-story building owned by Sterling Bay.
As the booming area struggles with more density, West Loop resident Levar Hoard requested a moratorium on development in the area until safety concerns are resolved. The Metra train tracks are just north of the proposed buildings.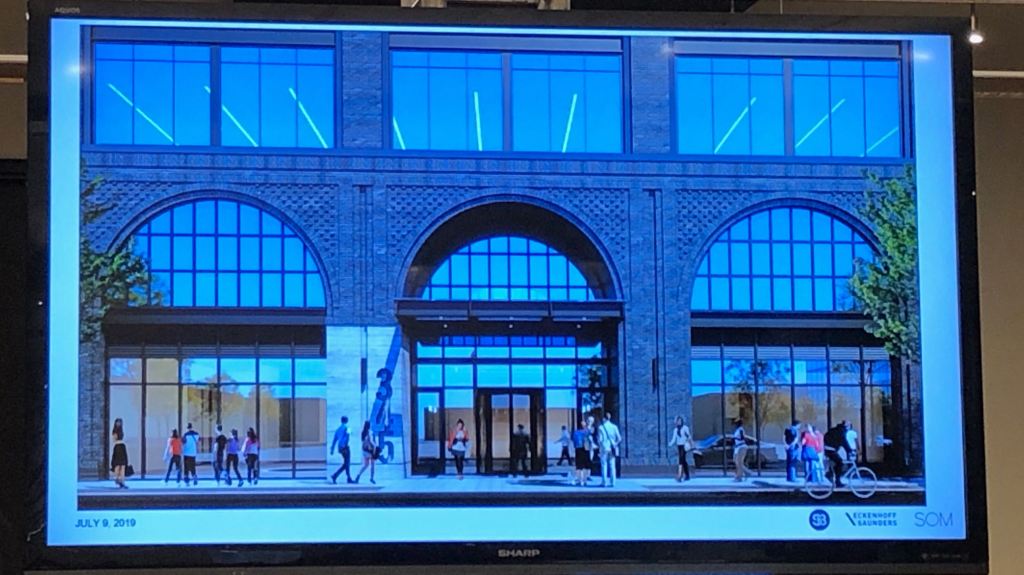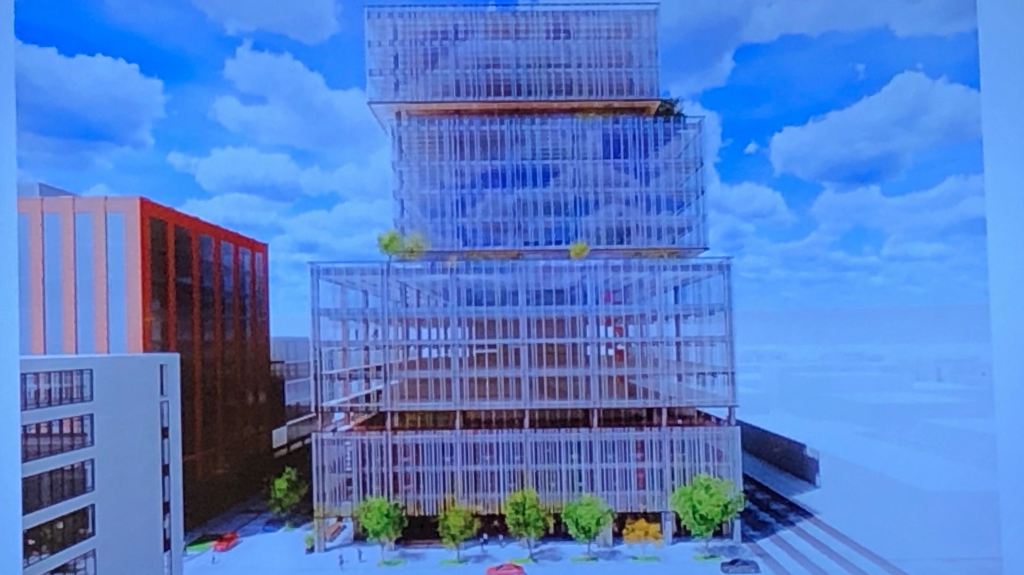 Carla Agostinelli, executive director of the West Loop Community Organization, said the group had yet to make a final recommendation on whether they would support the project. 
The West Central Association hasn't made a decision on the project, either, president Armando Chacon said at the meeting.
Burnett said he is still evaluating the proposal.
The developer is currently working on three office towers north of the proposed 19-story Thor Equities tower: a 20-story building at 330 N. Green St.; a 19-story building at the old Coyne College parking lot, 333 N. Green St.; and a 21-story building at 360 N. Green St.
Sterling Bay is seeking a zoning change to build the two office towers from M2-3 Light Industry and Planned Development 1282 to DX-5 Mixed-Use, then to a business Planned Development.
Under plans, Sterling Bay would pay $7.6 million into the city's Neighborhood Opportunity Bonus Fund, a program that allows developers to build bigger and taller projects in an expanded downtown area to support commercial projects in blighted neighborhoods.
If approved, construction on 345 N. Morgan St. tower would begin later this year.
Do stories like this matter to you? Subscribe to Block Club Chicago. Every dime we make funds reporting from Chicago's neighborhoods.