PILSEN — After a developer has nixed plans to demolish buildings on 18th Street, Pilsen residents now have more time to weigh in on a contentious plan to turn a 1.5-mile stretch of the strip into a Landmark District. 
Earlier this year, the plan, first introduced in November 2018, sparked ire among some residents. During an April meeting, some neighbors said the city was "shoving" the proposal down their throats.
After the city rejected three demolition permits within the proposed district, the Landmarks Commission and City Council would've been forced to make a decision on the district by mid-August, according to city code.
Now the city has until May 2020 to make a final decision on the proposal.  
The new timeline comes after Ald. Byron Sigcho Lopez (25th) asked developers Michael and Ronald Fox to withdraw their demolition permits for three buildings at 1730-34 W. 18th St. 
Sigcho Lopez said he wanted to "slow down" the process and allow residents to weigh in on the proposal without being rushed.
Developer Michael Fox confirmed he withdrew the demolition permits following a conversation with Sigcho Lopez. The alderman expressed concerns that the process was being rushed without enough input, Fox said.
Instead of razing the three buildings, Fox now plans to rehab the three buildings.
RELATED: Pilsen Historic Designation Plan Gets Thumbs Up From Landmarks Board — But New Alderman Calls For More Community Input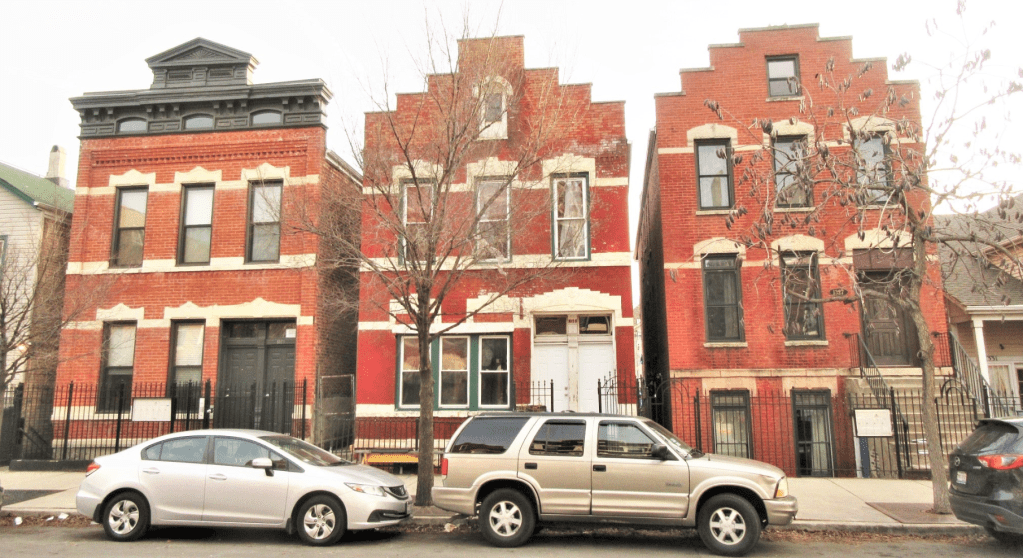 Now that the developer withdrew the demo permits, the 90-day deadline required by city code no longer applies, said Peter Strazzabosco spokesman for the city's Department of Planning and Development.
The City Council has until May 2020 to take action or, by default, the designation would be approved on the Landmarks Commission's recommendation, Strazzabosco said.
After the proposal was recently introduced to the Committee on Zoning, Sigcho Lopez said it still needs work. He wants to revise the plan to include more resources for homeowners who are concerned about affordability in the gentrifying neighborhood and the upkeep required by living in a historic district, especially as owners face more property tax hikes. 
"We don't want to create an extra obstacle in an environment that is already complicated for homeowners," he said.
RELATED: Can Pilsen Homeowners Afford A Historic Landmark District? Worried Residents Ask City To Delay Designation
"For proposals to be effective it should include real benefits to homeowners," Sigcho Lopez said. The resources currently available are too limited…if we don't change that [the proposal] won't get community buy-in."
Sigcho Lopez now aims to gather more feedback from residents within the district before making a decision on the proposal.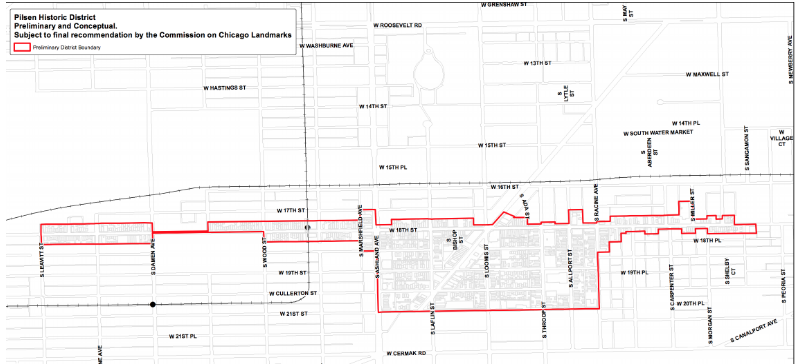 Last fall, city officials unveiled the Pilsen Landmark proposal — one component of a five-part strategy aimed at preserving the Mexican and Mexican American communities in Pilsen and Little Village. 
As part of the proposal, the city aims to preserve approximately 850 Baroque-inspired buildings constructed between 1875 and 1910 along with murals painted in 1978 and onward. Officials said the designation would preserve two significant time periods in the neighborhood's history and would become one of the city's largest historic districts.
RELATED: Should Pilsen Become A Historic Landmark District? Some Say City Is Trying To 'Shove This Down Our Throats'
RELATED: City Vows To Keep Mexican Culture Alive In Pilsen, Little Village With New Affordable Housing Plan
In December, the city's Landmarks Commission approved a preliminary landmark recommendation that covers a 1.5-mile stretch of 18th Street,  Blue Island Avenue as well as residential blocks bound by 18th Street, Ashland Avenue, 21st Street and Racine Avenue in Pilsen.
There are 59 Landmark Districts and nine extensions across Chicago, according to the Department of Planning and Development.
Do stories like this matter to you? Subscribe to Block Club Chicago. Every dime we make funds reporting from Chicago's neighborhoods.