SOUTH SHORE — South Side artists Max Sansing and Kayla Mahaffey hope their new twin murals will remind their neighbors the North Side isn't the only place with a claim to Chicago's art scene.
Mahaffey said she and Sansing went with a superhero theme for their 79th Street murals to evoke feelings of protection and hope among neighbors. Her piece, "Joined as One," features a central hero in a fighting stance, joined by a few sidekicks.
"I didn't want the whole aspect of the battle being fought alone," Mahaffey said. "I want [residents] to know that you have to come together as a community to fight for what you want to strive for."
The murals at 1842 E. 79th St. enclose an abandoned property, which once had tall grass and broken bottles strewn about, Mahaffey said. By their Friday unveiling, the property was cleaned up enough to hold a celebration luncheon organized by the Southeast Chicago Chamber of Commerce.
People driving or walking by can now view a splash of color and positivity where there once was none, Mahaffey said.
"This little center area of the block needed something to beautify it, to make it up-and-coming," she said.
Sansing's piece is about "rediscovering where you are," he said. The murals are intended to mark 79th Street as a destination for Chicagoans near and far — hence his work's title, "New Frontiers, Same Old Nine."
"It ain't all just city blight" in South Shore and the surrounding area, Sansing said. "There's a real rich history around here. … The South Side is so damn dynamic."
Sansing's been painting the city since he was a teenager. His works in Greater Grand Crossing, Rogers Park, Roseland and more commemorate a 20-plus-year career in street art.
But returning to the area he grew up in is special, if not a new experience, the Avalon Park native said.
"I'm an entrepreneur, I'm a creator, and I decided to create in my community," Sansing said. "I wanted people to say, 'Hey man, 79th Street has got some hot work on it.'"
The murals can help attract shops and services to the 79th Street corridor, but also serve as advertisements for the artists' own local businesses, he said.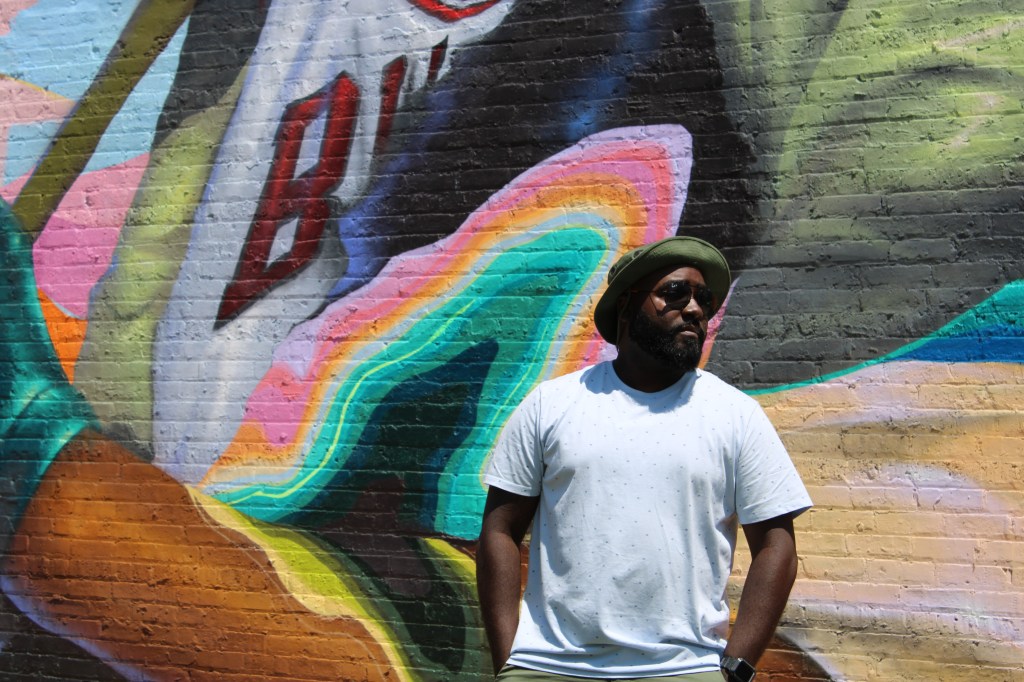 Sansing was a student of Carolyn Mims Lawrence, a longtime Kenwood Academy art teacher whose work with AfriCOBRA in the '60s and '70s inspired his own foray into murals.
He sees Mahaffey as "the next one up" in a lineage of South Siders using street art to brighten their communities.
"We're just carrying the torch, carrying on the mural movement in the city," Sansing said. "This is our culture, this is our history. These are our pyramids, these are our great statues of Rome."
Do stories like this matter to you? Subscribe to Block Club Chicago. Every dime we make funds reporting from Chicago's neighborhoods.