HUMBOLDT PARK — Chicago's favorite rogue alligator is still on the loose, eluding capture for another day as crowds continue to turn out for a spectacle that's captured the fascination of the city for most of the week.
Day 4 of the hunt for alligator — dubbed "Chance the Snapper" by Block Club readers — is officially underway in the Humboldt Park lagoon, where someone presumably dumped the American alligator.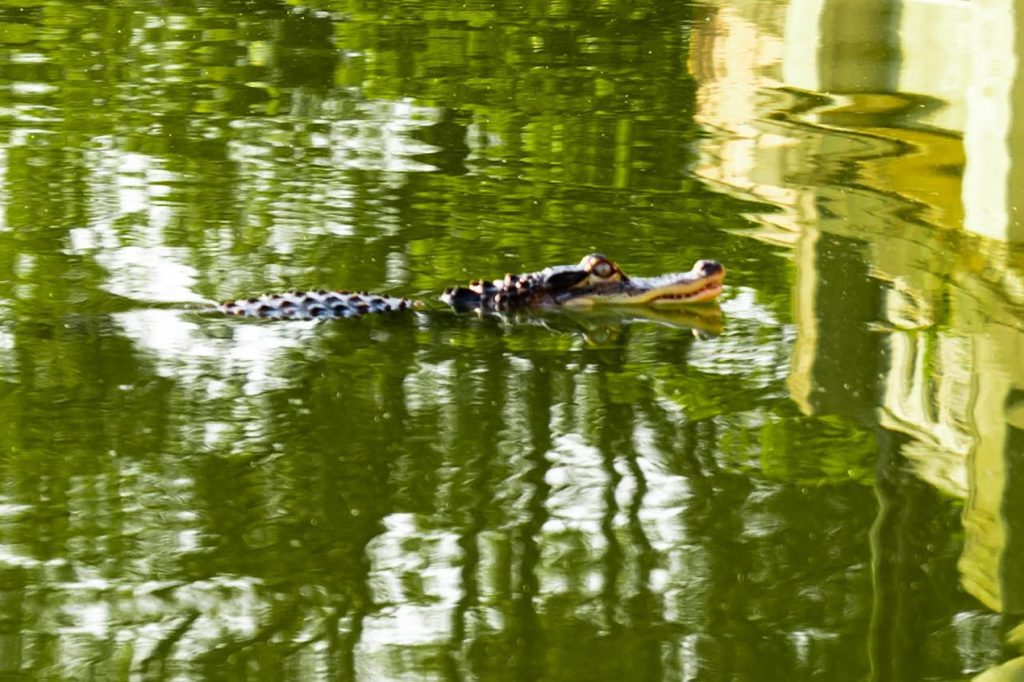 It was first spotted Tuesday, and animal experts have been trying to humanely trap it and rescue it ever since. The eyes of the city have been on the still waters of the inland lagoon — and on Alligator Bob, the volunteer reptile expert who has been baiting traps, motoring around the lagoon in his skiff looking for the gator and then briefing waiting reporters on his search.
The last official sighting of the gator was around 2 a.m. Thursday, when police officers patrolling Humboldt Park saw the animal.
Alligator Bob, a reptile expert with the Chicago Herpteological Society, said the alligator likely spent most of Thursday asleep in the depths of the lagoon. Thursday's cooler temperatures were unfavorable to the gator. 
"He's hiding, trying to find a warm place," Bob said Thursday night. "Yesterday was the hottest day of the year. That animal was in heaven." 
Bob's hope is that the animal will hunt overnight, and find himself caught in one of the lagoon's five baited traps. 
"Hopefully we'll be celebrating tomorrow morning," Bob said Thursday night. "That would be the most exciting news in the world." 
Although the last confirmed alligator sighting was early Thursday, that did not stop hordes of people from claiming they spotted the gator.
Debbie Delgado, of Humboldt Park, said she saw the gator around 4 p.m. Thursday in the north end of the lagoon. She shared the news far and wide, and led a group of about 50 people to the site where, she says, she spotted the animal. 
"I came by today to see if it's true," Delgado said. "A girl said, he's over there. I saw the bubbles, and he came out.
"I was surprised," she continued. "I asked everybody, you see what I see?"
Delgado came to Bob with the exciting news, only to be told that she likely just saw a log, she said. She showed the gathered crowd the photo she snapped of the alleged alligator, and asked how Bob could dismiss the sighting.
"Alligator Bob says I saw a log," Delgado said. "How does a log have eyes? I'm not senile!"
Thursday's lack of alligator activity did not dampen spirits of the hundreds of people gathered around the lagoon, some of which actively looked for the alligator, flew drones over the lagoon or had picnics in nearby lawns. 
An employee of the Humboldt Park boathouse, who asked not to be named, said Thursday was more tame than Wednesday, when as many as 2,000 neighbors were surrounding the lagoon, he said. 
As he set up a DJ stand on the boathouse patio, a reporter asked the employee about the theory that Wednesday's night's live salsa music and dancing likely scared the animal.
"He liked the music, I bet," the man said. "He was dropped off here early (in life), so he's from the neighborhood." 
PREVIOUSLY: As Humboldt Park Gator Watch Enters Day 3, Alligator Bob Says The Creature Is Getting Comfortable
Alligator Bob said the animal has probably acclimated to the lagoon and is looking for quiet, something not available as crowds of onlookers and press kept watch throughout the day.
When he is found, "I hope he sees me as the food god," Bob said.
Fishing was prohibited and the lagoon was surrounded by temporary fencing, police tape and signs warning about possible alligator attacks.
Throughout the day, onlookers and self-proclaimed experts began to question Bob's methods.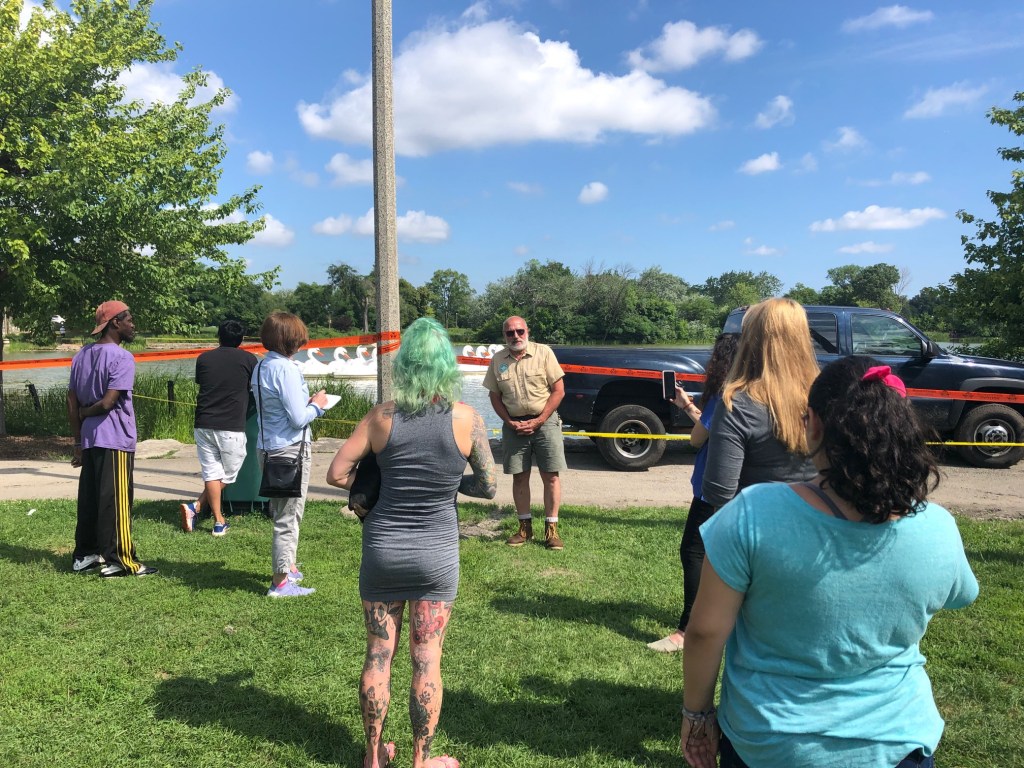 "He's using smelts, what an idiot. You need to go to a butcher shop and get a big roast beef," said onlooker Leroy Martin, a house painter from Humboldt Park.
Martin claimed that at 12:30 a.m. Thursday he decided to sneak into the park on his bicycle and saw the gator out of the lagoon near the boathouse.
"He was on the steps, just hanging out," Martin said. "He's a cute little thing but he does have some meat on him. I watched him just chilling and then he plopped back into the water and swam away."
Another man who claimed to have seen the gator Thursday was Andrew Cholewa, a 60-year-old retired electrician, who said he saw and fed the animal at 4:30 a.m. Thursday.
"He's 4-6 feet long and very skinny. He looks like he suffers from malnutrition but they just stocked the lagoon so he should be good for awhile." Cholewa said if he could talk to the gator, "I'd tell him to get his ass to the zoo, but he's hard-headed. I hope they find him before the winter."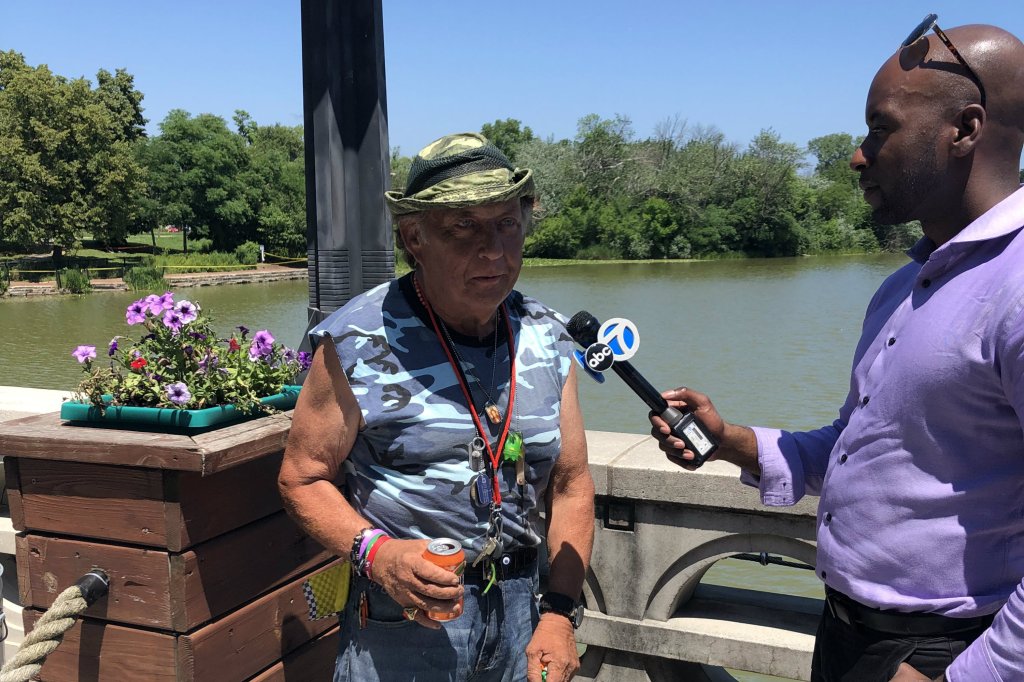 Also among the crowd of onlookers Thursday was a school group from the nearby Moos Elementary School summer camp.
Teacher Samantha Stilwell said she received parental permission for all the kids, who ranged from first to fifth grade, and that they were very excited about the search. She added that she was able to use the goings on in a lesson.
"Yesterday we focused on the differences between crocodiles and alligators. The kids have been so excited."
A few business have been able to capitalize on the circus-like environment that's captivated the city.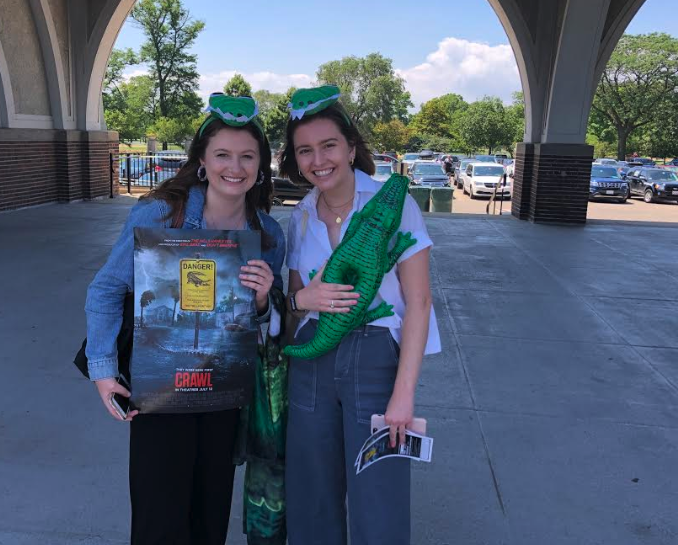 Madison Becnel and Cassidy Platte, two Loyola University students who are interning for Allied Global Marketing, were decked out in alligator hats, sent by their boss to promote their client Paramount Pictures' horror movie "Crawl," which comes out tomorrow. The movie is about an alligator that gets stuck in a house. 
"This really as worked out well for us," Platte said.
Aaron Wolfson, owner of Chicago's Dog House at 816 W. Fullerton Ave and a Taste of Chicago vendor, brought Alligator sausage to the Humboldt Park Field House to feed hungry reporters and spectators and to plug his business.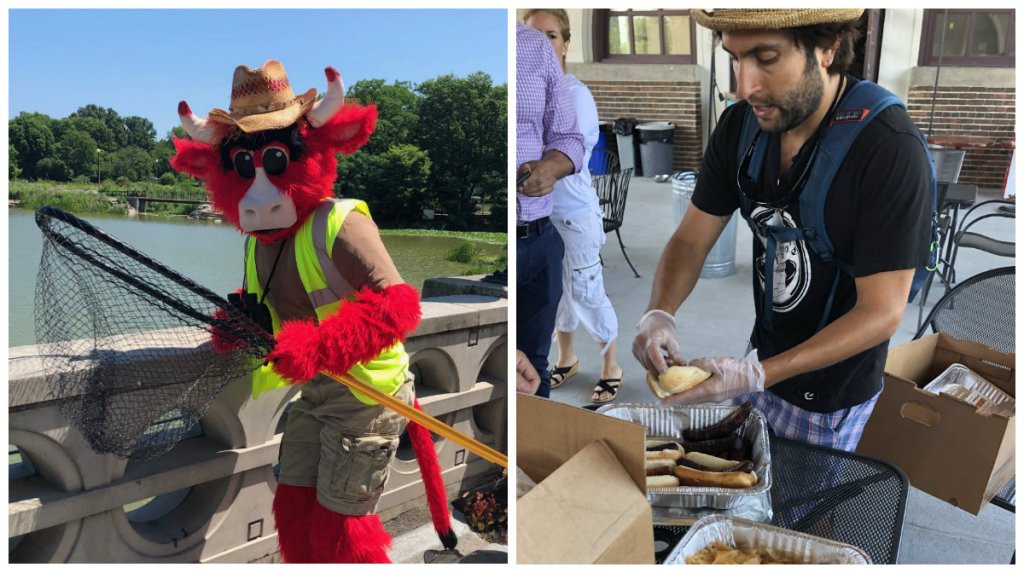 Enoch DeJesus, a 57-year-old security guard and member of the Humboldt Park Fishing society was enjoying an alligator sausage sandwich supplied by Wolfson.
"That's good! It tastes like a Polish " DeJesus said.
DeJesus, who said he's been fishing the lagoon for years (catch and release) also gave advice for Alligator Bob.
"I'd use a 100 pound braided line and fish the top of the lagoon and the bottom with a milk jug as a bobber and a chicken leg as bait."
One business that seemingly would make sense to pounce on the drama would seem to be Chicago blues label Alligator Records. On Thursday, a representative of the label said there have been discussions of having a pop-up shop in Humboldt Park during the search, but nothing has been decided yet.
Do stories like this matter to you? Subscribe to Block Club Chicago. Every dime we make funds reporting from Chicago's neighborhoods.

GATOR WATCH 2019 COVERAGE
As Humboldt Park Gator Watch Enters Day 3, Alligator Bob Says The Creature Is Getting Comfortable
Chicago's Alligator Search Highlights Illegal Pet Dilemma, But Experts Urge: Please Don't Just Dump Them
It's GatorWatch In Humboldt Park As Chicago Comes Together To Search For A Scared Alligator
How Did A Gator End Up In The Humboldt Park Lagoon? Here's How Experts Rescue Exotic Animals in the City
Yes, There's An Alligator Living In The Humboldt Park Lagoon … And Chicago Is Cheering It On
---
GATOR WATCH SWAG
Yes, we made shirts to commemorate this very Chicago news story. Designed by local artist Ryan Duggan, get your limited-edition tote and t-shirt here while supplies last.
All proceeds will benefit Block Club Chicago, an independent, nonprofit neighborhood newsroom.