GREEKTOWN — DrinkHaus Supper Club, a restaurant and bar in Greektown that was shut down by the city last week for a series of code violations, now could lose its liquor license.
City attorneys have moved to revoke DrinkHaus' liquor license on charges the restaurant and bar, 820 W. Jackson Blvd., violated their plan of operations and stayed open after hours, said Bill McCaffrey, a spokesman for the City's Law Department. Owners will face a license disciplinary revocation hearing Tuesday.
If found liable, DrinkHaus could have its liquor license revoked or face other penalties, McCaffrey said.
And now, Ald. Walter Burnett Jr. (27th) is vowing to do everything in his power to keep the bar closed. Pointing to fights that were captured on video inside of and outside of the establishment, Burnett said the bar has created "chaos" in the neighborhood.
"My standing expression to every business coming in, if you give the community a challenge …we are going to do everything in our power to shut you down," Burnett told Block Club.
But supporters of the black-owned business say they're being unfairly targeted in a mostly-white business district.
"That's because DrinkHaus is downtown and attracts a large black crowd," one fan of the business commented.
"Chicago is well known for giving black businesses an extremely hard time," said another customer.
DrinkHaus Supper Club's problems with the city began July 3, when Department of Buildings inspectors ordered the building to be closed because of "numerous dangerous and hazardous conditions" including that the bar exceeded capacity, exposed electrical wiring and other fire safety issues, said department spokesman Gregg Cunningham.
The building can't reopen until the code violations are fixed and the building is inspected for compliance, Cunningham said.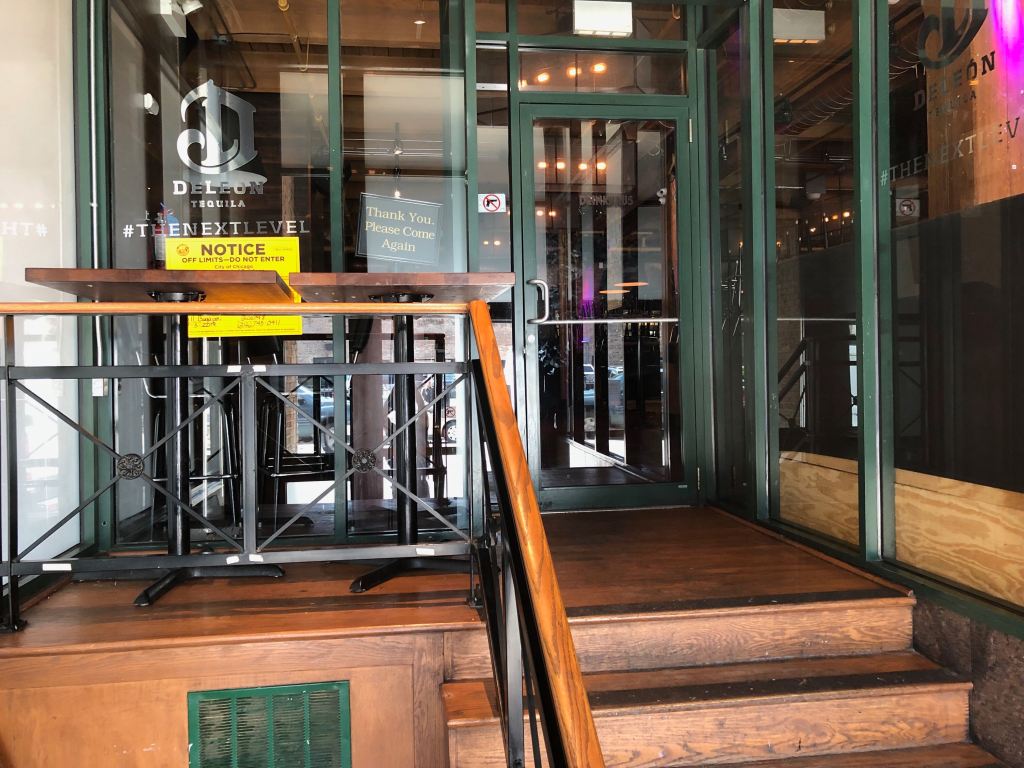 "The building will not be allowed to re-open until the code violations are addressed and the building is inspected for compliance by the Dept. of Buildings," Cunningham added.
DrinkHaus representatives took to social media last week to confirm the restaurant had been shut down as result of an "unannounced inspection."
The establishment was ultimately shut down "due to very minor building code infractions," the statement read. "We are trying to work with the landlord, Crayton Management, to bring the space up to code."
DrinkHaus owners said the infractions come after passing "every required city inspection to date."
"We are working as hard as we can, with our management, to put 50+ people back to work," the restaurant said on a Facebook post.
"The idea behind DrinkHaus was to create a place where WE can go and call our OWN," the statement read.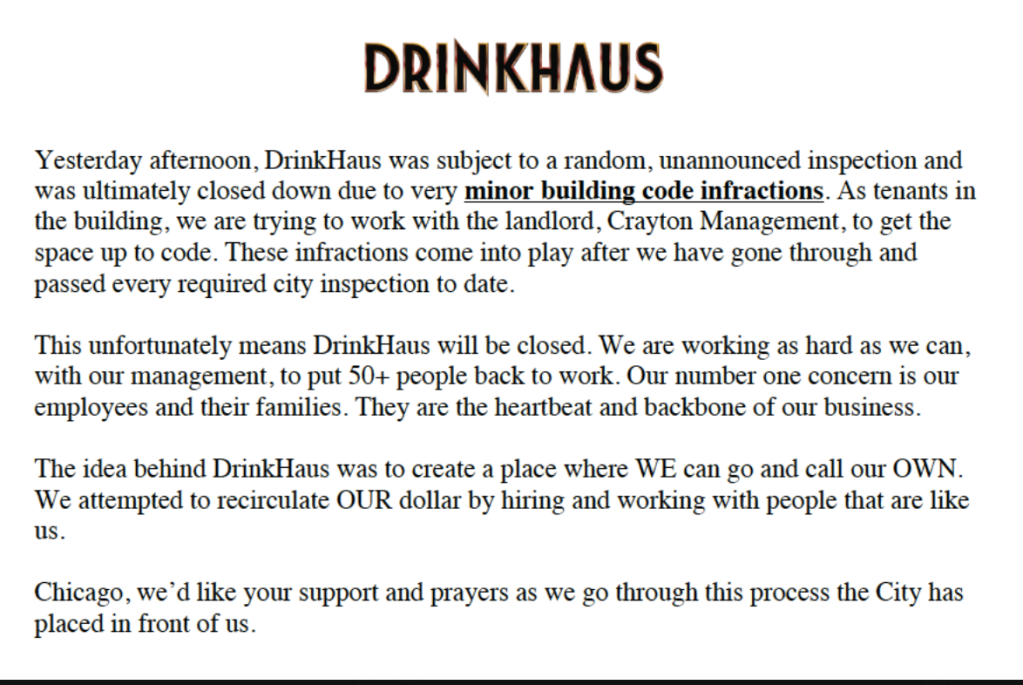 Helmed by Teddy Gilmore, DrinkHaus opened last August, according to Eater Chicago.
Last summer, Burnett said his office and the city approved plans for DrinkHaus to open despite opposition from the businesses in the Greektown Special Service Area. Back then, it was supposed to be operated as a restaurant, he said, and operators were not issued a Public Place of Amusement license that would allow them to hire DJs and live entertainment.
But since opening, "they've been operating like a night club," Burnett said. "Patrons are going outside and disrupting the neighborhood."
In addition to violating its plan of operation by staying open beyond its approved hours, Burnett said there were growing safety concerns following a string of fights that started in the venue and spilled out onto Jackson Boulevard.
"If you want to be part of this community, you have to be a good neighbor. We expect everyone to be good neighbors," Burnett said.
In recent years, Greektown has experienced "challenges" with people coming into the neighborhood to visit its late-night restaurants and causing problems, Burnett said.
The Greektown Special Service Area hired private security to curtail issues, but since Drinkhaus opened last August, nearby businesses have complained about a "rise in violence again," Burnett said.  
The West Central Association, the West Loop chamber of commerce that runs the Greektown Special Service Area, has been working with the city and Burnett to shut down DrinkHaus for several months, charging that the venue has violated its plan of operation, according to Armando Chacon, president of the West Central Association.
Chacon said a series of fights that have broken out outside the bar have created "a dangerous environment" in the area.
"For a good period of time, DrinkHaus has operated as a night club which comes with some…problems," Chacon said. "And they haven't done the best job of managing the plan of operations and minimizing several [violent] incidents."
People "who live close by don't feel safe because of DrinkHaus and how they operate and that's not acceptable," Chacon said.
Chacon pointed to a recent incident captured in a Facebook video that shows a group of women fighting outside DrinkHaus. In the video, one woman is on the ground while another woman punches her in the face and another woman kicks her in the head. Later in the video, a group of women are seen arguing on the street before one woman rushes in and punches another woman in the head. The second woman immediately falls to the ground.
Burnett said the June 30 incident captured on video stemmed from an altercation that began inside of DrinkHaus.
That same night, a shooting happened in the 800 block of West Jackson Boulevard, the block where the establishment is located. But Burnett said Chicago Police could not confirm whether people involved patronized DrinkHaus earlier that night.
Videos uploaded to Snapchat and then copied to Facebook show multiple fights broke out on the same night. In one 27-second clip, a man is seen trying to separate two women fighting before one woman falls on a couch. Another woman lays on top of the woman as she punches her repeatedly in the head.
Multiple security guards attempt to intervene to stop the fight.
In another video, one man wearing a security guard uniform is seen fighting with a male patron while another security guard attempts to separate the two.
Gilmore, owner of DrinkHaus, did not return multiple requests for comment.
Following the announcement, some people condemned the establishment on Twitter.
"When Drinkhaus first opened, they were on to something special and it attracted a nice crowd of people. But it was only a matter of time …Then the promoters…They played with fire for a while. I'll miss the catfish," one commenter wrote on Twitter.
"Seeing Drinkhaus being dragged. I don't feel bad because for about a year they've ignored countless reviews about improving the place and just ignored it," another wrote.
Another commenter said she would be upset to see the venue remain closed.
In response to the viral fight video, one customer noted: "go to Wrigleyville, they fight more."
Three bars in and near the West Loop — all located in Burnett's ward — have been forced to close in recent years because of fights and shootings. 
Two shootings near Funky Buddha Lounge in November 2014 prompted the longtime River West bar at 728 W. Grand Ave. to close. In one of the incidents, the shooter worked at the bar, authorities allege.
After a shooting in March 2015 and facing pressure from neighbors, Sawtooth, a restaurant and nightclub at 1350 W. Randolph St. in the West Loop, was forced to close.
In September 2015, police pushed for Red Kiva, a pizza restaurant and nightclub on Randolph, to close after a fatal shooting nearby. Red Kiva has not reopened.
Do stories like this matter to you? Subscribe to Block Club Chicago. Every dime we make funds reporting from Chicago's neighborhoods.