RAVENSWOOD — A longtime Ravenswood restaurant is for sale, but the owners of Glenn's Diner want to make it clear: That doesn't mean it is closing.
The owners of Glenn's, the diner at 1820 W. Montrose Ave. known for its unique menu of fresh seafood and cereal, are looking for someone to take over the restaurant as they plan to slow down in life, said Marcus Sullivan, assistant vice president at SVN Chicago Commercial, who is listing the business.
The asking price for Glenn's is $199,000, according to the listing. The 1,800-square-foot property itself is not for sale, only the business on the premise.
"The hope is that it stays exactly the same," Sullivan said.
Current owner Larry Jones stressed that the sale does not mean they are closing the restaurant.
"We are seeking a well-matched and suitable successor that has the passion, excitement and desire to keep the legacy of Glenn's Diner alive and thriving," Jones said in an email.
"Myself and Debbie (my loving wife, partner & general manager of Glenn's Diner) are looking to open a new chapter in our lives, so if the right person is interested in 'carrying the torch,' please contact Marcus Sullivan," he wrote.
There's no real urgency to the sale, and if the right person doesn't come along, the current owners plan to stick around for now, Sullivan said. Jones was not immediately available to answer further questions.
"Their kids are out of the house now and they've worked all their lives," Sullivan said. "It's not an urgent thing but they're looking for someone to carry on the torch."
Jones doesn't own the building and Glenn's existing lease is valid through Feb. 29, 2024. The owners also have the right of first refusal, meaning they could expand the restaurant into the adjacent storefront if it becomes available for lease. 
The listing for Glenn's goes on to say the business is a "unique and profitable diner concept" in a vibrant retail corridor that seats 43 inside with and addition 20 seats on the outdoor patio.
The listing describes Ravenswood as "an area of interest" for young couples who want to stay in the city and people who are drawn to the tree-lined streets and great schools.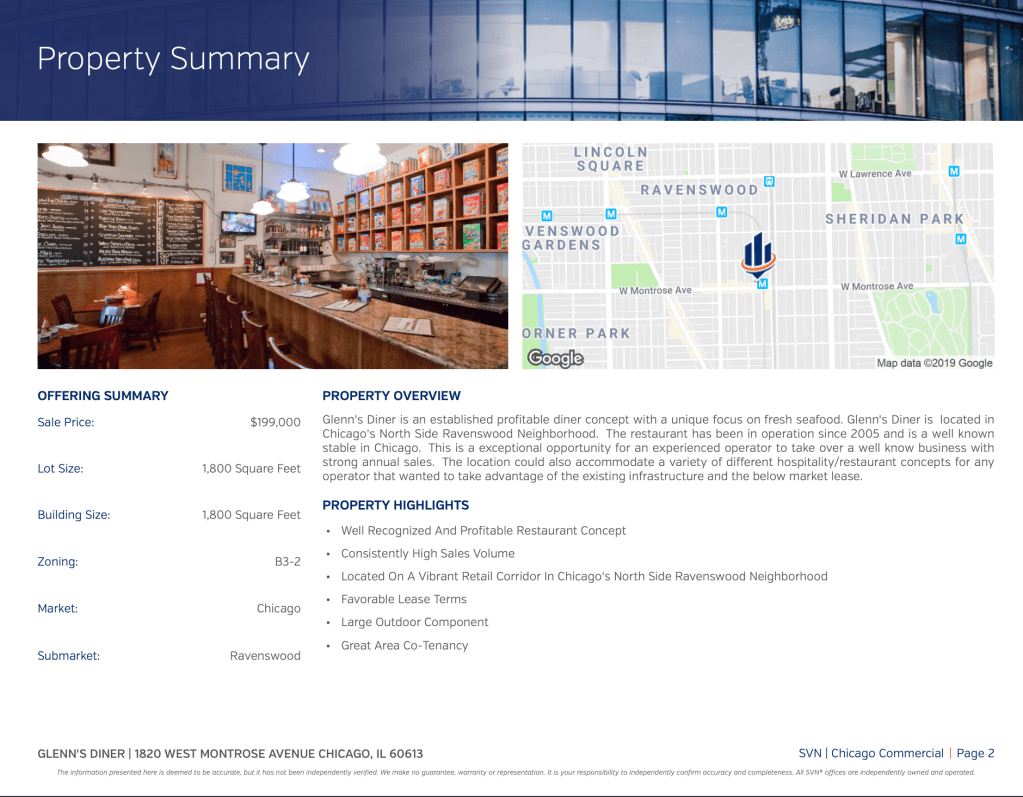 Named after former co-owner Glenn Fahlstrom, the diner's menu has a wide variety of seafood items available for breakfast, lunch and dinner. Each menu item is written on chalkboards on either side of the dining area while behind the register is a selection of 39 different breakfast cereals.
The diner is known for menu items including all-you-can-eat Alaskan king crab legs on Tuesdays and "The Lobster Roll that ate Montrose Avenue."
Glenn's has also been featured on a number of local dining shows, including "Check Please," and was named Chicago Reader's best seafood restaurant in the city.
Fahlstrom and business partner Jones originally created Fahlstrom Restaurant Group LLC in 2005 to operate Glenn's Diner.
After a falling out between them in 2009, Fahlstrom initially sold his share of the business to Jones for $1,000 before deciding to go to court "to invalidate the agreement," a community newspaper reported at the time.
Fahlstrom lost the court battle in 2011 and decided to open Fahlstrom's Fresh Fish Market at 1258 W. Belmont Ave. in 2014. 
Do stories like this matter to you? Subscribe to Block Club Chicago. Every dime we make funds reporting from Chicago's neighborhoods.