EDGEBROOK — Over the last eight years, Peter and Kayla Lardakis helped launch and run six successful Kanela Breakfast Club restaurants. They've gone from struggling startup to well-oiled machine.
Now, they are doing it all over again with their newest venture, Dakota 94 in Edgebrook.
The husband-and-wife team are operating partners in the six Kanela locations. Peter Lardakis is a co-owner with his brother Chris Lardakis and former Illinois Treasurer Alexi Giannoulias.
After getting married and working together for several years, Peter and Kayla Lardakis decided to launch Dakota 94 because they wanted a restaurant near their Sauganash home — something that would be their own.
It's named Dakota 94 as a nod to their roots. A city boy and a country girl, Interstate 94 connects Peter's home in Chicago to Kayla's hometown in North Dakota.
Located at 5304 W. Devon Ave. in Edgebrook, Dakota 94 differs from the Kanela spots in a few ways.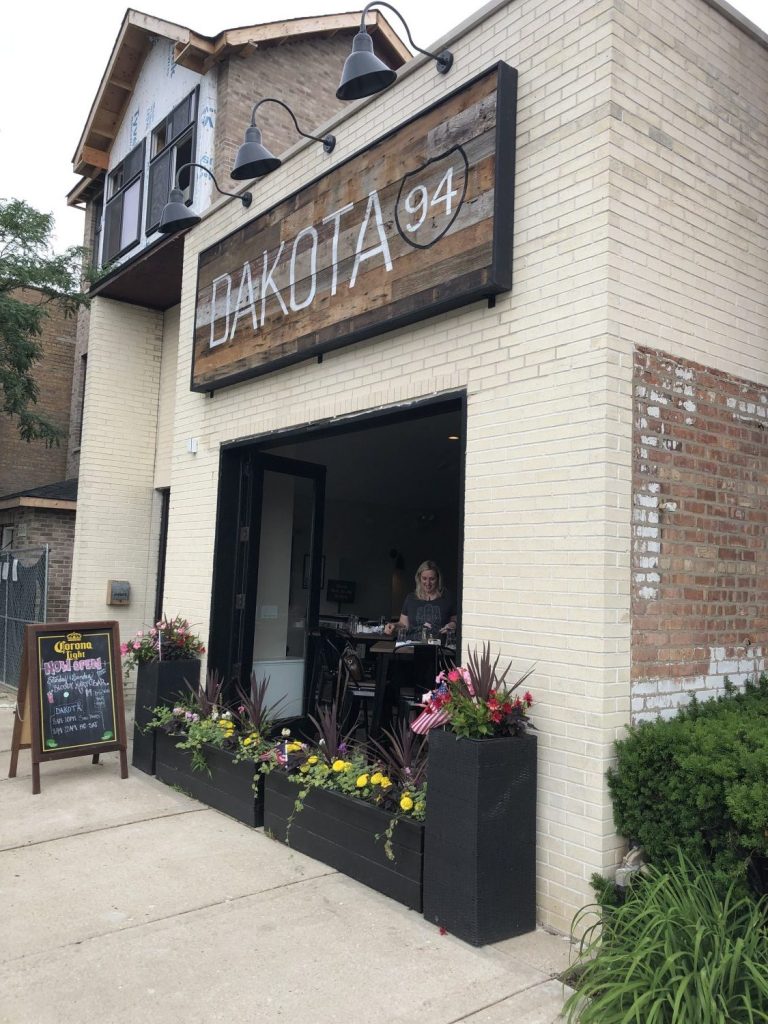 While Kanela and Dakota 94 both make everything in-house from scratch, the menu at Dakota 94 draws its influence from the couple's roots.
The bison burger and homey favorite Mom's Fish and Chips (a walleye with a secret family batter, homemade chips and lemon caper aioli) are homages to Kayla's home state.
Other menu items include Effie's Salad, filled with seasonal produce and a secret family dressing, and breakfast staples like avocado toast and chilaquiles. Then there's desert, which includes a Nutella Baklava. Most items on the menu range from $4 to $15.
Unlike Kanela, which caters to the breakfast, brunch and lunch crowd, Dakota 94 is open for dinner. Peter and Kayla said they always wanted to have a dinner restaurant, and the neighborhood was used to a dinner restaurant at the spot where Dakota 94 now lives. Italian restaurant Mia Figlia previously operated there.
Unlike a lot of restaurant owners, the couple did not grow up in a restaurant families. Peter was in school at Northeastern University and thinking of going into teaching when his brother, Chris, who had recently graduated from DePaul University, talked him into opening what would be the first Kanela Breakfast Club location together. Family friend Giannoulias later came on as a third partner.
Around that same time, Kayla and her roommate, Phil Braun, moved from North Dakota to Chicago in hopes of making it big in theater. Kayla had just finished an eight-year stint as a combat medic in the U.S. Army and earned degrees in both math and theater from Blackstone State University in North Dakota.
She and her roommate debated where to move to pursue a theater, and ultimately decided on Chicago instead of New York or Los Angeles, although they may have had second thoughts after their first day here.
"We moved in in the middle of the night and our U-Haul was towed," Kayla recalled. 
"She didn't know in Chicago you can't park in any spot, so it was a nightmarish couple of days for them," said Peter, pointing out that Kayla came from a small town where her high school class was around 20 kids. "I think as soon as they got here, they realized, 'Pursue the theater, but get jobs right away.'"
And they did. Braun was hired by Peter to work at Kanela and Kayla went on to work various jobs in the restaurant industry. A couple months after Braun began working for Peter, he introduced Kayla to his boss.
"I'll never forget this," Peter recalled. "Phil told me, 'You're such a good guy. I want you to meet my roommate.' And he set up a blind date-like situation, so that's how I first met her. She was at the bar with all our Kanela people and I walked in, and she had love at first sight," he jokes.
When hearing that, Kayla exclaimed, "He had love at first sight!"
Either way, the couple has been together ever since, and Kayla's old roommate is still working at Kanela.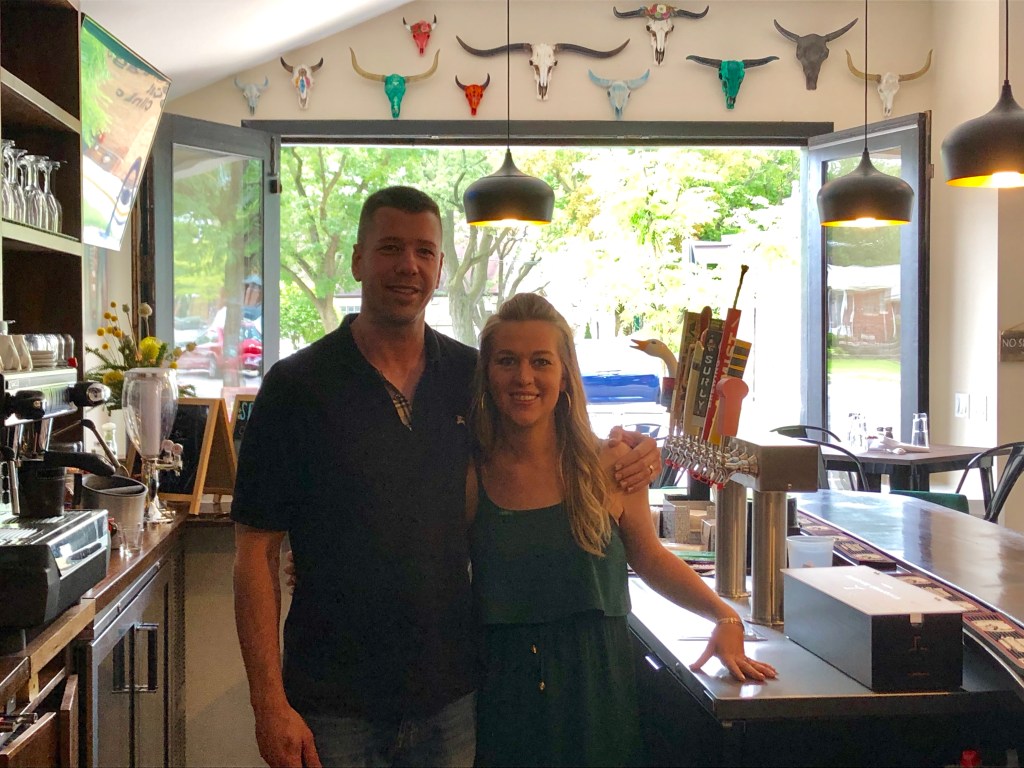 While dating Peter, Kayla began bartending at Kanela on the weekends. She then left the restaurant to use her math degree, taking a job with J.P. Morgan. Time went by and they got married and had their first child. Then Peter's brother called Kayla and asked her to help open what would be Kanela's second location, this one located in Wicker Park.
Seeing what he describes as a "powerhouse," Peter knew he had to get Kayla to work for him and his brother full-time.
"That was the day I ruined her life," he now jokes. "I convinced her to leave J.P. Morgan to take a pay cut and work with me at Kanela. …I needed a smart partner. She had the math degree background, she worked for J.P. Morgan and she was great with people. As we were growing, I needed help with the day-to-day operations."
Kayla said their main duties at Kanela now are overseeing operations, management and paying the bills.
Three years after having their second child, the couple started to think about opening something closer to their Sauganash home.
"For me, we were working so hard, we had ideas of maybe opening another Kanela up here but [Chris and Alexi] weren't really interested in it," Peter said. "Our neighbors were always pushing us to open something around here because we're the restaurant people on the block. We decided, my brother and Alexi are also busy doing other jobs — this will be harder because now we're running more but if we can run six restaurants we can run seven. It's all about finding a good staff."
After an open-call, the couple said they were able to find and train a mix of first-timers and veterans and believe they have a strong staff.
Now open for almost two months, (they had a soft opening May 6), Peter and Kayla said it's gotten to the point where they do not have to monitor everything every working hour. They are planning to buy the building, unlike the Kanela spots which operate in leased buildings, and plan to expand up and install a rooftop deck.
It's more work, but that hasn't stopped them before.
Do stories like this matter to you? Subscribe to Block Club Chicago. Every dime we make funds reporting from Chicago's neighborhoods.