SOUTH SHORE — You wouldn't know it from the quiet emptiness of Jeffery Pub on this weekday afternoon, but in two days the oldest and only black gay bar in the city will be packed from the windows to the walls as folks celebrate the first Pride South Side Festival.
Jeffery Pub, 7041 S. Jeffery Blvd., is just one of four venues hosting an official Pride South Side weekend afterparty. Mister Lee, a community fixture who has been serving patrons for 12 years— and under three different owners—is looking forward to the celebration. Usually, the lounge is the final stop for people who are returning from Pride festivities up north.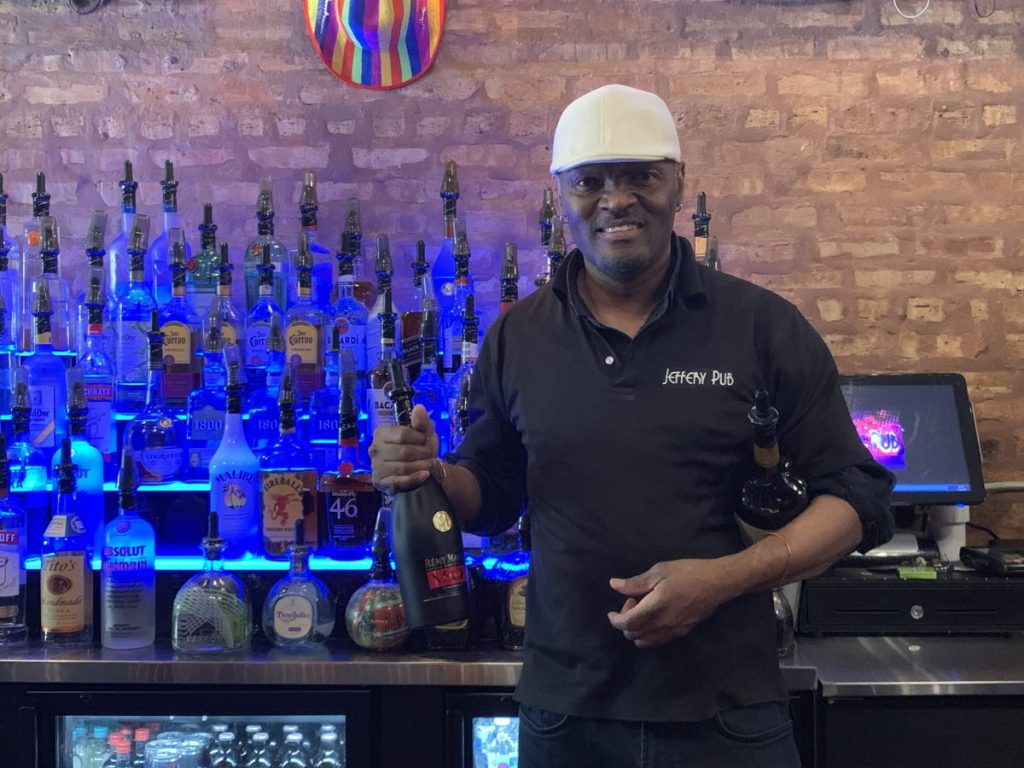 The bar is hosting two events this weekend: Legends; Grown Folks Only dance party Saturday, and Crystal and The Hot Boyz All-Male Review Sunday night.
"It's been a long time coming. I know the young folks are going to enjoy it," said Lee of the inaugural South Side festival. "I remember being in my 20s and 30s and how important it was to have a space like this. It's going to be fun for me, too."
Which is the point, according to Adrienne Irmer, one of Pride South Side's organizers. While there has been some progress made to make North Side LGBTQIA events and spaces more inclusive there have been a few setbacks, including the one last month when a Boystown bar received backlash after banning hip hop music from DJ sets.
"We recognized there was a dearth of opportunities for large numbers of queer-identified folks of color to be able to celebrate Pride Week. The North Side is geographically and logistically far for a lot of Southland folks," said Irmer, who recently served as special projects manager for State Senator (now Attorney General) Kwame Raoul. "And if you're not close to public transit, it's also inaccessible from a cost standpoint, so we wanted to create programming to broaden the reach of Pride celebration activities so that anyone of any income, of any color, and any identity could come and enjoy with family and friends."
Most of the artists performing this weekend are from the city, which was also intentional, said Irmer.
"We have so many talented people right here in our own backyard. It was important to tap into that," Irmer said.
Pride South Side wants to accomplish three things: one, to create an evergreen flagship event for queer people of color living on the South and West sides; two, to work with local businesses and organizations to provide diversity and inclusion training in communities where rates of HIV/AIDS are the highest; and three, to develop career/educational/health and wellness development pipelines in support of queer POC youth.
Jared Lewis, the fest's lead organizer, said they have received criticism about "capitalist" elements of the festival, but Lewis said that support from both political leaders and, sometimes, corporations, make it possible to fund these events.
"Social equity requires policy. We need politicians for that. Economic equity is really just about inclusion," said Lewis, who lives in South Shore. "It's a big deal that we're getting national sponsorships now. This wasn't happening 10 years ago. It's a win."
The outpouring of support—both emotional and financial—has been incredible, said Lewis.
"We've received letters from several sitting officials, we've received assistance and advice. I don't know whether any of this has to do with our new mayor, but it's really been great," said Lewis, who added that the event has raised $45,000 via sponsorships and individual donors.
And any money collected from the event will go towards supporting the fest's three community-focused initiatives, Lewis said.
"The real work begins July 1," he said. "We're ready."
For more information about Pride South Side Festival and to see the schedule of events, go to www.pridesouthside.org.
Do stories like this matter to you? Subscribe to Block Club Chicago. Every dime we make funds reporting from Chicago's neighborhoods.