CHICAGO — A fundraiser for a woman falsely claiming to be the person who spit on Eric Trump at The Aviary raised thousands of dollars.
But the woman is not The Aviary employee who actually spit on Trump in a much-publicized incident Tuesday night, and the man who created a GoFundMe for her has now shut it down and is trying to return the donated money.
Block Club Chicago has not published the name of the employee who spit on Trump and will not publish the name of the woman who had been set to benefit from the fundraiser since neither have been charged with a crime.
But sources confirmed the women are not the same.
The fundraiser was launched after a woman falsely posted on Facebook saying she was the person who had spit on Trump — the son of President Donald Trump — and had lost her job as a result. Thousands of people reacted and commented, with some praising her and offering to help her find work.
Then, a man who knows the woman created a GoFundMe for her.
"My friend allegedly spat on Eric Trump and got fired. That's what happens when we bring the crises from our neighborhoods to the people causing/getting rich off those crises," the GoFundMe organizer Brian C. wrote. "I want to make sure she's good to go until she finds a new job, and that she won't have to worry about paying any legal fees etc.
"Throwdown to support this young badass who wasn't going to let some jagoff bully get away with his nonsense."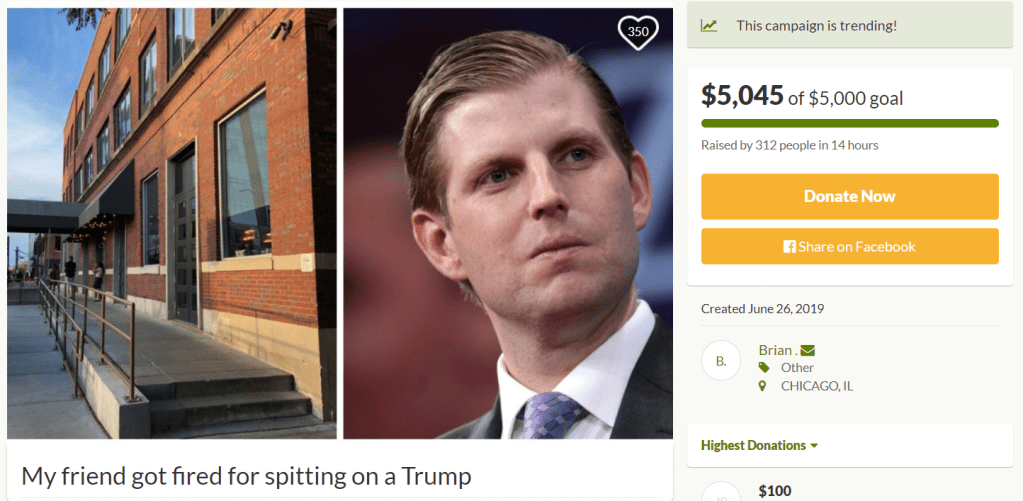 The woman's Facebook posts and the GoFundMe raised eyebrows because The Aviary had explicitly said the employee was not fired — though she was put on leave — and because the woman had not been charged with a crime that would warrant raising thousands of dollars for an attorney.
But the fundraiser, which had a goal of raising $5,000, was shared by people claiming to be the woman's friends, activists and even a state senator. The fundraiser raised more than $5,240 by Thursday morning.
The woman herself continued to make posts about spitting on Trump as people shared the GoFundMe in the comments on her post. She deleted her Facebook account but told people to reach out to the GoFundMe's organizer if they wanted to contact her.
But on Thursday morning the GoFundMe's organizer said he learned the woman he'd created the fundraiser for had not actually spit on Trump. Refunds are now being issued to people who donated to the GoFundMe, he told Block Club Chicago. Block Club is not using his name because he contends he was deceived by the woman.
"I believed her, and I wanted to help, because the Trump administration is putting people in concentration camps, threatening to take our neighbors away, and wreaking havoc," the man said in a statement to Block Club. "I wanted to help her because I wanted to support someone who had a chance to make life uncomfortable for a fascist regime, and who took that chance even though it would affect her negatively.
"I'm sorry for misleading folks, but I'm not sorry for trying to support people who stick up for their communities. Most of all, I hope this doesn't bring us pause when we have a chance in the future to support causes that we believe in."
GoFundMe did not immediately respond to a request for comment.
Screenshots from the woman's now-deleted Facebook: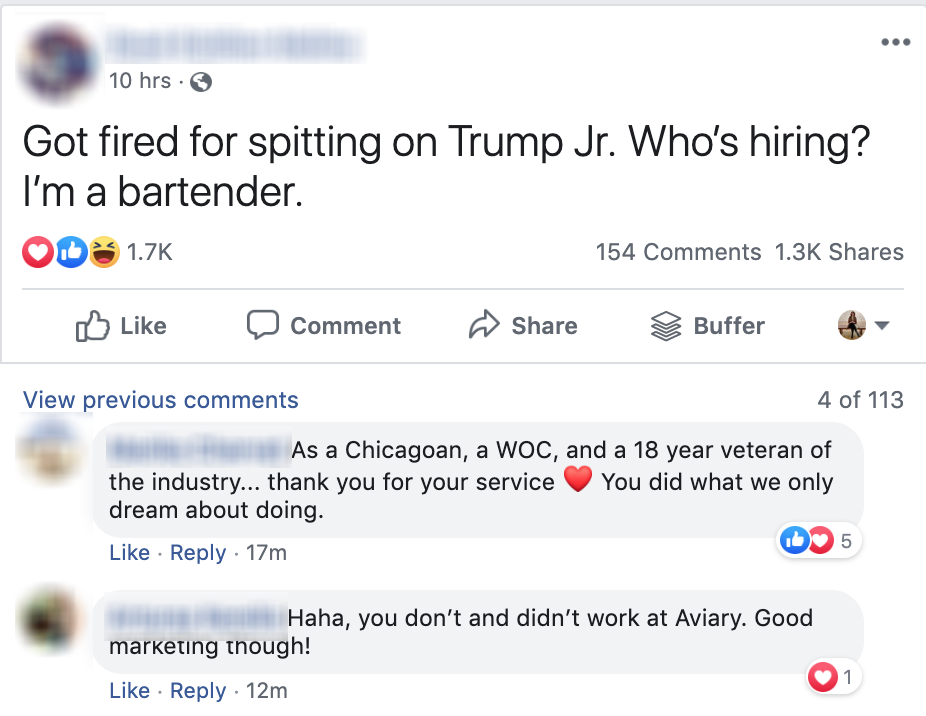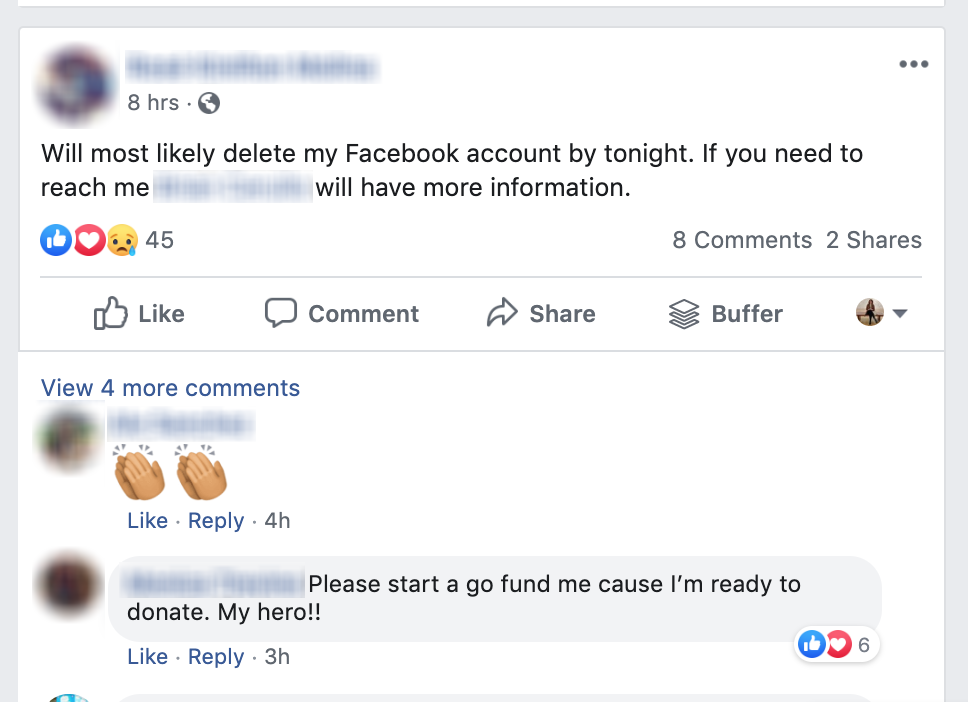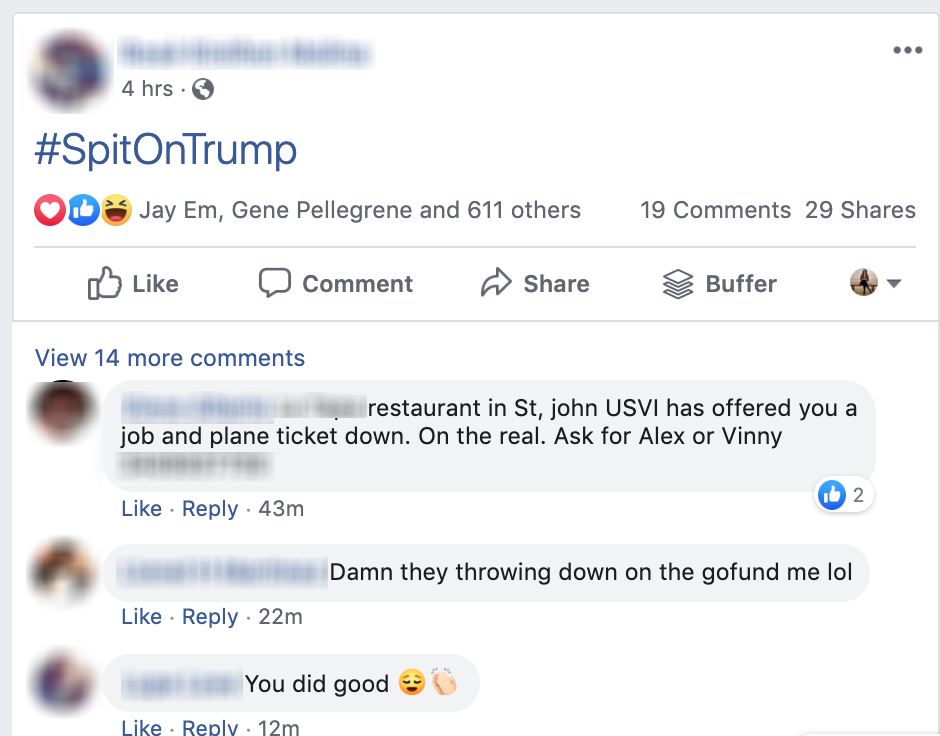 Spitting incident
The spitting incident happened Tuesday at The Aviary, 955 W. Fulton Market, an upscale bar and restaurant.
Trump, who is visiting Chicago, was at the bar when a woman came up to him and spit on him, he told Breitbart, a far-right news, opinion and conspiracy site.
Trump called it a "disgusting act."
The woman was detained by Secret Service for several hours but was not charged with anything.
In a Wednesday statement, The Aviary said the waitress had been placed on leave because "no customer should ever be spit upon." The upscale restaurant and bar criticized people who have left it bad reviews for the incident but also said the waitress's actions shouldn't be praised as "an act of civil disobedience."
"We hope this incident can, at least, serve to illuminate the current absurdity of the discourse in our politics," according to The Aviary.
Do stories like this matter to you? Subscribe to Block Club Chicago. Every dime we make funds reporting from Chicago's neighborhoods.