PILSEN — After announcing mass at St. Adalbert Catholic Church will end next month, Archdiocese of Chicago officials said they are in "advanced discussions" with several potential buyers, but no one's made a deal to buy the Pilsen church property yet.
The Archdiocese first announced plans to close the church, 1650 W. 17th St., more than three years ago as part of a consolidation of Pilsen churches. But now that mass is ending, parishioners are wondering what will become of the century-old sanctuary.
The Archdiocese is "not under contract with a buyer for the property at this time," nor is a sale pending, Archdiocese spokeswoman Anne Maseli told Block Club. But they are in "advanced discussions" with several interested parties, she said.
"Specific plans have not been disclosed but it is likely that there will be a redevelopment component to any plan for some or all of the property," Maseli said in an email Tuesday night.
'"Any future plans for the St. Adalbert property will be sensitive to the desires of the community and other constituent group," officials wrote in a letter to parishioners.
The church was listed for sale a second time in September 2018 after a previous deal with Chicago Music Academy fell through. 
Angelo Labriola, vice president of SVN Commercial — a real estate company that helped sell St. Ann Church, another Archdiocese property in Pilsen being converted into condos or apartments — declined to answer questions.
Ald. Byron Sigcho Lopez (25th), who stood alongside angry parishioners fighting to keep the church open before he became alderman, said he has heard rumors of a potential buyer but has not been notified of any formal plans for the property.
The first-term alderman said he has asked Archdiocese officials to be transparent with residents and parishioners. If a major development is planned at the site that required a zoning change, it will be subject to community meetings, he said.
St. Adalbert was founded in 1874 by Polish immigrants, and the current church building was built in 1912. 
In 2016, the Archdiocese of Chicago announced it would consolidate six Pilsen churches into three. As part of the merger, St. Adalbert would close immediately, while Providence of God, 717 W. 18th St., and St. Ann's, 1840 S. Leavitt St., would become worship sites for other parishes in the neighborhood before ultimately ending regular church services.
They cited changing demographics, low Mass attendance and a decline in the number of priests as reasons for the reconfiguration.
St. Adalbert would close because it needed more than $3 million in repairs to fix the church's 185-foot towers, the archdiocese said at the time. They have been surrounded by scaffolding for years.
Maseli said the "financial and administrative challenges" to operate the church had become "too burdensome to continue to keep the church open."
The archdiocese announced Sunday that the church would hold its final service on Sunday, July 14. The following day, the church will cease to be a "sacred space and may not be used for worship."
For three years, Polish and Mexican parishioners of the church have fought and petitioned to save the church.
A month before Sunday's announcement, parishioners were told to prepare for the closing and deconsecration of the church because a serious buyer was moving forward, said Julie Sawicki, a board member of Society of St. Adalbert.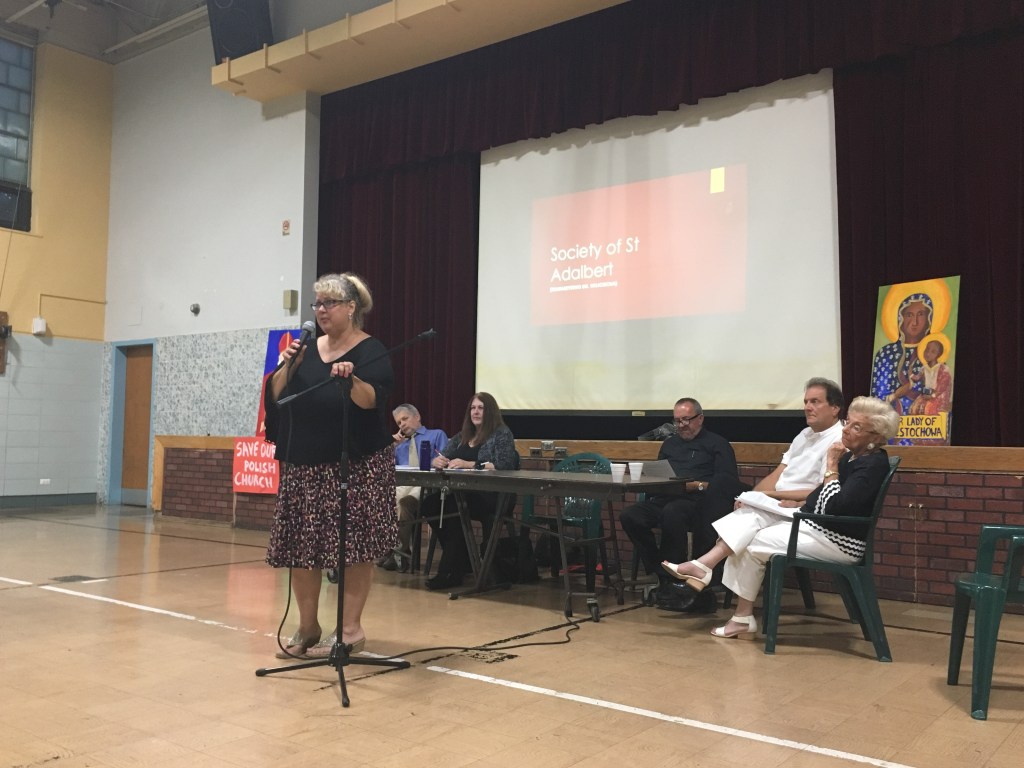 Sawicki, whose organizations has presented a plan to transform the church into a shrine and the rectory into a B&B-style religious retreat house that would maintain the religious character of the property, argued the Archdiocese's process to sell the church has not been transparent.
Archdiocese spokeswoman Maseli said the vetting of process has been transparent, and the final decision to sell a property has to be approved by both the Archdiocese and the parish.
Much like the Chicago Academy of Music's plan, Sawicki said new proposals have not been vetted with parishioners or the community in mind. 
If the Archdiocese accepts a proposal for more condos, it would be "imposing something on a community they are not in favor of" and would push more people away from the Catholic faith,  Sawicki said.
3-year battle to save St. Adalbert
Blanca Torres,  a parishioner and Pilsen resident who has fought to keep the church open for more than three years, was saddened to hear the announcement during Sunday mass, but said the news didn't come as a surprise.
Torres was among parishioners who were told weeks earlier that a serious buyer was being considered for the property.
Following the announcement, Torres said St. Adalbert Preservation Society was going to appeal the decree to close the church and deconsecrate it. 
She said not having the physical space and the community meeting every Sunday could be "detrimental" to the cause, but vowed to continue moving forward to the save the church.
"We will continue the petitioning. We will continue fighting," Torres said.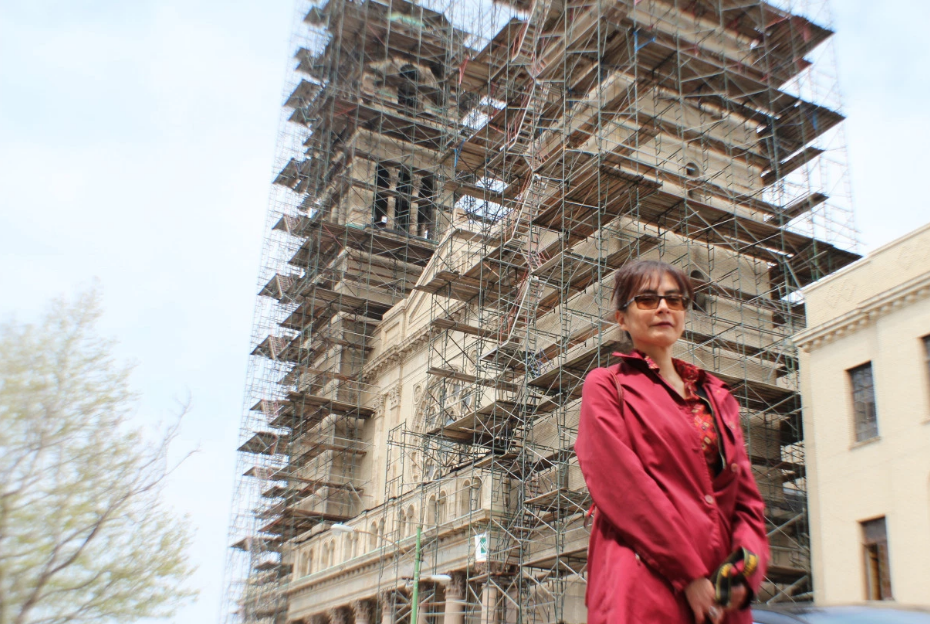 The consolidation announcement was met with protests and eventually an appeal by the St. Adalbert Preservation Society to the Supreme Tribunal of the Apostolic Signatura in Rome, the Catholic Church's highest court.
In 2015, parishioners launched a GoFundMe campaign aiming to raise $3 million to restore its 185 feet-tall towers.
In March 2016, St. Adalbert received a huge donation from a parishioner who died, but church officials said it wasn't enough to offset future maintenance costs and a declining number of Catholic parishioners.
In the appeal, parishioners argued the archdiocese's planned sale of the church to Chicago Academy of Music at the time violated canon law. They also argued the parish maintained a strong community with no financial problems.
At some point, the deal to sell the church building to the Chicago Academy of Music fell through. "The contract with Chicago Academy of Music was terminated in 2017," an archdiocese previously told Block Club.
St. Adalbert has appeared on Preservation Chicago's most endangered buildings several times since 2015.
RELATED: Parishioners Mourn 'End Of An Era' As They Say Farewell To St. Ann Church In Pilsen
RELATED: Could A Plan To Convert St. Adalbert Convent Into A B&B Save Pilsen Church?
RELATED: Century-Old St. Ann Church In Pilsen Sold, Developer Aims To Transform It Into Apartments Or Condos, Archdiocese Confirms
Do stories like this matter to you? Subscribe to Block Club Chicago. Every dime we make funds reporting from Chicago's neighborhoods.