ENGLEWOOD — The South and West sides of Chicago disproportionately suffered from the "war on drugs" as high rates of incarceration for petty offenses destroyed families and communities.
Now that recreational marijuana has been legalized in the state, elected officials and activists want to make sure the communities that were harmed are now able to reap the economic benefits.
Illinois is the 11th state to legalize recreational cannabis use, and the only state in the union to attempt to address the racial disparities head-on, with the new law calling for $12 million from the Cannabis Business Development Fund to be set aside to assist people of color in the industry. Currently, 81 percent of owners and founders of marijuana businesses are white and 73 percent are male.
The bill also tackles criminal justice, making 770,000 marijuana conviction records eligible for expungement, according to State Sen. Heather Steans.
"This is reparations," said Rep. Jehan Gordon-Booth Tuesday. The Peoria-based lawmaker worked with Steans, Rep. Kelly Cassidy and Sen. Toi Hutchinson to ensure the legislation tackled the racist history of the war on drugs, adding that 25 percent of tax revenue from cannabis sales will be reinvested in communities most impacted by the war on drugs.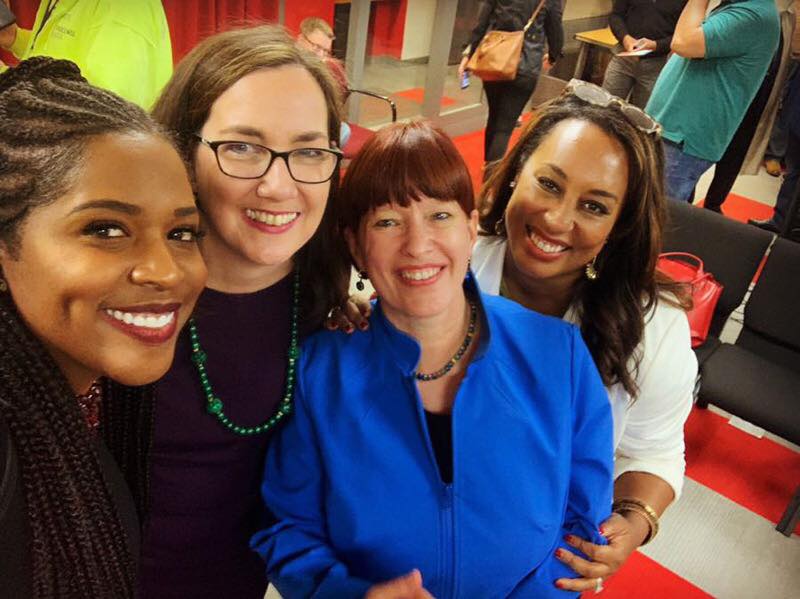 But big challenges lie ahead in making sure communities like Englewood truly benefit from legal weed, said L. Anton Seals Jr., executive director of Grow Greater Englewood.
"The bill is an important first step, but the devil is in the details," Seals told Block Club Chicago. "We're like a dog with a bone right now, and we're not letting go."
Activists with the P.U.R.E Cannabis Coalition, an alliance of groups working toward equity and social justice, have been working for years to not only dispel marijuana myths in communities of color, but to level the playing field for those typically shut out of the cannabis industry due to past criminal convictions.
This means new dispensaries in neighborhoods like Englewood and ensuring that funding is available for cannabis entrepreneurs of color.
"The 16th and 20th wards have a lot of vacant land that can be put to use, and hopefully we'll be able to work with Alds. Coleman and Taylor, and the mayor, to decide where they'll go," Seals said.
Ald. Rod Sawyer (6th) confirmed new dispensaries are being planned in Englewood, but no specific locations have been identified yet.
So far, there are only three South Side dispensaries— Midway, Maribis of Chicago in Brighton Park and Mission South Shore.
Attempts to bring cannabis shops to other neighborhoods south of Roosevelt Road have typically been met with resistance. In 2015, Harborside Illinois Grown Medicine tried to set up shop in Chatham, but neighbors ultimately convinced Ald. Michelle Harris (8th) to reject the plan.
The P.U.R.E Cannabis Coalition hopes their campaign will help educate neighbors about weed and eventually help more dispensaries open on the South Side.
The 'gold standard' of legal weed
Gov. JB Pritzker praised the bill Tuesday, saying that it "brings an important and overdue change" to Illinois.
"I'm so proud that our state is leading with equity and justice in its approach to cannabis legalization and its regulatory framework. Because of the work of the people here today and so many more all across our state, Illinois is moving forward with empathy and hope," Pritzker said in a statement.
But because dispensary start-up costs are still prohibitively expensive, it remains unclear how much of an impact legalization will truly have on diversifying ownership.
Pritzker's office said to address that, they are creating a $30 million low-interest loan program to defray start-up costs. They're also offering "social equity applicant" status for those who live in areas impacted by the war on drugs or have been convicted of minor cannabis offenses.
Fees will also be waived for some applicants, and the law limits the amount of cultivation centers and dispensaries that one person can own — allowing more people to get into the business, the governor's office said.
Cassidy, who co-sponsored the bill with Steans, believes the new law will be effective enough to address all the concerns about equity. Cassidy and Steans have traveled across the state, pitching their idea at town halls.
Illinois' weed bill was the first of its kind in the country to address "equity, inclusion, and criminal justice reform" in an "open, inclusive process," Cassidy said.
"Usually cannabis reform legislation starts from a place from industry building, and anything else is backed into. That wasn't our goal," she said. "If you start from a place where you're looking for money, you end up with less money and a less healthy industry."
The bill's expungement component alone is more equity-focused than any other state effort combined, Cassidy said. She admits that the plan is ambitious — records would be automatically wiped, with those convicted avoiding court appearances and fees — but it's a necessary part of the plan to make whole the communities that were harmed.
"What we've attempted to do is rethink how the entire industry grows. It's like a three-legged stool: we've got the restoration process, we've got the reinvestment piece, and then we have the inclusion piece," she said. "We've taken away the prohibition on people with low-level cannabis histories from being employed in the industry, we have created a process whereby folks with those histories and folks who come from communities that were disproportionately impacted will have a significant advantage in the licensing process, and to make sure there's access to the industry, we've created more categories that allow for a lower cost of entry."
Will other states follow suit? Cassidy has been helping some members of the New York state assembly — who have struggled to get similar legislation passed — as they craft their own bill.
"I'd love for this to be the gold standard," she said. "It's a blueprint others can use."
But holding municipalities accountable as the changes roll out will be essential, Seals said.
"We have a reformist State's Attorney in [Kim] Foxx, DuPage may not," he said.
Do stories like this matter to you? Subscribe to Block Club Chicago. Every dime we make funds reporting from Chicago's neighborhoods.