UPTOWN — At Uptown United's "State of Uptown" luncheon earlier this month, a packed room full of business owners and community leaders asked aldermen to give it to them straight: How would the lengthy Red and Purple Line Modernization project — expected to shut down CTA stations for more than three years — affect neighboring small businesses?
"I'm not going to sugar coat it, it's going to be brutal," Ald. Harry Osterman (48th) responded.
The Red and Purple lines are set to get major upgrades, but there's a drawback: The Red Line's Lawrence and Berwyn stations will be shut down for three years.
For small businesses, many who rely on foot traffic, the shuttered stations could devastate their bottom line.
The stations, Lawrence at 1117 W. Lawrence Ave. and Berwyn at 1121 W. Berwyn Ave., could close in late 2020 or early 2021 and aren't expected to re-open until 2024.
The Argyle and Bryn Mawr stations will be closed for upgrades during that time, too, but the CTA will have temporary stations to replace them. When the four stations reopen in 2024, they'll be renovated and 100 percent accessible.
But can businesses survive for that long?
Baton Lounge owner Jim Flint, who recently moved the iconic drag club to Uptown, said the Lawrence station shutdown will "definitely" affect his business at 4713 N. Broadway.
"I think a lot of people use the Red Line to come and go from the South Side because we are just half a block away [from the station]," he said.
Flint said he hopes the CTA will run more busses to make up for the station closures and hopes passengers will use the recently renovated Wilson stop instead.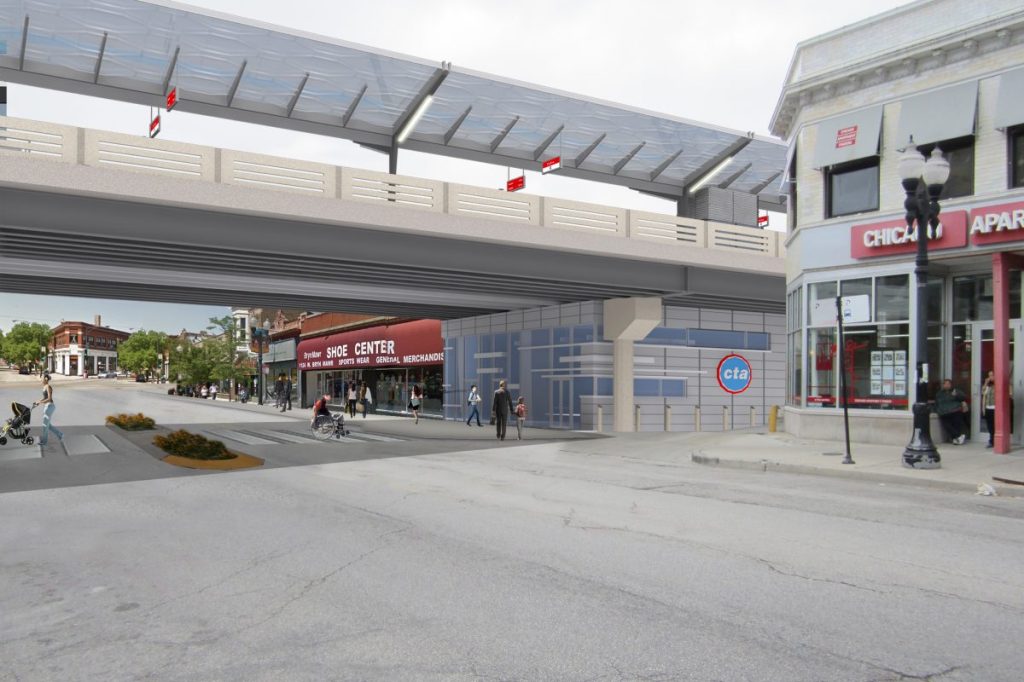 Further north, near the Berwyn station, is Chicago Grind, a coffee shop that relies heavily on foot traffic.
General Manager Taylor Brewerton said his business is aggressively courting customers who live within walking distance of the coffee shop.
"If we aren't going to be getting as much traffic from commuters we have to establish a base of loyal customers nearby," he said.
Brewerton said is confident the cafe at 5256 N. Broadway will survive the CTA shutdown, but he knows it won't be easy.
"It's gonna suck," he said. "I won't pretend that the commuter-business sting won't make things more difficult for us. Fortunately, we are a beloved little lunch spot and I know we can survive."
Jordan Reinhardt, manager of the recently opened Rewired Cafe, located at 1107 W. Berwyn Ave., said most of their customers are folks from the neighborhood.
He doesn't believe the shutdown will devastate their new business.
"But it's definitely something that is on our radar," Reinhardt said. "We have been working closely with the alderman and Steep Theater next door to develop some new plans to bring in more business."
Open for business
CTA officials understand the station shutdowns will bring challenges to businesses in the area, said CTA spokeswoman Tammy Chase. That's why the CTA has been working with aldermen for more than five years on a contingency plan to help local businesses.
The plan hasn't been finalized yet, Chase said, but it will include a marketing budget to help small businesses in the meantime.
They have been meeting with business owners to assess their needs and hear firsthand how the project will impact each individual business.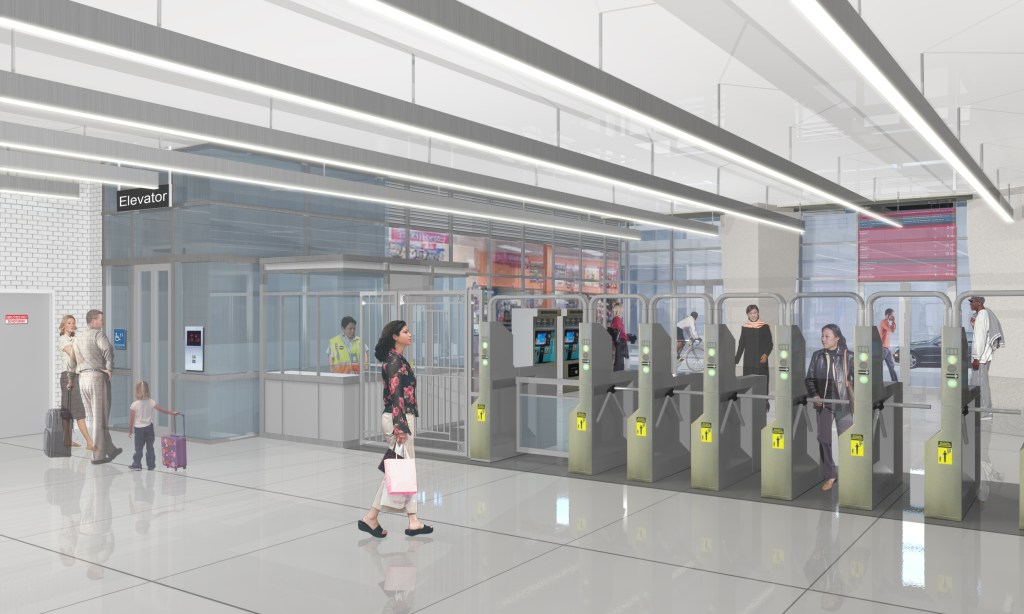 Chase said the CTA will require all contractors on working on the project to provide accommodations, including trash removal, to nearby businesses to help them run smoothly.
Contractors will also give as much advance notice as possible when alleys or streets need to shut down. The goal is 30 days notice for a street closure and 48 hours for smaller alleys, Chase said.
Workers will not be allowed to park their personal cars in areas they are working to free up as much parking for residents as possible, Chase said, and the CTA will ensure loading docks are accessible as work continues.
The CTA will also advertise in construction areas to notify customers that businesses are still open during the project.
Beyond daily logistical support, Chase said the CTA is developing an "Open For Business" campaign. The longterm campaign will give free advertising space to businesses most affected by transit projects in the 46th and 48th wards. The campaign is slated to begin later this year and run until 2025.
Chase said they are looking for grants to help businesses take over paid advertising slots as well.
"We are actively looking at partnerships with lots of third parties," she said.
Other ideas, including assistance to help small businesses create a digital presence, and workshops to connect owners to lenders who offer short-term loans, are still being explored, Chase said.
"Anything we can do to help," she said. "We want to be the clearing house, find out everything that is out there, pull it together, and bring it all to the businesses most affected."
'Where you spend your money matters'
Ald. James Cappleman (46th) said it will be crucial to use the recently renovated Wilson station as a benchmark for how the project will impact the neighborhood.
There will be a "push-pull" when balancing the needs of construction crews with needs of residents, he said.
"We have a bit of a hint at how it's going to be, because we lived through the Wilson restoration," he said.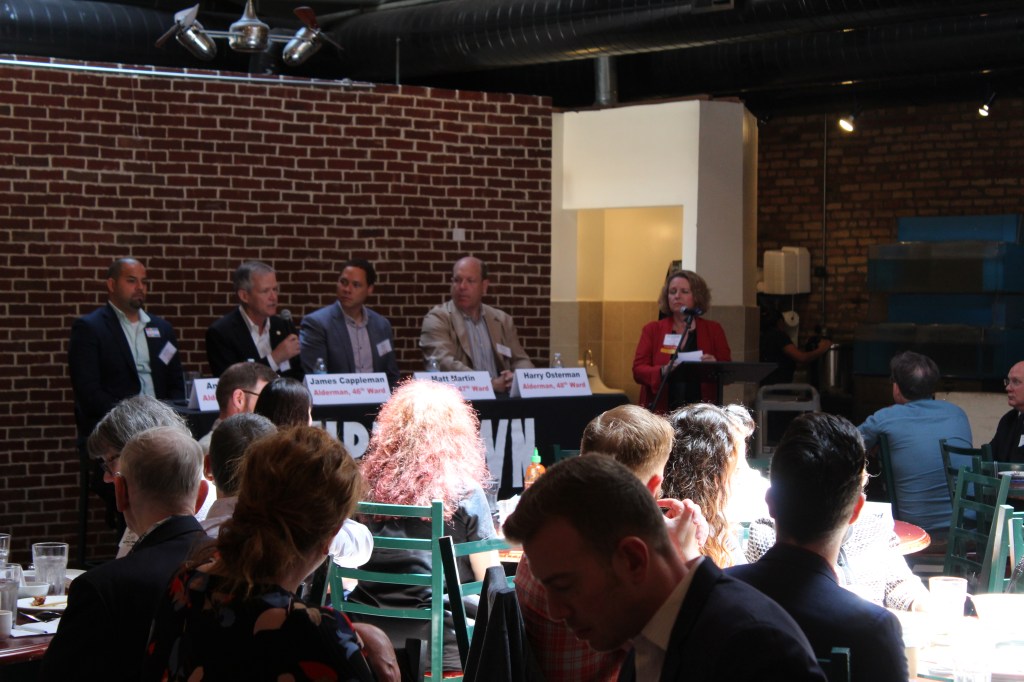 Ultimately, the project will be benefit area businesses, Osterman argued. Better transit means more customers and it can bring more density to the area, too.
Osterman said he has worked closely with the nearby chambers of commerce to determine which businesses need the most help.
And he's encouraging residents to make a concentrated effort to patronize local businesses.
"Let's face it, where you spend your money matters," he said. "If people want to see their favorite local business survive they need to make an effort to spend their dollar there."
Neighbors can email his office (harry@48thward.org) with their ideas on how to best support North Side businesses during the shutdown.
Chase said the project, which aims to replace 100-year-old structures, will take three years to complete because CTA lines will continue operating during the construction.
Although it will take longer to complete, shutting down the lines entirely wasn't an option, she said.
"This city is too dependent on rail transportation to shut the whole thing down," Chase said.
Do stories like this matter to you? Subscribe to Block Club Chicago. Every dime we make funds reporting from Chicago's neighborhoods.