LITTLE VILLAGE — On the first official weekend of summer, Little Village shop owner Adolfo Peña noticed something strange on 26th Street — the business corridor, usually bustling with customers, was bare.
As threats of U.S. Immigration and Custom Enforcement deportation sweeps loom, business owners on 26th Street, the city's second-highest grossing shopping district known for its eclectic mix of Mexican-owned shops and restaurants, are reporting significant hits to their sales. Peña, who owns Linda's Shoe Shop at 3101 W. 26th St., estimates a nearly 50 percent drop in shoppers coming through his door since the sweep plan was announced.
"People are running, they aren't shopping and that's detrimental to businesses," Peña said.
President Donald Trump has directed federal agents to step up enforcement efforts and remove 2,000 migrant families facing deportation orders, according to Friday news reports.
The stepped-up enforcement sweep, dubbed "family op," is targeting families in 10 cities, including Chicago, Miami, Los Angeles and Houston. It was originally slated to start during the pre-dawn hours Sunday. But faced with backlash, Trump announced Saturday that he was delaying the ICE sweeps for two weeks.
Since the sweep news broke, Chicago activists and elected officials worked to inform immigrants of their rights if ICE agents were to show up at their door. But in a neighborhood of Mexican-owned businesses serve a majority Latino clientele, the threat of an immigration sweep is devastating to local businesses, Peña said. 
"When these threats happen, there isn't a soul on 26th Street," he said. "It causes panic, and does a lot of harm to the economy of the neighborhood, to Chicago and the state." 
Ever since Trump's inauguration in 2017 and his continued threats of mass deportation, Peña said sales have fluctuated on 26th Street in a way that they never did before.
Ricardo Flores, manager at Mi Tierra, a massive 500-seat restaurant at 2528 S. Kedzie Ave., said deportation threats create a sense of "paranoia" in the tight-knit neighborhood. He too said 26th Street has been emptier than usual.
Mi Tierra still served families who booked in advance for graduation dinners, baptism and confirmation celebrations over the weekend, but the restaurant, a cornerstone in Little Village for more than 30 years, saw 40-50 percent fewer walk-in customers, Flores said.
"We haven't completed an overview of [sales for] the month or week, but we don't have to do that to notice that it was a slow weekend," Flores said.
Flores, who also lives in Little Village, said the ICE sweep threats create an overarching fear for customers who drive to Little Village from surrounding suburbs and Indiana to shop and dine.
There's a noticeable "gloom" that has overtaken "the general pep and cheer of the neighborhood," he said.
"It did affect us, it will continue to affect us," Flores said. "People are frightened and that stops people from going out."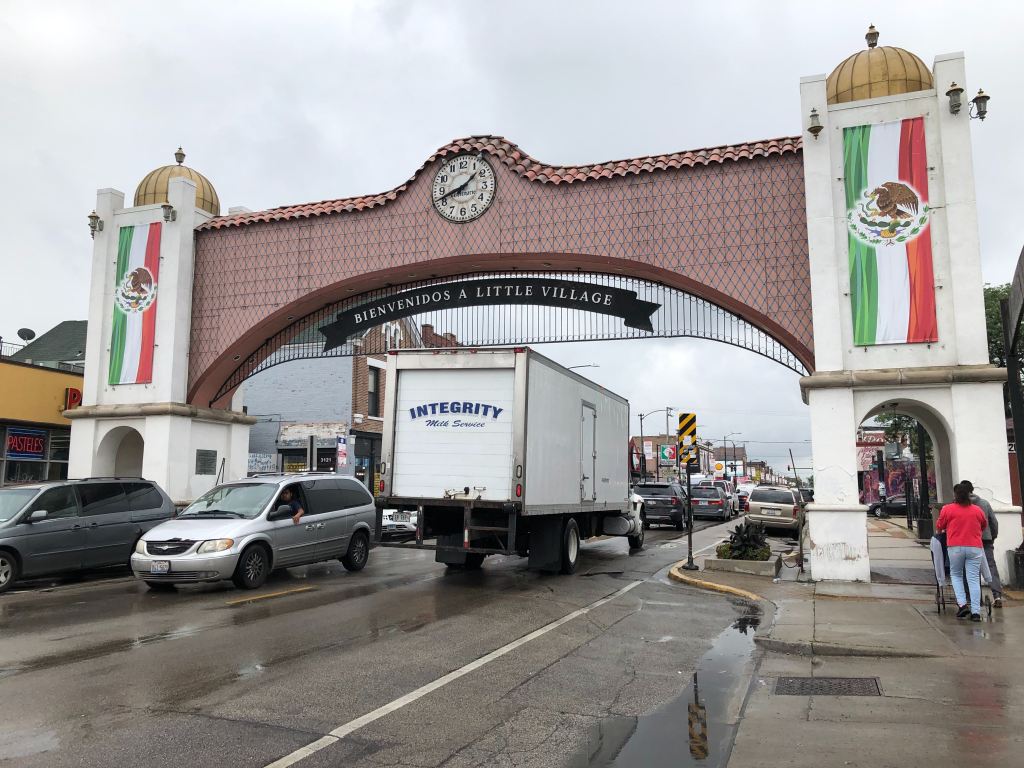 In 2017, as rumors of ICE raids spread across the city, Mi Tierra restaurant owner Ezequiel Fuentes said sales dropped by as much as 40 percent compared to average sale figures for the season, according to a DNAinfo report.
At the time, Fuentes said longtime customers will stop visiting the restaurant because they fear being picked up by U.S. Immigration and Customs Enforcement agents or they are saving money in case they are forced to start a new life in Mexico.
At Princess Paradise, a quinceañera shop at 3235 W. 26th St., store manager Rogelio Mendez estimated a 20 percent decline in sales over the weekend. 
"We typically have people drive in from out of state, and our business relies on people making plans for their quinceañeras but people aren't making plans," Mendez said.
While shop owners hope business returns to normal, Peña thinks the two-week delay in arrest may cause another slump.
"Whenever people think these [sweeps] are going to happen it kills business, so we'll have to wait and see in two weeks," he said.
State Rep. Celina Villanueva, who was born and raised in Little Village, and whose 21st District includes the neighborhood, hopes 26th Street shops can recover from this slump.
Previous deportation sweeps have — and continue to have — an adverse impact on immigrant-owned small businesses and the neighborhood as a whole, she said.
"We are mixed-status community," Villanueva said. "We have people who are undocumented, we have legal permanent residents and we have people who are citizens. We all live in the same neighborhood, we are all neighbors, we all live together, so we see this impact, as well."
Beyond stoking fear, the deportation sweep will "hit where it hurts, which is the pocket books of small business owners." she said. "Even seeing a decrease in sales in a few days, that's impactful."
Villanueva is encouraging people to continue to support and shop at the immigrant and small businesses on 26th Street. 
"It's devastating to know that there are people in our community that have to live in constant fear," Villanueva said.
Do stories like this matter to you? Subscribe to Block Club Chicago. Every dime we make funds reporting from Chicago's neighborhoods.