SOUTH SHORE — Just a year ago, Jackson Park Hospital reported that women in its service area, which includes South Shore and Avalon Park, would benefit from increased access to maternal care.
But now, the financially distressed safety-net hospital on 75th and Stony Island is planning to shut down its obstetrics unit on August 4, citing low birth numbers and decreased profitability.
On Friday, nurses, physicians and patients held a town hall meeting at the Quarry in South Shore to denounce the hospital's decision to close the unit.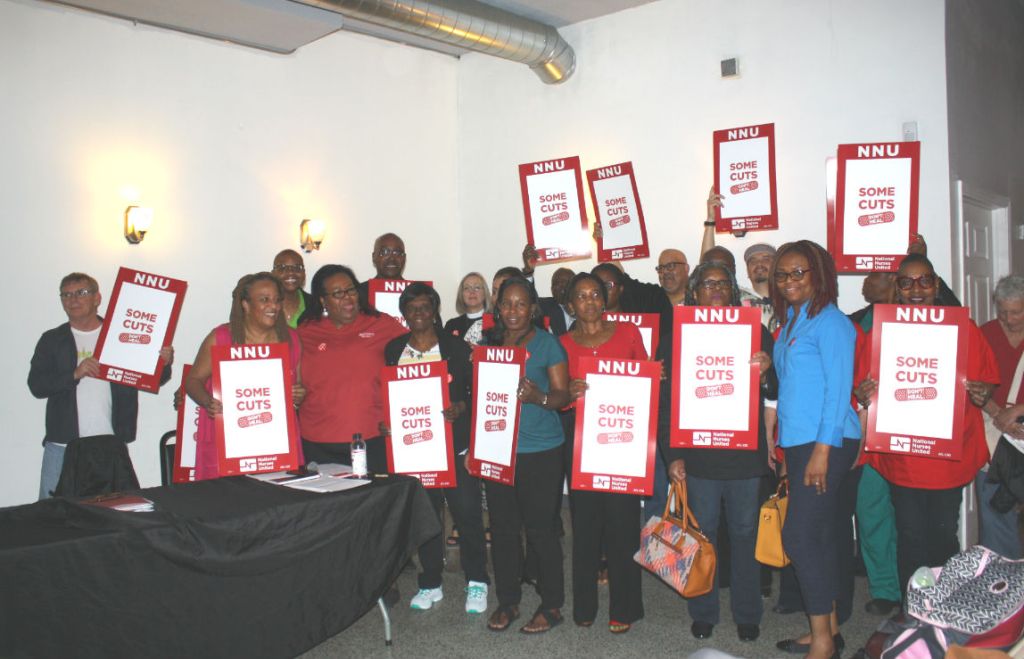 "Too often the services that are cut impact people that are already impacted, that are already marginalized," said Sheilah Garland, a political organizer with National Nurses United. "And that's not right."
Ninety-nine percent of the women who give birth at Jackson Park Hospital (JPH) are black women, nurses say.
There is a black maternal health crisis in the United States. Nationwide, black women are 3-4 times more likely to die from a pregnancy-related condition than white women. In Illinois, however, that number is almost double: according to a 2018 report from the Illinois Department of Public Health, black women are 6 times more likely to die than white women.
Nurses say that cutting services in South Shore and Avalon Park, where women are already receiving inadequate prenatal and maternal care, will only exacerbate the maternal health crisis between 57th and 93rd streets.
"It would leave such a huge hole," said Dr. Mary Palmore, who is an obstetric physician at Jackson Park Hospital. "People walk to us—but they can't walk to the University of Chicago. They can't walk to Advocate Trinity."
Garland and others with the unit say that the nonprofit hospital's decision to shut down the unit is not a reflection of the community's needs, but a result of financial mismanagement and a lack of accountability.
According to the Leapfrog Group, a nonprofit health care watchdog group, JPH delivers only 180 babies per year—a fraction of the births at other nearby hospitals. For example, the much larger University of Chicago Medical Center to the north delivers 2,615 babies annually.
But that low number may be due to the fact that residents aren't aware that the hospital has what nurses call a "state of the art" labor and delivery facility and an "overqualified," all-woman team of black physicians and nurses.
In a statement to the Sun-Times, hospital CEO Dr. William Dorsey said the closure was necessary to "protect the viability of the hospital and preserve the 800 jobs in the community."
In 2012, the hospital took $4.6 million in grant funding from the Illinois Department of Public Health to renovate and expand their labor and delivery unit, adding new rooms, a family waiting area and a nurse's station.
But when nurses canvassed 200 households earlier this summer, when they first heard of the administration's plans to shut the unit, they found that a majority of households they spoke with didn't know about the renovated labor and delivery unit—and that most households thought Jackson Park was primarily a psychiatric hospital.
Nurses questioned why the hospital, which is exempt from paying property taxes, wasn't putting more money into marketing and community outreach.
"They spent … millions of dollars of taxpayer money for renovations, but they didn't let the community know," Palmore said.
Tresury Blake-Marlow, who gave birth to her two-month-old daughter Love at the hospital, said that she often got reactions of surprise when she told people she was planning to deliver at Jackson Park. But that didn't bother her. She's been going to there for care since she was a child herself.
"When I walk in the door, they know my name," Blake-Marlow said. "When I'm there I feel comfortable."
"It's good to see people who look like you," she added, referencing the all female black team of physicians and nurses who run the unit.
Nurses are now demanding that an investigation be conducted into the hospital's use of funding that was earmarked for maternal care improvements before the unit be allowed to close. They are planning to bring their fight to Gov. J.B. Pritzker's office. If they succeed, they also plan to create a civilian oversight board to improve patient outcomes and increase nurses' voice at the table.
Obstetrician-gynecologist Dr. Rita McGuire said that it's a shame that the hospital, which stayed put in South Shore throughout white flight, adopting the motto "here to stay and to serve," is now trying to close its doors in the low- and middle-income black community it serves.
As patients begin to find out about the unit's imminent closure, Dr. Palmore said she's planning on telling them about their fight to keep it open.
"Most places are dreaming of having [all-female, African-American] OB/GYN teams," Palmore said. "I think our patients will be very, very upset."
Do stories like this matter to you? Subscribe to Block Club Chicago. Every dime we make funds reporting from Chicago's neighborhoods.