WICKER PARK — In the two years that Sabin Magnet School has lacked a playground, its students have endured scraped knees, torn jeans, bee stings and one traumatic brain injury.
These injuries, parents said, could have been prevented had Chicago Public Schools heeded nearly a decade of concerns regarding the playground's safety.
Sabin, a dual language magnet school that serves kids from across the city, is located at 2216 W. Hirsch St. in Wicker Park. The majority of its students are low-income and 98 percent are students of color.
A 2017 bee infestation rendered the playground unusable. CPS eventually tore the playground down in fall 2018, and promised to replace it, parents said.
Over the past two years, Sabin parents claim CPS officials have strung them along with broken promises under the false hope of a new playground.
Since 2017, recess for Sabin preschool through eighth grade students has been a choice between a large asphalt lot and a small grassy area.
In April 2018, during a game of tag on the asphalt, a 7-year-old boy suffered a "concussion equal to a professional athlete," his aunt and legal guardian Chrissy Herrera said. It's an accident she believes could have been prevented.
"I firmly believe he would not have experienced an accident of this size if Sabin Elementary had a safe play space for its students," Herrera said.
CPS spokesperson Emily Bolton told Block Club Chicago a new playground will be built at Sabin. CPS sent the project to bid on June 11 with a close date of June 27.
"As district officials have communicated to the school community, CPS is wholly committed to building the Sabin community the brand new playground its students deserve," Bolton said.
By July 2, CPS will notify Sabin whether it accepted a bid, principal Gwen Kasper-Couty said Wednesday during a Local School Council meeting. And things appear to be "moving," Kasper-Couty said.
Earlier that day, CPS had come by the school for a "preconstruction visit." Officials surveyed the asphalt lot and made building-related assessments.  
"I think CPS understands," she said. "I think they understand just how far Sabin is willing to go."  
Jenn Shaffer, a Humboldt Park resident and a parent of two Sabin students, said she wants to be optimistic — but she's heard this all before.
"I have a third grader who has never played on a playground at recess," Shaffer said. "…And she probably won't."
In the meantime, construction at A.N. Pritzker School, a neighboring CPS elementary school, only adds insult to injury.
At Pritzker, a neighborhood school where students are nearly 30 percent white and only 40 percent low-income, CPS is working on improvements to an already-existing playground. At least some of that construction was privately fundraised by Pritzker parents, but it still shows a "stark difference" just three blocks away, Sabin parent Ramon Viera said.
"It really makes you question how the decisions are being made and why," Viera said. "Some transparency would be nice."
'It doesn't make any sense'
The fight for a safe playground at Sabin goes back several years. In summer 2018, Kasper-Couty received a letter saying CPS budgeted funds for a new playground at the school in its 2019 capital budget.
In September 2018, after CPS tore the playground down, parents said they were told they could expect a new playground in place by June 2019. Then, it was pushed to the fall 2019.
"That's when we all collectively lost it," Sabin parent Cheryl Conner said.
Parents said they were told by CPS Capital Planning and Construction Dept. Chief Mary DeRuntz that the playground's budget was $400,000. She warned at a meeting last month that bids would likely come in "over budget," Shaffer said.
On May 21, a powerful Sabin alumna, State Rep. Delia Ramirez, wrote a letter to DeRuntz.
She wrote that it was her understanding, based on communication with Mayor Rahm Emanuel and CPS CEO Janice Jackson, that CPS had promised Sabin a playground with a "June 24 target date for installation."
"I am concerned, as are many of the families and staff at Sabin, that the delays will continue and that a new playground may not be built by even the new timeline," Ramirez wrote.
"I urge you to please reconsider your proposed timeline and instead honor the initial commitment to have the playground installed by this summer."
Bolton, the CPS spokesperson, told Block Club that the project's cost and timeline are currently unknown variables.
'Every parent's worst nightmare'
Long before the bee infestation deemed the playground unusable, the Sabin playground was hazardous and outdated, Sabin parent Jennifer Soto said.
She knows because she played there herself as a kid.
Soto grew up in Wicker Park and attended Sabin during the late 1980s and early 1990s. She later sent her oldest son, now a junior in high school, to Sabin.
Today the family lives in Portage Park. Soto serves as the chairperson of the school's Local School Council. Her youngest five children, who range in age from kindergarten to seventh grade, attend the school.
Soto and her eldest son enjoyed a safe recess experience at Sabin. Her younger children have only ever known a "hazard."
The foam matting underneath the playground was ripped and torn in multiple spots. Rusty nails jutted out from slides and other equipment.
"They would get their feet caught in the mats, and their ankles would twist," Soto said. "And they'd fall."
Soto was among the parents who began asking CPS for a new playground more than five years ago, but to no avail, she said.
Issues came to a head in 2017 when a colony of bees infested the playground.
That's when teachers banned the playground, giving children the option of either playing on the large asphalt top or a grassy lot on the side of the school.
Soto's daughter, who is in the third grade, has epilepsy. Since the loss of the playground, her daughter has been hit in the head several times with soccer balls and volleyballs, she said.
"They throw the kids out here and say 'Here you go!' And they have no where else to go," Soto said. "If they had turf, they'd have certain places kids could play. … All she needs is that injury, and she starts suffering an seizure."
Teachers ran out of their classroom supply of band-aids.
So every time she shopped at the Dollar Tree, Herrera stocked up.
"I see a lot of skinned knees, bruises from running," Conner said. "My daughter came home with bruises and scrapes on her hips."
"You can tell a Sabin kid because they have huge bandages on their knees," Shaffer said.
But scraped knees pale in comparison, the parents said, to what Herrera endured on April 19, 2018.
During a game of tag, Herrera's nephew, D'Angelo, fell onto the asphalt. The 7-year-old head hit his head. Hard.
Blood pooled. An ambulance arrived. D'Angelo lost his vision.
June Shaffer, one of D'Angelo's classmates, was playing nearby and saw the fall.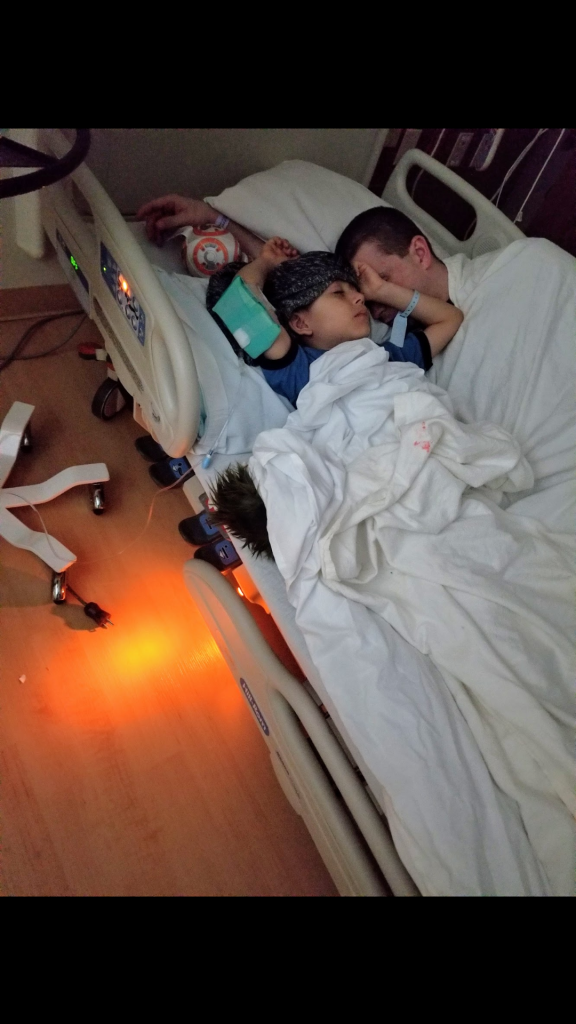 "He bumped it, right here," she said, pointing to her head. "And then, when I saw it happen, it was like bleeding kind of all over the place. And then I was scared. And someone told the guards. And they came. And then the nurse came."
For Herrera, D'Angelo's legal guardian, the phone call was "every parent's worst nightmare."
D'Angelo spent three nights at Lurie's Children's Hospital, where he received emergency treatment for a traumatic brain injury. Eight weeks of physical therapy, six weeks of missed school and a summer of private tutoring followed.
Herrera, who lives in Bridgeport, estimated she has taken her nephew to the hospital 30 times in the last year.
In March of this year — 11 months later — D'Angelo had his first normal MRI.
An inequity of care?
For D'Angelo and Herrera's 6-year-old son, Mateo, Sabin is the only safe place to play — a facet of life that's likely true for many Sabin students whose families live in parts of the city with high rates of gun violence, Herrera said.
"We live a block away from a big park, but just last night, there was a shooting," she said. "We don't have a yard. Mateo stands in class now because he cant pay attention."
Soto agreed.
"We are taking kids city-wide," she said. "Some live in neighborhoods where they can't go outside. And [D'Angelo] had an injury that was just out of this world."
Three blocks from Sabin, construction crews have already broken ground on improvements to the existing playground at A.N. Pritzker School, 2009 W. Schiller Ave.
According to signs posted outside the school, the construction is funded in part by Friends of Pritzker School. A Wicker Park resident told Block Club students knocked on his door two different times asking for donations for their new playground. 
A source who works for CPS would not detail the project costs at Pritzker or Sabin, nor would they detail how much private money funded the Pritzker construction. They did, however, say the construction at Sabin and Pritzker involved "different scopes of work" and "different funding considerations."
At the end of the day, CPS is still contributing to the construction, and the demographics of Pritzker as opposed to Sabin were not lost on parents.
According to CPS statistics, about 80 percent of the Sabin's students are low-income.
The majority of students — 76.3 percent — are Hispanic, while 19.4 percent are black and .9 percent are Asian. Only 2.1 percent are white.
Prtzker, by comparison, serves a student body that is 41 percent low-income. About a third of Pritzker students — 28.9 percent — are white.
In her letter to DeRuntz, Ramirez cited Sabin's demographics.
"The district should be doing everything possible to make sure the needs of the families at this school are prioritized," she wrote.