LAWNDALE —  In 2018, world-renowned cellist Yo-Yo Ma began a journey around the world to leverage the power of the arts to help tackle some of the issues facing 36 communities.
This week, he takes on Chicago. Following a free concert at the Jay Pritzker Pavilion in Millennium Park at 6:30 p.m. Thursday, Ma will embark on a Day of Action across the city.
On Friday, Ma will perform at Unity Park, 1900 S. Kostner Ave., as part of a citywide Day of Action geared towards opening a conversation about gun violence in Chicago.
The series is called the Bach Project and will take Ma to three locations in the city. The day will begin at 9 a.m. in Unity Park with a tree planting project in collaboration with the Greening Committee of the North Lawndale Community Coordinating Council and SAIC Homan Square.
"This is understanding the need in the neighborhood that has one of the lowest tree canopies in Chicago," said Taykhoom Biviji, a Project Manager for SAIC who helped organize the event.
"There is a need coming out from the residents that they would want their neighborhood to be much more [green]."
For his 10 a.m. performance in the park, Ma will be joined by kids participating in the Ravinia Lawndale Family Music School.
After Unity Park, Ma will head to the National Museum of Mexican Art, 1852 W. 18th St. in Pilsen, where he'll join a 1 p.m. panel with Mayor Lori Lightfoot to discuss developing a culture that promotes peaceful communities in Chicago.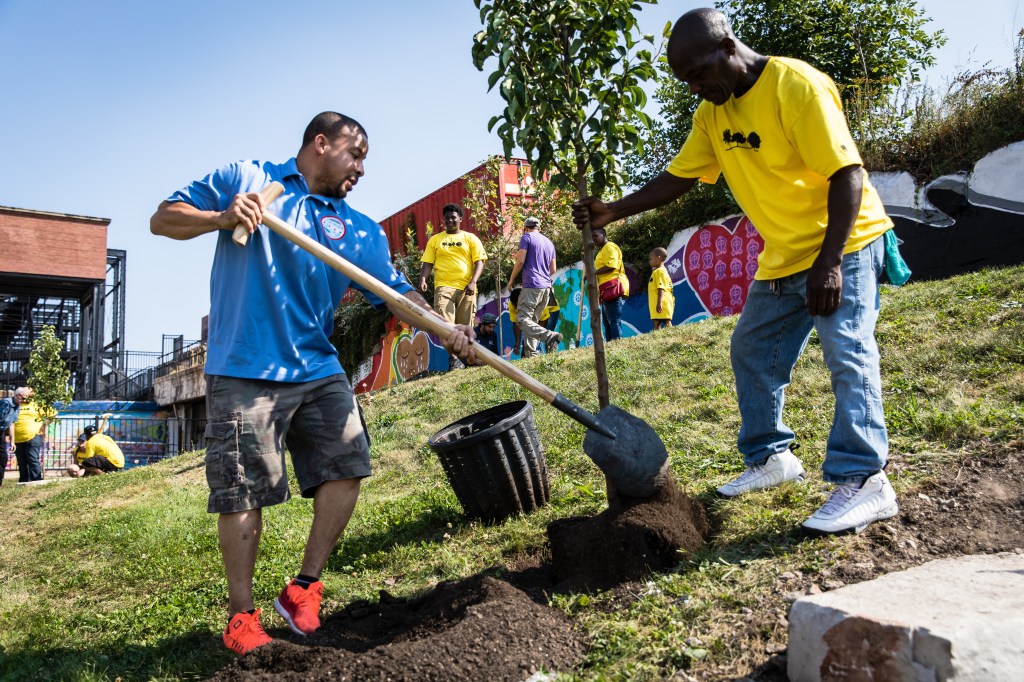 Finally, Ma will join local musicians, including members of the Civic Orchestra of Chicago and Little Kids Rock for free performances at locations across the city. Those spots have yet to be announced, but you can follow Ma on Twitter for updates.
According to Biviji, Ma initially scoped out Lawndale as a location to include on his tour after collaborating with visual artist Pedro Reyes in Mexico City.
"When he was in Mexico City, he collaborated with Pedro because Pedro also makes musical instruments out of confiscated weapons in his home city," he said.
When Reyes heard that Ma would be visiting Chicago as part of the Bach Project, he suggested Lawndale as a location for the Day of Action.
Reyes had previously worked in the neighborhood during a 2018 SAIC collaboration called "Palas Por Pistolas" (Guns into Shovels). In this project, Reyes brought a mobile foundry to Lawndale, where community members and local organizations could melt down donated firearms.
"They melted these guns down and made shovel heads out of them," Biviji said. "These shovel heads were then used to dig holes and plant trees."
Reyes will also be present at Friday's Day of Action, and many of the shovels used in the tree plantings will be tools reforged from gunmetal as a way of continuing the conversation about building a community that does not suffer from gun violence.
"We see this as a way of residents in the neighborhood coming together and just celebrating their neighborhood," Biviji said.
Pascal Sabino is a Report for America corps member covering Austin, North Lawndale and Garfield Park for Block Club Chicago.
Do stories like this matter to you? Subscribe to Block Club Chicago. Every dime we make funds reporting from Chicago's neighborhoods.