AVONDALE — In an attempt to make their voices heard, a group of tenants facing eviction from an Avondale apartment building have sued management, alleging their lives have been upended, not just by circumstances surrounding the eviction, but also by "unauthorized" construction going on inside the building.
In a May 30 lawsuit filed in Cook County Circuit Court, six tenants living in the apartment building at 3108-3116 N. Milwaukee Ave. argue they have "suffered from dangerous and harmful building conditions, disruptive and unauthorized construction activity, and retaliation at the hands of their landlord."
The tenants are seeking an injunction that would require management — the property owner, property manager and contractors — to "fulfill their legal responsibilities" under the city's Residential Landlord and Tenant Ordinance, according to the lawsuit.
"A lawsuit seemed like the only way we could get them to pay attention to us and take us seriously," 26-year-old tenant Bill Prentice-Walz told Block Club.
Mike Zucker, CEO of the property management company Peak Properties, one of the defendants named in the lawsuit, disputes the allegations.
In an email, Zucker said the lawsuit is "totally frivolous and riddled with inaccuracies and a waste of taxpayers money."
"There are less than 10 of 34 residential units that are occupied and there is absolutely nothing dangerous or hazardous at the property," Zucker said.
"We have a full permit and are purposely working in the areas of the property with the least amount of tenants to cause as little interference as possible."
Herb Linn, real estate lawyer with the firm Pedersen & Houpt, bought the 34-unit building in February for $3.2 million, according to Cook County property records. Linn tapped Peak Properties to serve as property manager.
The project partners began renovating the building in April with the goal of letting current leases expire and then charging new tenants market rents once the renovation was complete.
Tenants received 30-day eviction notices in March, prompting some of them to form a tenant union with help from neighborhood group Somos Logan Square.
The move was met with resistance from Zucker and his partner who are willing to work out deals with tenants on an individual basis, but not with the union. Zucker also insists it's time for market rents.
"People are paying $750 and market rents [are higher]," Zucker previously said. "I'm not pushing them out. I'm saying when your lease is up, it's time to go."
Prentice-Walz, one of the six plaintiffs named in the lawsuit, takes issue with management's refusal to recognize the tenant union in combination with its alleged mistreatment of vulnerable tenants.
"I just saw a really great injustice being done in terms of the way the property management company was trying to single people out, offering different amounts of money to different tenants," Prentice-Walz said.
"It seemed like they were targeting seniors and people who speak English as a second language as people they could lowball. It felt really important to me that we all stand together so we could be equally represented."
Prentice-Walz and his partner, Matthew Uribe, have lived in the Avondale apartment building since 2014. Prentice-Walz works as a transcriptionist, while Uribe is currently unemployed after a surgery.
The two said they're struggling to find an apartment they can afford in the gentrifying neighborhood. They said this is the second time they've been forced out of an apartment in the area. Before the Avondale building, they got kicked out of a different building in Logan Square — also during a renovation.
"Peoples' lives. … and homes are all a secondary priority against a profit margin for some land owners," Prentice-Walz said.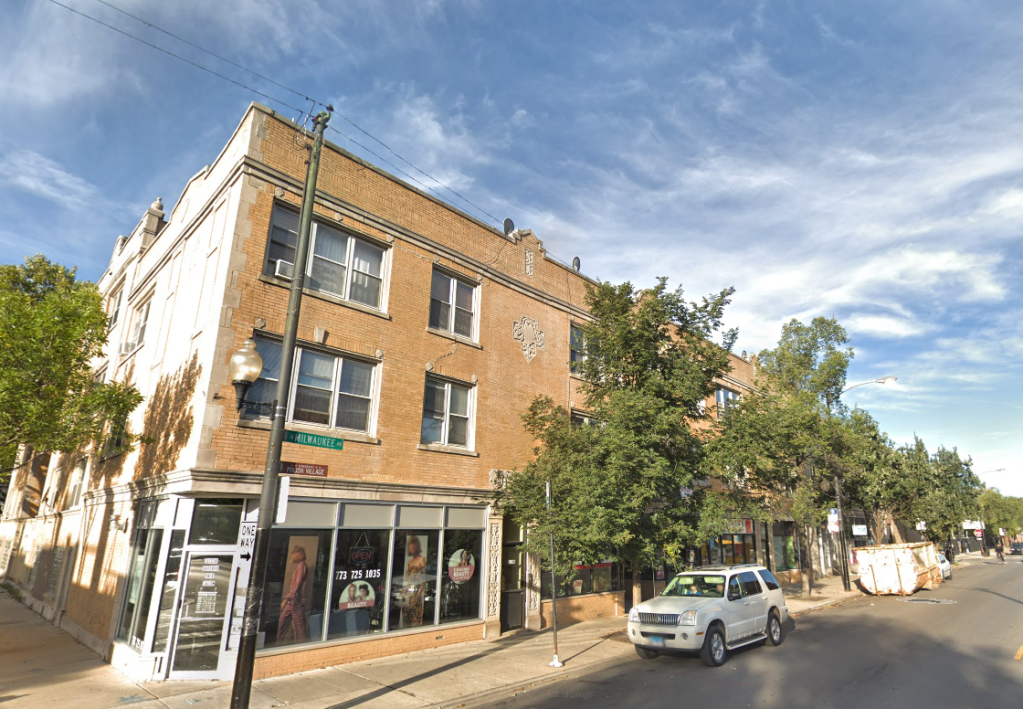 In the lawsuit, Prentice-Walz and the other tenants allege ongoing construction has created an unsafe living environment.
"There's sawdust, tools, exposed wires, debris — to have those hazardous conditions where a young child could easily injure themselves … it's simply disrespectful to the people who already live here," Prentice-Walz said.
According to the lawsuit, management was issued a city stop work order on or around May 14, but crews continued to work.
Also in the lawsuit, tenants allege they're being retaliated against for forming a tenant union.
Uribe confronted general contractor Florin Pavel when he noticed the stop work order was being ignored, to which Pavel replied, "Mind your own business" and then allegedly said, "If you touch that door, I'm going to break your hand," according to the lawsuit.
Pavel was reached, but declined to comment.
Like Prentice-Walz and Uribe, tenant Patricia Scardina, 63, said she's also struggling to find a new apartment she can afford.
Scardina, a daycare teacher, moved into her $950-per-month apartment about four years ago, but she's lived in the area for nearly 40 years.
Scardina, another plaintiff in the lawsuit, said she's worried she won't be able to stay in the neighborhood she loves because of the rising rents. Zucker said he plans to charge around $1,250 for one-bedrooms and around $1,550 for two-bedrooms once the renovation project is complete.
"I'm mad. I'm hurt. I'm angry. I'm sad. I'm everything. I know sometimes change is good, but I want to change because I want to do the change. I don't want to be forced into a change," Scardina said.
"I put my roots down here. I know everybody. I know every business. I've been here so long. It saddens me: Why can't we all live together — the people with money, the people without money?"
The lawsuit, Scardina said, is meant to send a message to management and to inspire tenants going through a similar situation to take action.
"I felt like I needed to send a statement to Peak Properties that you don't need to treat people this way. I pay my rent, I never miss my rent. Yeah, I'm not paying $1,500 rent. But I'm paying [to] live in very bad conditions," she said.
Said Prentice-Walz: "We've been trying to have a negotiation and [the property manager] simply refuses to work with us fairly as a group so I think we just felt like our backs were against the wall and we needed some kind of action."
Yet Zucker contends the legal action is unnecessary.
"As I have stated from day one, I am more than happy to work with each tenant on an individual basis," he said. "I have already extended a number of leases, allowed people to move early with no penalty, and relocated a resident."
The building is nearly 100 years old and was in bad shape before Zucker and his team started renovating, he has said.
"This union is bad news and their mission is 100% self-serving and a money grab," the property manager said referring to Somos Logan Square, the neighborhood group that helped the tenants form a union.
The group, however, denies the "money grab" accusation.
"Somos Logan Square has never received money from settlements between tenants and landlords. Somos is all volunteer-run," the group previously wrote in a statement.
Do stories like this matter to you? Subscribe to Block Club Chicago. Every dime we make funds reporting from Chicago's neighborhoods.
Read the full lawsuit below: