HUMBOLDT PARK — In an effort to move the Frederic Chopin Elementary School orchestra away from its current reliance on CPS funding, director Arturs Weible and his 75 violists, violinists and cellists — all students between the ages of 3rd and 8th grade — are, in a way, singing for their supper.
The orchestra is for hire.
In an age when funding the arts is becoming increasingly difficult in public schools, Weible hopes to forge a relationship with Chicago's private sector.
Private concerts — whether in the form of hired entertainment or a benefit event — are one way Weible hopes to offset the $50,000 the orchestra normally draws from Chicago Public Schools' "discretionary budget" in an academic year.
And it just might work. During the month of May, private fundraising through a single benefit concert and an online donation system netted $10,000 for the program.
An online fundraiser has gathered more than $7,200.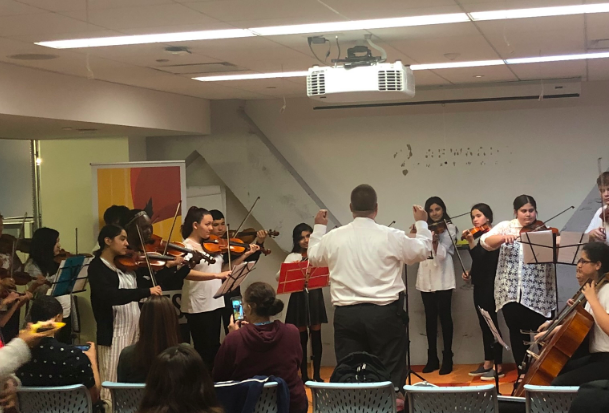 "I shudder to think of the 'what-ifs,'" Weible said. "Should the program go away, then you have one of the most stable and omnipresent [after-school] options — because it's four days a week — you reduce the amount of time in school, and you increase the amount of time on the streets."
Chopin Elementary School, 2450 W. Rice St., is in Humboldt Park. The school is a few blocks north of Smith Park, a West Town neighborhood.
More than 90 percent of Chopin students live below the poverty line, Weible said. The school is a magnet arts school and the orchestra is one of the city's largest.
"Because of this program, we still have students who don't live within [the] immediate boundary, but choose to come to Chopin school," he said. "It increases enrollment, which increases the budget, which keeps us more viable in eyes of CPS."
This is not the first time the orchestra has been on thin ice financially.
The program was founded by the Merit School of Music as an after-school orchestra program at Lafayette Elementary School, DNAinfo reported.
RELATED: Hugs and Tears at Lafayette's Last String Orchestra Concert
Before the school closed in 2016, Lafayette was known for having the largest orchestra program in the Chicago Public Schools.
When Lafayette closed, its students were transferred to Chopin, along with Weible, who had taught and directed music at Lafayette for 15 years.
The $138,000 program was funded mostly by Merit but drew $50,000 from Chopin's annual "discretionary budget," a pot of money allotted to school principals by CPS each year.
Discretionary money can be used for anything the principal needs it for, like an additional math specialist or an additional teacher position, Weible said.
Knowing the funds were not set in stone, Weible began fundraising in 2015, the Tribune reported.
The pressure mounted last year, when Chopin's principal, Frederick Williams, told Weible he could only offer $25,000 to the orchestra — in essence, the school could only help cover the costs of the fall 2018 semester.
This "was the first year where Fred said to me, 'We don't have the second semester payment.' This was the first time that money just wasn't there," Weible said. He hopes to "take that $50,000 out of his budgetary nightmare. Because budgets don't grow larger. They shrink."
Today, while there is no "overt push to close" Chopin, the diminishing access to the discretionary funds concerns Weible.
"I'm a little more sanguine about it than I was six years ago," Weible said. "But it is dismaying to have to fight every single year to fight to keep our program viable."
RELATED: CPS Closings: Lafayette Music Teacher Hopes to Rebuild Program at Chopin
The $138,000 budget includes salaries for three teachers who assist Weible in after-school practices four days a week, as well as daytime and summer tutoring.
The budget also covers instrument maintenance since all students have their own so they can practice at home, Weible said.
"No one shares," he said. "Every kid takes their instrument home to practice."
RELATED: Chopin Inherits Orchestra Program and Music Teacher, Students Grateful
On May 29, the orchestra played the first of what Weible hopes will be many benefit concerts in Downtown.
The fundraiser took place at the office of Rewards Network, a network-based marketing and financial technology company.
What's the connection to music, you may ask?
It just so happens Holly Eger — the wife of the company's CEO, Ed Eger — was best friends with Chopin art teacher Sarah Larson in college at Harvard University, where Eger played the oboe.
"When Sarah told me that the orchestra at the Chopin school was going to lose its funding, I couldn't believe it," Eger said. "I was so mad. I said, 'We'll just have a fundraiser.'"
Eger said the process of planning the fundraiser was painless. So easy, she said, other Chicago companies have "no excuse not to do it."
In a single day, Eger went to Binny's for the wine, Mariano's for the cheese and returned to her husband's Downtown office to help parents and teachers set up.
"Ed and I did very little," she said. "The teachers and parents really did everything. Ed and I were so impressed at how many Chopin teachers showed up and chipped in."
On the day of the fundraiser, Weible and his orchestra played a concert that brought tears to the Ivy League-trained classical musician's eyes.
"When you see a 4th grader sawing a violin, playing their heart out, it makes you want to be a better person," she said. "They were better than I ever dared imagine they would be. They were so good. They really had practiced."
Perhaps the most shocking part of the concert, Eger said, was the response of Rewards Network's 100 employees, who appeared genuinely relaxed and entertained.
The next day, many employees asked Ed Eger if the orchestra could come back and perform during their Christmas lunch.
"I think all companies should adopt" the orchestra, Holly Eger said. "If everybody chips in a little bit then we can keep these orchestras."
That night, the fundraiser raked in more than $2,500. Some employees wrote checks for $1,000, while parents chipped in $2.
If Chopin loses its orchestra, 75 students who depend on the program as an after-school activity will lose that time spent at school, Weible said.
A couple of his alumni have gone on to play music professionally: One is a double bassist in New Orleans, another an operatic tenor touring Europe.
The vast majority of his students graduate high school. Many are enrolled in college. Some have doctoral degrees.
"I don't have the facts and figures, but I would be happy to make the bet that our students go onto selective enrollment high schools, and go to college," he said. "I'd be more than willing to bet that our students do at a better clip than average. We solve that issue directly."
And according to Anayse Soto in 2015 — the 13-year-old was a seventh grader at the time — Chopin's orchestra is just "really fun."
The young violinist told DNAinfo in 2015 she walked 3 miles to and from Chopin Elementary School each day from her Austin home.
She practiced four days a week, putting in at least two hours after school and another hour at home.
"I like how the octaves sound different every time you play," Soto said. "It's only four strings and it's so unique."
Do stories like this matter to you? Subscribe to Block Club Chicago. Every dime we make funds reporting from Chicago's neighborhoods.