LAKEVIEW — Bombastic Cafe, 3732 N. Southport Ave., a coffee shop and art gallery a decade in the making, is finally open for business.
Located in Lakeview's Southport Corridor, the cafe is an independent, family-run alternative to the chain coffee shops that sit on any given city block, said owner Richard Sykes.
"The idea was to have a coffee shop in the tradition of the very first coffee shops," Sykes said. "They were places where people would meet and have discussions over politics, science, religion, arts. They talked about what was important to them, and I think that's how this coffee shop will operate."
The cafe itself is ripe for discussion.
In the front window sits a lime green plastic sunglasses-clad skeleton, lounging in a chair. Long before the shop opened, its quirky window displays became something of a neighborhood attraction.
"It was just for the fun of it," Sykes said of the displays. "People really became attached to looking at that window over the last 10 years."
During those 10 years, Sykes, a former property developer, was hard at work, renovating the shop, repurposing antiques and building the majority of the cafe's furniture. The bar, one of the cafe's coolest features, Sykes made out of an old barn door. On top of it, sits a beautiful vintage-looking espresso machine.
"This was always my dad's dream," said his daughter, Martina Sykes, a makeup artist for television and films. "He had a really strong and clear vision from the very beginning."
Martina Sykes hangs out at the cafe often, preparing for film projects and chatting with customers. Her sister Rory Sykes works as the Bombastic's manager and takes care of its bookkeeping.
According to Rory, their father has been "obsessing over coffee beans for years." His daughters have always been supportive of their dad's dream, especially opening a shop so close to their childhood home.
"We actually grew up not too far from here, like Irving and Ashland basically," Rory Sykes said.
As a kid, she remembers going to Café Avanti and other Lakeview mom-and-pop cafes that have since closed down. Local cafes, like the ones she grew up going to, "make the neighborhood feel more like a neighborhood."
The family hopes locals will choose to support their shop over corporate competitors — like multiple Starbucks locations — in the area.
"You walk in the door [at Starbucks], you are one consumer and they're going to squeeze you for everything," Richard Sykes said. Plus, he added, "there's no way that Starbucks makes a better espresso."
Bombastic's location may be near other coffee shops, but it's also in a prime spot to attract members of the neighborhood's fine arts scene. The Mercury Theater and the Music Box are right across the street.
"I'm very fortunate that I have a lot of the people from The Music Box and The Mercury Theater making it their place to go when they have to sit down and have a meeting," Richard Sykes said. Second City actors and local writers can also be found at Bombastic Cafe, grabbing coffee to-go or working on laptops, sipping a cup of the pour-over or cold brew, Bombastic's specialties.
Richard Sykes is hoping to host the cafe's first art show later this summer and has a very specific idea of the artists he wants to feature.
"I'm dealing with much older artists," he said. "I'm going after those artists that are in their seventies and they're still doing art. They never stopped doing art."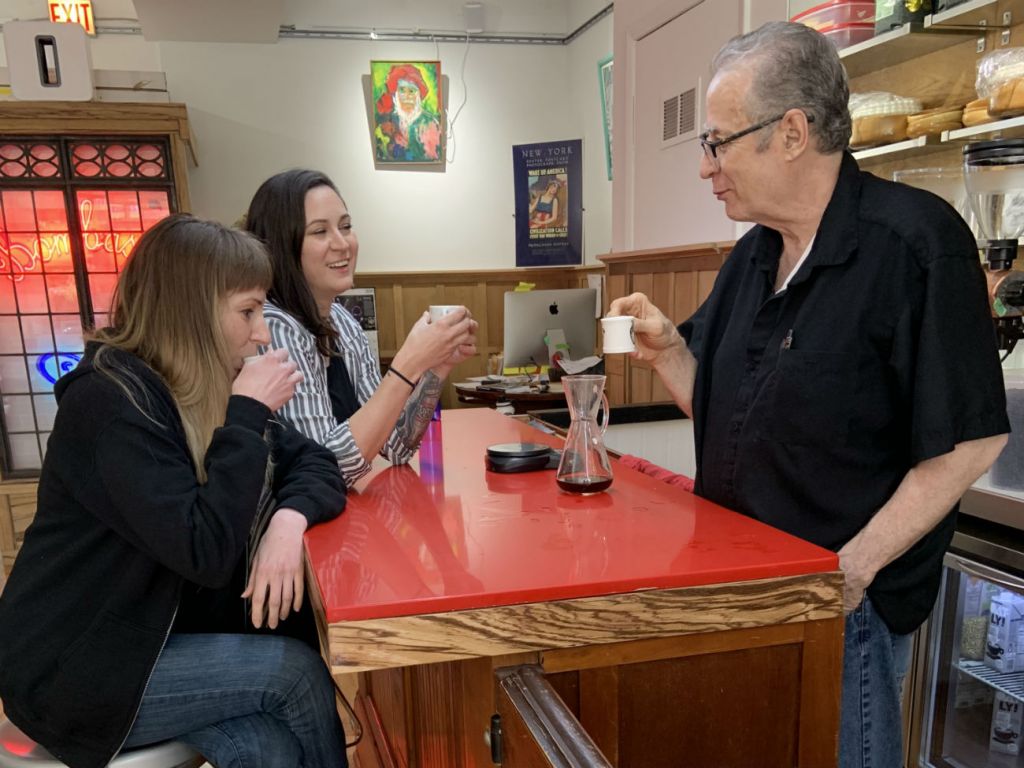 For its first show, he plans to exhibit the work of artists whose service in the Vietnam and Korean wars vastly altered their philosophies. Veteran artists Mike Lipuma and Walter Foran will have work on display.
"These are people who converted from war thinking to peace activism," he said.
Aside from artists, people who have been walking by the storefront for years wondering when something would open have been stopping by.
"The response from the neighborhood, it's been one of the most exciting things. People are walking in and they're saying, 'Oh my God, I saw this place kind of evolve over the years,'" Martina Sykes said. "They're so excited we're finally open."
Do stories like this matter to you? Subscribe to Block Club Chicago. Every dime we make funds reporting from Chicago's neighborhoods.