PORTAGE PARK — After months of preparation, Tone Deaf Records will open to the public Saturday.
Tony Assimos, the store's owner, decided to take the plunge and open a shop of his own at 4356 N. Milwaukee Ave. after he was priced out of Logan Square and the neighborhood's other longtime record shop, Raffe's, shuttered.
"I've been busting my ass for the last two months to get everything up and running," Assimos said. "I think it looks nice and the shelves are full of stuff. I think we're presentable enough."
"I'm going to open the doors at noon and have some cookies, coffee and other snacks," he added.
Assimos said his dad had a "killer record collection" and growing up, he'd sit with him and listen to albums from artists like Jimi Hendrix, Creedence Clearwater Revival and The Rolling Stones.
"I loved it. When I was in high school I started getting into punk and metal and loved to go to the local shops and buy whatever I could to make my ears bleed and to piss my parents off," Assimos said. "It just never ended, I still love it."
RELATED: New Record Shop Coming To Portage Park Later This Spring
That love led to him amassing a staggering number of records over the years.
"My personal record collection is around 6,000 records, but none of that stuff has or will ever be in the shop," he said.
But as his collection swelled to an unruly size he started selling some records online. Then his girlfriend suggested something bigger: Why don't you do what you've always wanted and open a record store of your own?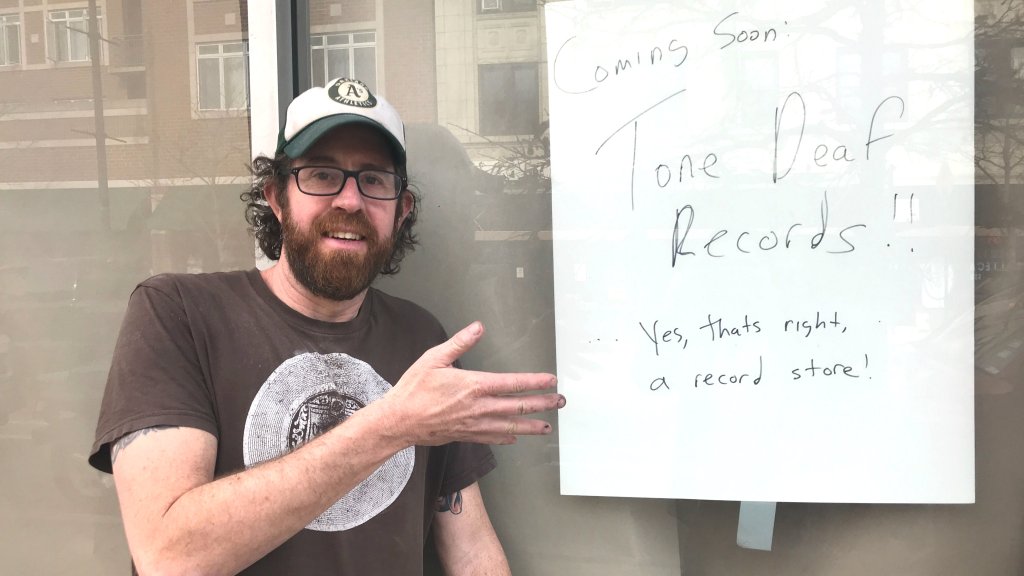 "I have been living here for six years after getting priced out of Logan Square," he said. "I love the neighborhood and there isn't a record shop around since Raffe's closed. I think it was a good fit."
In the run-up to finding a space to open his store he began buying record collections, amassing around 12,000 records when he finally decided to get the shop going.
The name of the shop comes from a nickname a friend of Assimos gave him — "Tony, Tone Deaf" — because he's a big fan of noisy music like punk and metal.
And in addition to vinyl, Tone Deaf will have CDs and t-shirts, as well as accessories and cleaning supplies for record players. Assimos also plans to offer customers a record cleaning service.
As for the kinds of records he'll keep in stock, Assimos said he's got a pretty eclectic mix of albums but plans to stay focused on punk, metal, indie, jazz, soul and reggae.
"I have a lot of other genres as well but for new stuff coming in I want to focus on that stuff as well as a lot of reissues coming out from labels like Superior Viaduct, Numero Group and Light in the Attic," he said. "There is just a ton of good music still coming out."
Prices at the shop will range from 25 cents to $250, with the rarest albums on display behind the register.
"Record collectors know them as wall records and there are people that go into shops and just go straight to the wall records, spend all their money and are gone in five minutes. I used to be one of those guys," Assimos said.
He's also planning to add a mail order service once he's done setting up the shop's website.
Saturday will be Tone Deaf's soft opening but sometime next month Assimos plans to host a big party at the shop as the official celebration of its opening.
RELATED: Raffe's Record Riot May Not Return To Portage Park Home, But You Can Find Its Vinyl In The 'Burbs (Or Online)
"Right now I'm waiting on a few bands that I want to have play. Just want to make sure they can do it. And once I get that, the rest of the party will be pretty easy to set up," Assimos said.
For more information on Saturday's opening and the celebration next month visit Tone Deaf Records' Facebook page.
The shop hours moving forward will be Monday through Saturday from noon-7 p.m., Sundays from noon-5 p.m. and closed on Tuesdays.
"Stuff started going online and being all digital. But I think it's great that there are people who don't want to read a comic book or listen to music on a computer," Assimos said. "I'm glad that people are still out there that want physical stuff."
Do stories like this matter to you? Subscribe to Block Club Chicago. Every dime we make funds reporting from Chicago's neighborhoods.