CHICAGO — Family members, friends, mentees and colleagues of longtime Logan Square Boys & Girls Club director John Stephan, who died earlier this year, gathered Friday to honor Stephan's life and legacy.
Stephan dedicated his life to mentoring kids struggling with poverty or considered at-risk for gun and gang violence. He worked for the Boys & Girls Club organization for more than 50 years. About 25 of those years were spent at the now-shuttered Logan Square Boys & Girls Club at 3228 W. Palmer St.
Stephan died in mid-February after a battle with pancreatic and esophageal cancer. He was 69.
Liannah Foster was one of thousands of kids who considered Stephan not just a mentor, but a father figure. The 18-year-old was among the speakers at the Friday morning ceremony, held outside of the James R. Jordan Club at 2102 W. Monroe St.
"John has showed us no matter where we came from — our stories, our backgrounds or our struggles — we had the potential to be the best that we can be in life," Foster said through tears.
Maria Vargas, a single mother, said over the years Stephan always lifted her three kids up and out of difficult situations. Just last year, Stephan helped her youngest cope with a bullying situation that sent her to a dark place. She said she doesn't know how they would've made it through without Stephan's guidance and support.
"He will forever be my hero," Vargas said.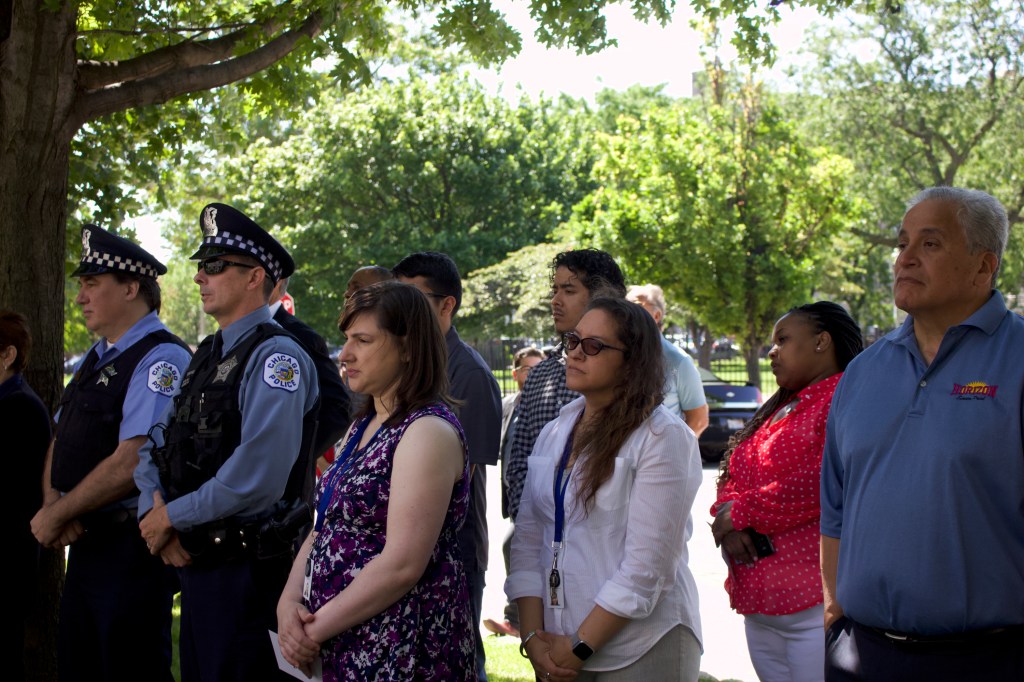 Stephan first got involved in the Boys & Girls Club when he was a kid. He started going to the Lakeview outpost near where he grew up when he was about 11 years old, according to lifelong friend Raul Mora. Stephan started working for the organization in 1966 in membership registration and then youth outreach. He went on to work for the organization for more than 50 years.
"John was one of those people who would never move to the Downtown office. He was a neighborhood guy. To him, he never wanted to stop working directly with young people," former 35th Ward Ald. Rey Colon previously said. Colon did leadership programs with Stephan back in the day.
Stephan also served in the U.S. Army's Berlin Brigade at a young age. During his Boys & Girls club days, he was active in local policing and court advocacy. He worked for the Chicago Police Department's peer jury program and chaired the senior advisory council for the Shakespeare Police District, hosting bingo nights and field trips for seniors twice a month.
Most notably, Stephan founded the United Peace Coalition Zone in the mid-1990s, an initiative in which he worked with local anti-violence organizations like Ceasefire to broker peace deals with warring gangs in the area surrounding the Logan Square Boys & Girls Club. The initiative had a lasting impact on the neighborhood, according to mentee Marco De La Rosa and others.
At Friday's ceremony, about 40 people who knew and loved Stephan watched as a pair of Shakespeare Police District officers and one of Stephan's longtime friends helped raise a new American flag on the flagpole outside of the center as members of the Shannon Rovers Irish pipe band played. A plaque honoring Stephan was installed at the bottom of the flagpole.
Vargas was emotional during the ceremony. She said one of her sons was mugged earlier this week and Stephan isn't around to help.
"I know John would have been there this week for me, helping me to deal with this latest blow," Vargas said. "John didn't just push my kids to do better, he also pushed me to be a better parent. He became the dad, the grandfather and the mentor I never had."
Foster is headed to Taylor University in Indiana on a full scholarship. She told Block Club it was Stephan who she bonded with over her chosen major, theater production.
"I plan to live out John's legacy by helping others. I was lucky to have someone like John help me during the toughest times. And, for that, I am eternally grateful," she said.
Do stories like this matter to you? Subscribe to Block Club Chicago. Every dime we make funds reporting from Chicago's neighborhoods.