AUSTIN — Some 30 years ago, Mary Peery got fed up with a vacant property on her block that attracted nothing but litter and crime.
Enough is enough, said Peery, who spearheaded demolition of the abandoned building. In its place, she planted a community garden, the first in Austin.
One garden blossomed into two, then three, then four. Today the Austin Green Team, founded by Peery, who died in 2017 at the age of 91, maintains six gardens throughout the neighborhood, along with a pair of greenhouses. (Most of the land is owned in trust via NeighborSpace.)
Fresh produce grown in the gardens — greens, beets, squash, tomatoes, peppers, cucumbers, sweet potatoes, apples, pears and watermelon — is shared with residents, and the lush landscapes have become hubs for community gatherings, including movie nights.
"Think about the lots. They would be filled with trash," said Tina Augustus, Green Team vice president.
Instead, the gardens provide peace and beauty, she said.
"The flowers just bring life to you, they bring life. It brings people out," Augustus said.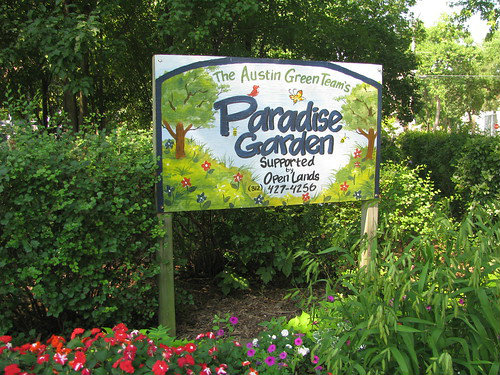 To keep the gardens running, the Green Team's small force of 10 to 12 steady volunteers relies on assistance from church groups, schools, corporations and community organizations.
One such injection of "people power" is set for Saturday, 9 a.m. to noon, as part of Advocates for Urban Agriculture's monthly Food Sovereignty Action Days.
"A big group of people can make quick work of a daunting task," said Nick Lucas, programs manager for Advocates for Urban Agriculture. "We've literally moved mountains of compost."
On Saturday, volunteers will pitch in to rebuild raised beds, pull weeds and spread wood chips, Augustus said.
Chicagoans from across the city are invited to take part. RSVPs are encouraged (click here) but people who simply show up to the Peace in the Valley garden at 168 N. Laramie Ave. won't be turned away.
The types of connections the Austin Green Team promotes — to local food sources and among community members — is an excellent example of food sovereignty at work, Lucas said.
"It's about having some control over your food source. Growing your own food is the most secure supply, the most secure access you can have," Lucas said.
In parts of Chicago where food options are limited — typically communities of color where there's been a history of disinvestment — a garden places power in the hands of the individuals who live there, giving them control over what they want to grow and eat versus what they have to accept from area grocers, if there even is a grocery store, said Viviana Gentry Fernandez-Pellon, Advocates for Urban Agriculture's technical assistance manager.
"There are real equity issues," she said of food access in Chicago. "Action days are a direct way for volunteers to support neighborhoods and people of color."
But beyond their role as a source of food, the gardens also bring people closer to the land and nature, Gentry said.
"It's a very full experience. It's about being able to be around green space; there's a whole mental health aspect," she said.
Action days are held the third Saturday of the month at a different community garden or urban farm. The upcoming schedule:
July 20: Stein Learning Gardens at St. Sabina, 7821 S. Racine Ave.
Aug 17: Ellis View Community Garden, 6368 S. Ellis Ave.
Sept 21: Harold Washington Post #1987 Therapy & Education Farm, 4250 W. Chicago Ave.
Do stories like this matter to you? Subscribe to Block Club Chicago. Every dime we make funds reporting from Chicago's neighborhoods.