BUDLONG WOODS — North Side seniors got a Lil' Sebastian-sized treat on Wednesday when miniature horses were brought in to an assisted living facility to interact with residents.
The meet and greet at Covenant Home of Chicago, 2720 W. Foster Ave., was made possible through a partnership between Mane In Heaven and Chicago Methodist Senior Services.
For over an hour, seniors and their family members were able to interact with the miniature horses, petting them and taking lots of pictures. Volunteers showed residents how the mini horses are able to respond to commands and how they like to be pet.
Roland Honold is a resident at Covenant Home and the horses brought him back to his younger days of living on a farm. Back then, he used to wake up "before the crack of dawn" and milk two dozen cows before leaving for school.
The mini horses brought a smile to his face and he said he could definitely see how the pint-sized ponies could provide benefits to residents.
"It gets a lot of us to be thinking differently," he said. "You don't see something like this most days and it's good to change things up."
Mane In Heaven is a nonprofit that believes interaction with these animals improves the "physical, mental and emotional well-being" of children and adults in hospitals, nursing homes or other clinical settings.
The two miniature horses at Covenant, both just over a year old, are an inseparable duo named "Pixie" and "Lovie," according to Mane in Heaven representatives.
They are both American Miniature Horses, a breed that has been selectively bred over the course of centuries. Miniature horses have a history of being domesticated by nobility while also being used in coal mines for their small but strong stature.
Janette Wanner, treasurer for Mane In Heaven, said that the mini horses are a lot like therapy dogs. She said they have a calming effect on people and are very sweet animals.
She said that often the horses visit sick children at Shriners Hospitals for Children. Many of the kids get to interact with the horses before an upcoming surgery.
"It's 10 minutes when they can think about something else," she said. "That can have a powerful impact."
Bill Lowe is the CEO of Chicago Methodist Senior Services and said the mini horse visits are part of a larger mission of strategic programming for seniors.
"We are constantly scanning and networking in order to find opportunities for our seniors," he said.
Lowe said that all of the communities under Chicago Methodist Senior Services benefit greatly from programming that can spark joy for seniors and break up daily monotony.
Lowe was particularly passionate about partnering with Musicians On Call, a program that brings live music to hospital patients and seniors.
It's all about "life enrichment programming," he said.
Lowe's mother lives at Hartwell Place (one of Chicago Methodist Senior Services' assisted living homes for those who need memory care) and was never fond of animals in her younger years. But now, she has found a new love for animals through programming that connects seniors to animals.
"The mini horses are just the right size and they spark a lot of conversation," he said. "It's unique and great to have them in our building."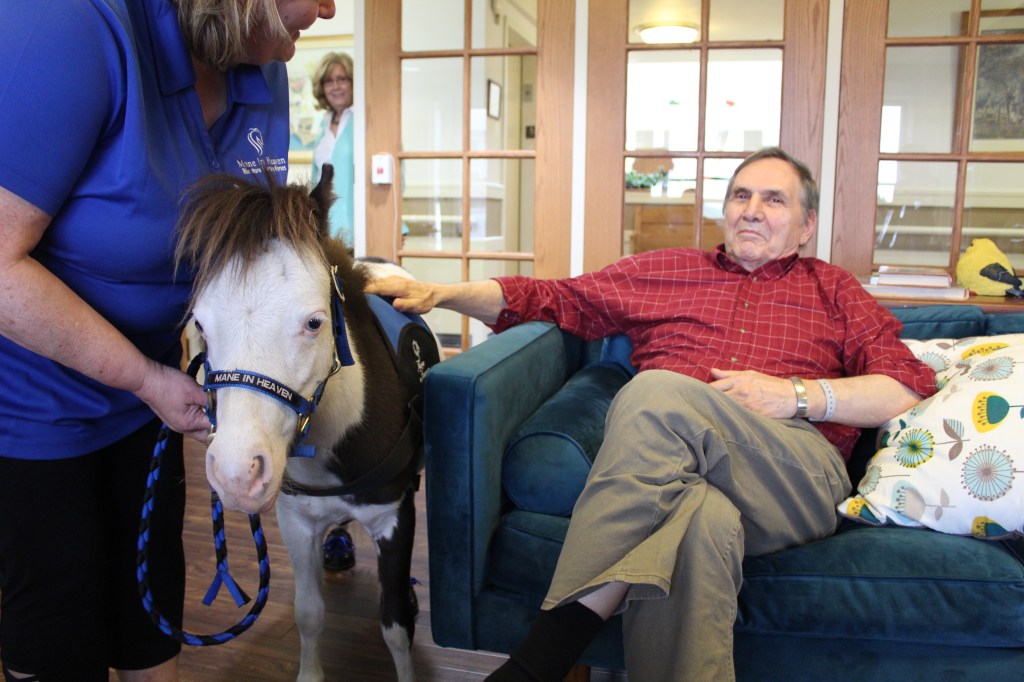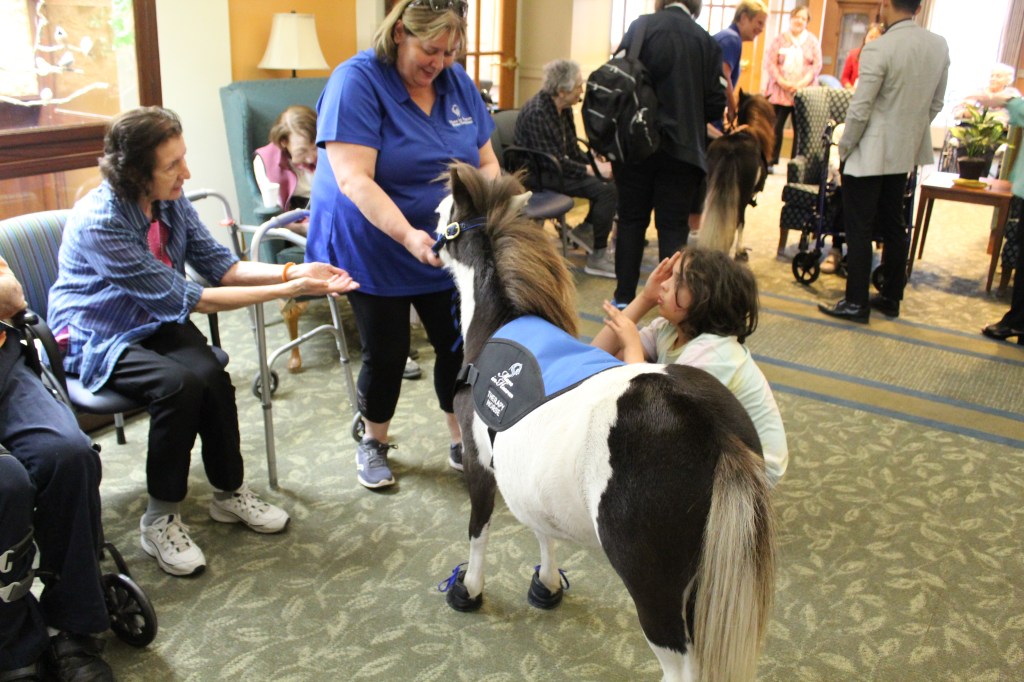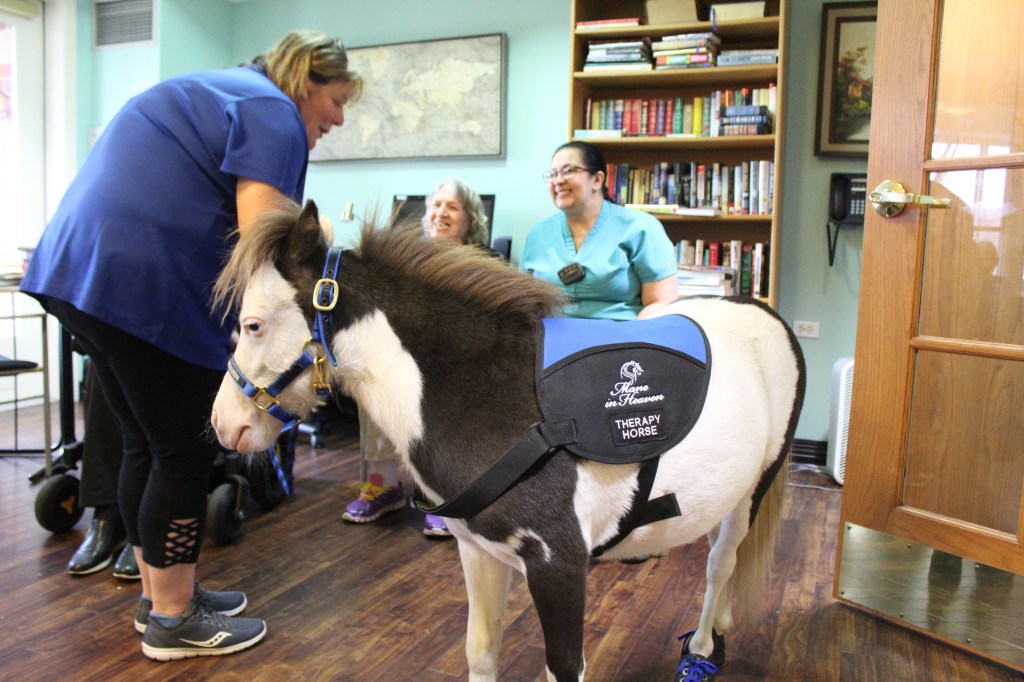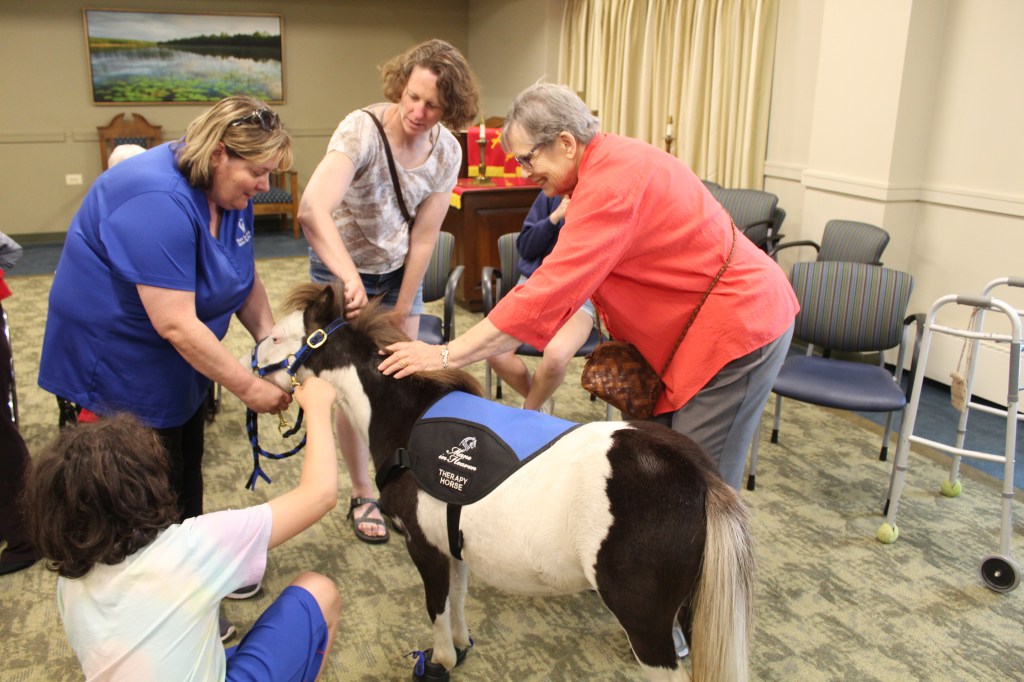 Do stories like this matter to you? Subscribe to Block Club Chicago. Every dime we make funds reporting from Chicago's neighborhoods.