LOGAN SQUARE — Uncharted Books, a Milwaukee Avenue staple for 7 years, will close its doors and move north at the end of this week for a fresh start in a new neighborhood.
The bookstore, which opened at 2620 N. Milwaukee Ave. in 2012, will move to 5140 N. Clark St. to a bigger, newer Andersonville building that will have a wider selection of books, an additional community and event space and more consistent foot traffic.
Owner Tanner McSwain said he is thinking of the move as an upgrade for the survival of the bookstore and to expand its offerings in the community, something he was not able to do in the Logan Square location.
"We are now going to have the space and facilities and hopefully the extra income from foot traffic to be able to do everything better and bigger," McSwain said.
Although he is excited about the move, he said it was a tough decision to move out of a community that has been so supportive and a place he called home when he moved to Chicago over a decade ago.
McSwain said the business is moving because its current location is in poor condition. He cited deteriorating ceilings and walls, out-of-date plumbing and an increasingly crowded space as signs that it was time to move on, he said.
He said he sees this as an unexpected side effect of the hot real estate market in the neighborhood, which he believes can negatively impact local businesses.
"A lot of the landlords know that a developer is going to buy their building for the plot of land, not for the building because developers don't care about historical buildings, they want the value," he said.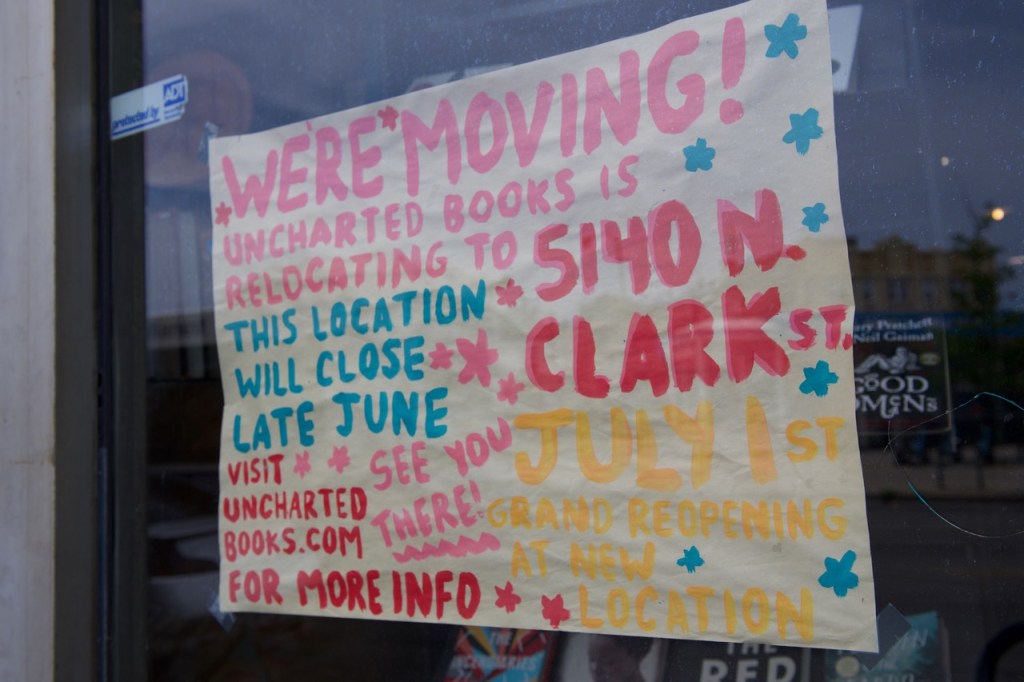 The development craze has also shifted the local character of Logan Square, he said, which is what drew McSwain to Logan Square to begin with.
"The thing I always have loved about Logan is what a small-town feel it has, [and I] sort of feel like we are losing that," he said. "I hope it's not the case but that was always my favorite thing."
Ultimately, though, Uncharted is moving for business reasons.
"We are doing this for the health and survival of the bookstore, not because we are fed up," he said.
McSwain and his dog Ramona, the honorary director of marketing you can always find in the shop's front window, have long been a representation of Uncharted Books in the community. Walking around the neighborhood, people know who he and Ramona are. She's a great ice breaker, he said.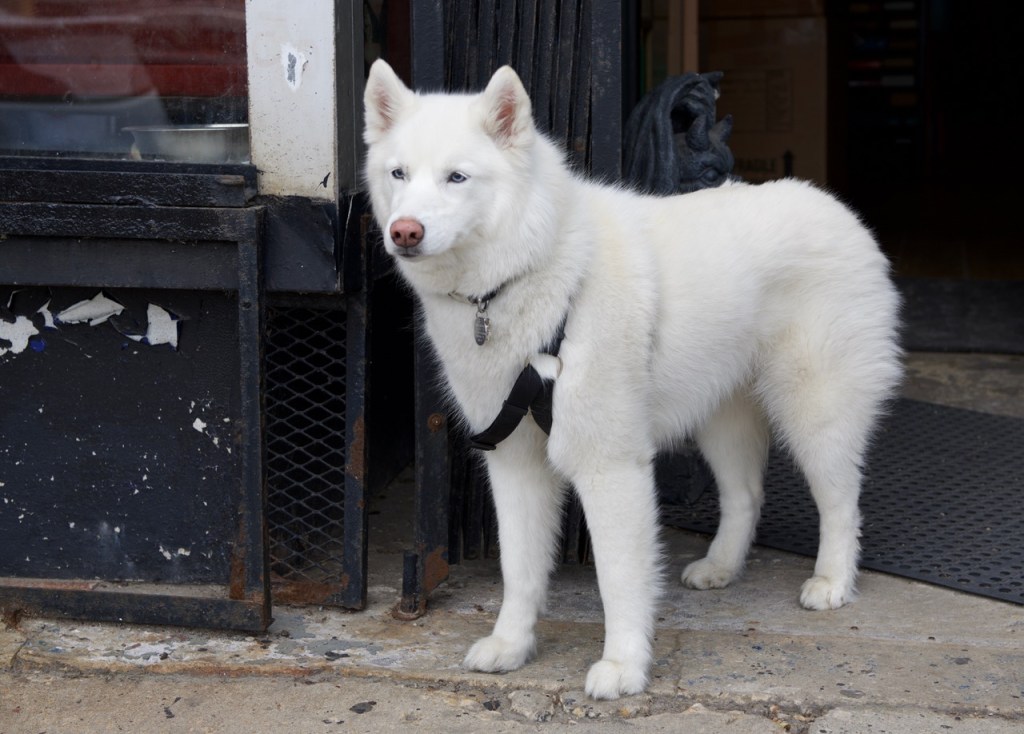 Looking back on his time in Logan Square, McSwain said he has loved being part of the local economy and supporting other independently-owned businesses.
"We tried and mostly succeeded putting down roots and really entangling ourselves in the local economy and participated in neighborhood-wide events," he said. "One of the great things about doing that is you are part of this local culture that supports each other but one of the bad things about that is once you realize you have to leave, it's a lot more complicated than if we were an anonymous franchise."
He added that so much of the identity of Uncharted is tied to Logan Square and that his goal was always to stay in the neighborhood. That makes the move a lot to chew on but also opens new possibilities for the future of the bookstore.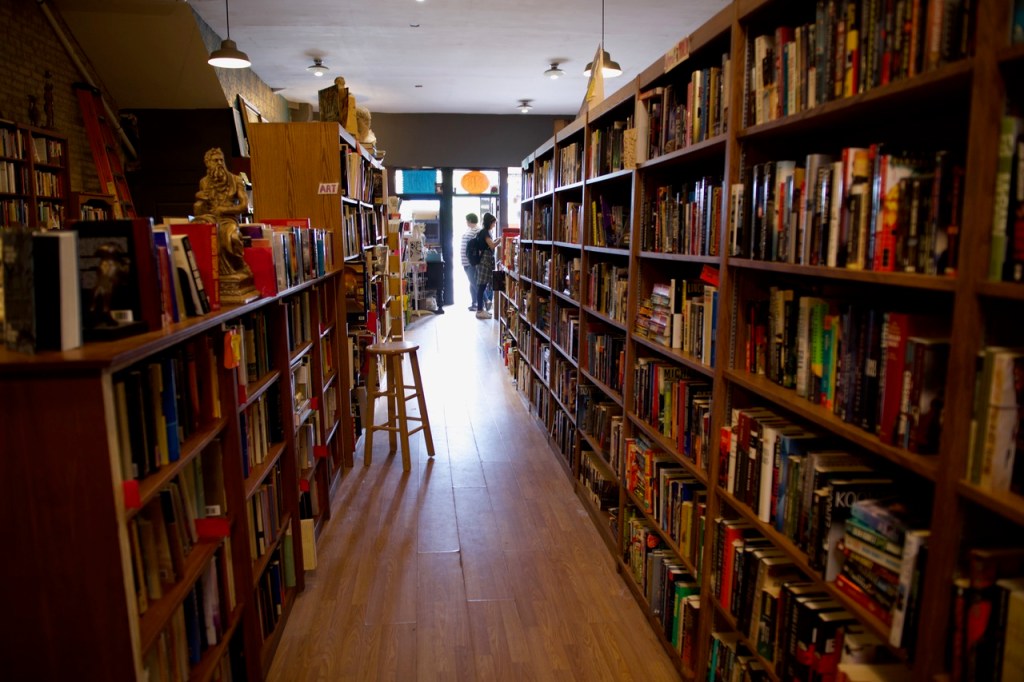 "It is tough to reevaluate what changes, what we keep, what we honor by leaving the area," McSwain said.
McSwain said he tried to find a new space around the neighborhood but did not find anything that matched his price, was in the right condition and had the same foot traffic. He decided that Andersonville would be a good spot to relocate, with its many independent, dog-friendly businesses and accessibility from the Red Line.
The new dedicated event space, called the Adventurers Club, will be a members-only area that will only be opened by tilting a secret bookshelf. The club will be used for coworking, to read or write, play board games or just hang out, he said. In the evenings, the Adventurers Club will function as the new event space, open to everyone.
"We are going to be pretty close to my favorite bookstore in Chicago, Women and Children First," McSwain said. "Our businesses are different enough that we are going to be complementary and hopefully we can collaborate."
Emily Johnson, an employee at Uncharted Books and a longtime Logan Square resident who runs the Book Driver book donation service, said she is excited the store will move to Andersonville, citing other small businesses that sell vintage goods. She also is looking forward to more consistent foot traffic and sliding into the literary community there.
However, she acknowledged that Logan Square has been a perfect market for used books, zines, local art and community gatherings — and has heard from bummed-out regulars.
"For [regulars], particularly, it marks a change in the neighborhood," Johnson said.  
Uncharted Books' last day in Logan Square is Thursday and the new location will open July 1 with a ribbon-cutting ceremony from the community and the alderman.
Do stories like this matter to you? Subscribe to Block Club Chicago. Every dime we make funds reporting from Chicago's neighborhoods.