WEST TOWN — After years of delays, and even a period driving for Uber, chef Larry Tucker is back and ready to serve hungry West Towners his much-lauded fried chicken.
Crazy Bird Chicken, previously of North Lawndale, is now open in West Town, 1160 W. Grand Ave. Tucker said it took him nearly two years to secure the permits necessary to open, and now that it's happened he feels like he's gone "from purgatory to Heaven."
Tucker closed his Crazy Bird Chicken spot on California Avenue two years ago, looking to upgrade his tiny, 8-seat chicken stand. He told DNAinfo in 2017 that he believed Grand Avenue would be "the next big street" and wanted to be a part of it.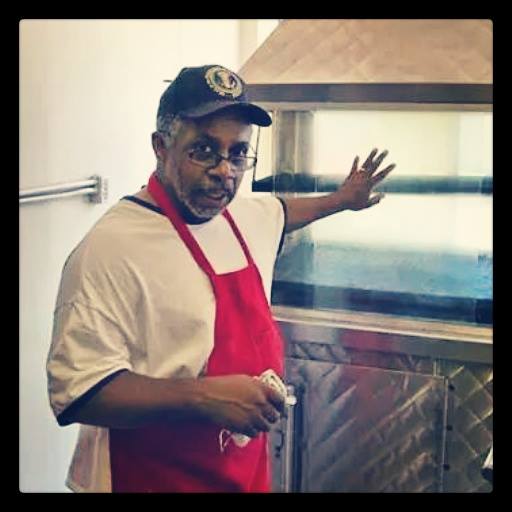 "A lot of the dreams and thoughts, it's coming true now," he said. "We can see in this early stage, there's a lot of promise in this neighborhood. And in this concept."
Today, those feelings remain true.
"I love, love, love this neighborhood," he said. "This neighborhood is gentrifying. … (But) it's not like Fulton. It has its own character. It's really a swell street here."
Related: Crazy Bird Chicken Joining Bari's Block On Grand Avenue In West Town
When Tucker originally closed his North Lawndale location, he didn't anticipate the lengthy permit process with the city. While he waited for approval, he kept busy driving for Uber and meeting some of his future customers.
A 5-star driver, he passed out Crazy Bird Chicken business cards to riders.
"I hopped around this neighborhood a lot," he said. "I actually got to meet a lot of the people in this neighborhood."
Crazy Bird Chicken uses meat that is free-range, hormone and antibiotic-free and vegetarian-fed. He sources chicken from Gerber's Amish Farm, a farm that raises the animals five hours away in Ohio.
His sides are also back, including collard greens, sautéed kale, yams, corn, homemade fries and truffle macaroni and cheese. In the fall, Crazy Bird Chicken will introduce heavier items, such as gumbo.
"Nothing here would come out of a can, ever," he said. "We pick our own collards. We cut out own sweet potatoes."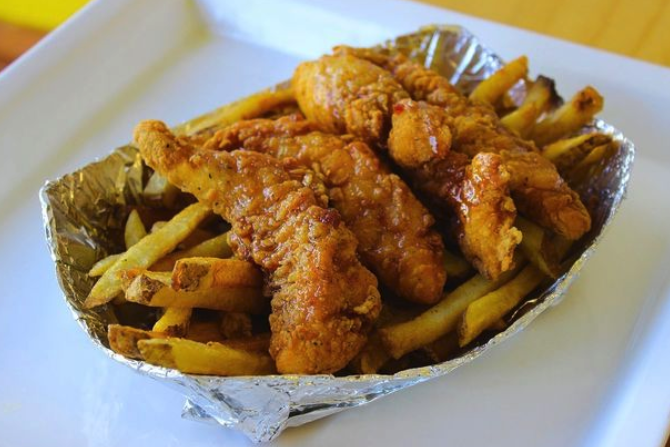 Tucker is a household name in Chicago culinary history.
In 1986, Tucker worked as the chef at Mike Ditka's, on the corner of Ontario and Franklin. That's where he crafted Mike Ditka's famous pork chop.
After that, he opened a N.N. Smokehouse, a barbecue restaurant in Irving Park.
But that's "old stuff," he said.
"The new stuff now is 13-foot ceilings, free-range chicken and exposed brick walls," Tucker said.
In 2014, Tucker opened the original Crazy Bird Chicken in Lawndale. The restaurant operated on a "shoe-string" budget, with eight seats and bulletproof windows.
At first, the restaurant didn't have a name.
Then, a newspaper writer named his chicken stand in an article about fried chicken joints to try in Chicago. Though he can't recall the exact story, the headline was along the lines of "the city's going bird crazy."
"I said, 'That's it! Let's change the name to Crazy Bird,'" Tucker said.
Crazy Bird's tagline — developed by Tucker's niece — takes the crazy theme further: "If it ain't crazy good, it ain't crazy bird."
Crazy Bird Chicken is open 11:30 a.m.-9 p.m. Monday-Thursday, 11:30 a.m.-10 p..m. Fridays and 12 p.m.-10 p.m. Saturdays.
For more information, visit Crazy Bird Chicken's website or follow the restaurant on Facebook, Twitter or Instagram.
Do stories like this matter to you? Subscribe to Block Club Chicago. Every dime we make funds reporting from Chicago's neighborhoods.