WICKER PARK — On the same day Wicker Park lost its 1950s-era neon Double Door Liquors sign from 1572 N. Milwaukee Ave., Yeti —a Texas-based high-end cooler and camping gear company — unveiled its designs for the site.
Early renderings released Wednesday show one floor of retail space and a small bar where shoppers can grab a beer or wine.
Doug Schmidt, the director of retail operations for Yeti, said Wicker Park was a perfect fit for the company's "character-rich" story, which began in 2006 when two brothers decided to create their own outdoor gear that would meet their standards.
Related: Wicker Park's Famed Double Door Sign Is Gone After 70+ Years: 'It Was A Tombstone That Honored Our Cultural Past'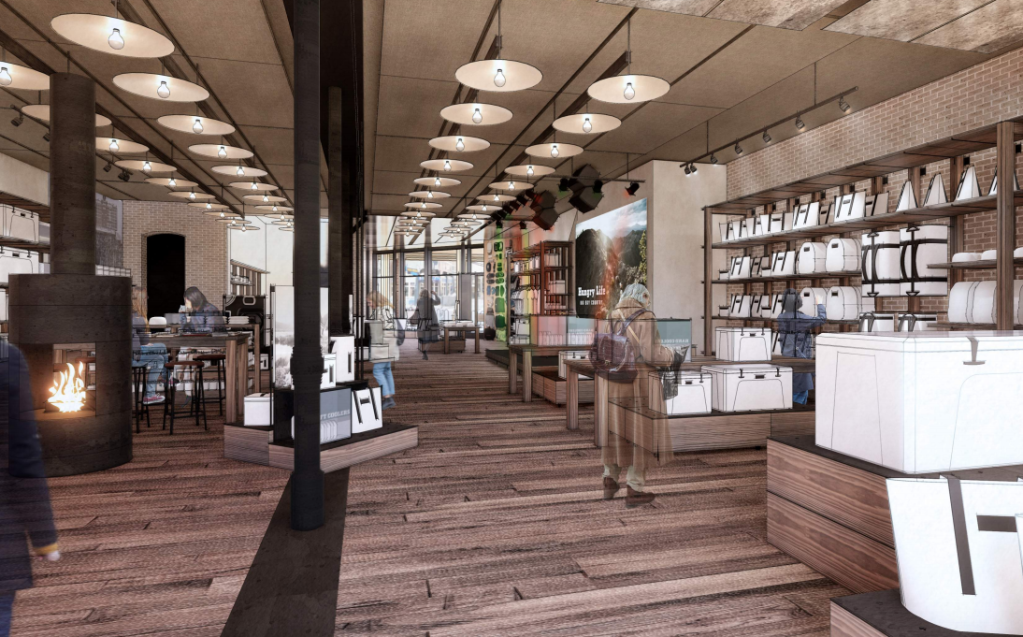 "Wicker Park is a natural fit for the brand," he said.
During a Wednesday meeting with neighborhood stakeholders, Schmidt said Yeti plans to offer community events inside the store. Those could include camping lessons and acoustic concerts.
The new owner of the building, CA Ventures, had the Double Door sign removed late Wednesday — much to the surprise of those who have been lobbying to keep it in the neighborhood for months. Newly-elected Ald. Daniel La Spata (1st) was not even notified about the sign removal.
After a few months of trying to work out a deal to keep the sign, the impetus eventually fell on owner CA Ventures to either remove the sign or apply for landmark status, a process that can last a year, Yeti's zoning attorney Sara Barnes said.
"They don't want to keep the site vacant for that long," she said. "Believe it or not, that sign alone would have held up permits for the building."
A spokesperson for the Department of Planning and Development confirmed this, saying city code forced CA Ventures to remove the sign because it was considered abandoned.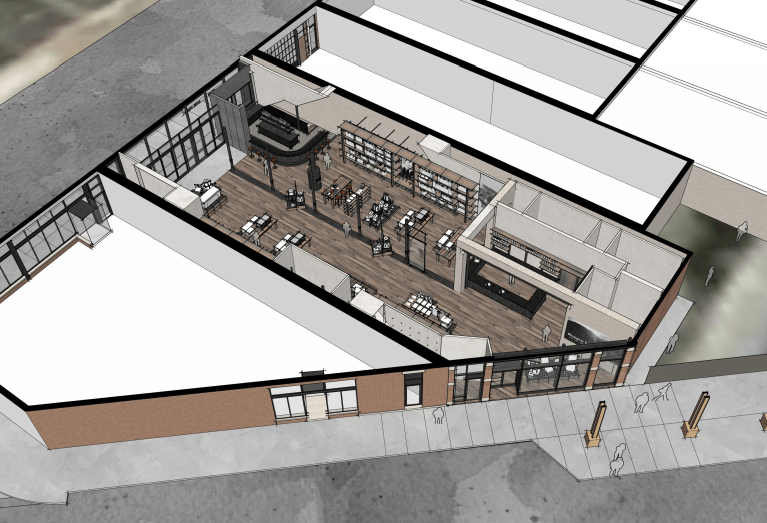 Since the sign is in the public way, with pedestrians walking beneath it, it needs a regularly-issued permit, the spokesman said. Since no one has taken responsibility for the sign in more than a year, the city considered it abandoned. CA Ventures would have had to stall their building permit to get the sign in good legal standing or get rid of it, which is ultimately what they did.
A spokeswoman for CA Ventures would not answer Block Club's questions about the where the sign was taken or future plans for the 16-foot-tall sign red and white porcelain structure.
Yeti's Wicker Park location marks the company's third United States flagship store after Austin, Tex. and Charleston, S.C. It is expected to open by the end of this year, Schmidt said.
The site will also include several communal areas where shoppers can sit together and "plan their next trip," Schmidt said.
Because the building is 100 years old and has landmark status, Yeti's designs must be approved by the city's Landmarks Commission, Barnes said.
Yeti will release final renderings once the company receives city approval, she said.
Do stories like this matter to you? Subscribe to Block Club Chicago. Every dime we make funds reporting from Chicago's neighborhoods.
RELATED
Wicker Park's Famed Double Door Sign Is Gone After 70+ Years: 'It Was A Tombstone That Honored Our Cultural Past'
From 'Crazy Hillbillies' To The Rolling Stones: The History Of Wicker Park's Iconic Double Door Sign
Yeti Moving Into Former Double Door Building, Cooler Maker Confirms
Double Door Expected To Open In Uptown In August
Double Door Reopening In Uptown's Wilson's Theatre Building
Yeti Moving Into Former Double Door Building, Cooler Maker Confirms