LINCOLN SQUARE — Gardening in Chicago is no walk in the park what with the unpredictable weather — either too wet, too dry, too hot or too cold — heavy clay (possibly toxic) soil, voracious wildlife and an overall lack of plantable space.
And still the city's green thumbs persist.
"We continue to be blown away by the dedication and creativity of Chicago gardeners," said Mike Nowak, founder of the Chicago Excellence in Gardening Awards. "If there's an obstacle, these folks will overcome it. If there's a challenge, the gardening communities will rise to meet it."
The awards, established in 2017 to reward these hardy souls for their herculean efforts, are now open through July 7 for 2019 entries.
Given the slow start to this year's growing season caused by one of the soggiest springs on record, submissions can include photos of gardens in their previous years' glory.
"We just need an idea of the quality of the garden," Nowak said, adding that looks are only part of what judges consider when evaluating entries.
Sustainability, community benefits, the incorporation of native plants and plain old ingenuity are also taken into account.
Nowak pointed to previous honorees like the Wicker Park couple who've replaced a cracked concrete driveway with an innovative permeable clover patch, or the clever dome trellis fashioned out of bicycle wheels at the Prosser Community Garden Chicago Farm Lab.
Other award winners have reclaimed vacant lots, transformed rooftops and high-rise ledges into urban oases, and swapped out grass for swaths of pollinator-friendly, stormwater-absorbing native plants.
"That's encouraging in the age of climate crisis," Nowak said.
Frequently, he said, it's the story behind the garden that sets it apart from the pack of submissions.
"It isn't just about the plant material," said Nowak. "It's often about how the garden or gardener has overcome obstacles or inspired neighborhood participation."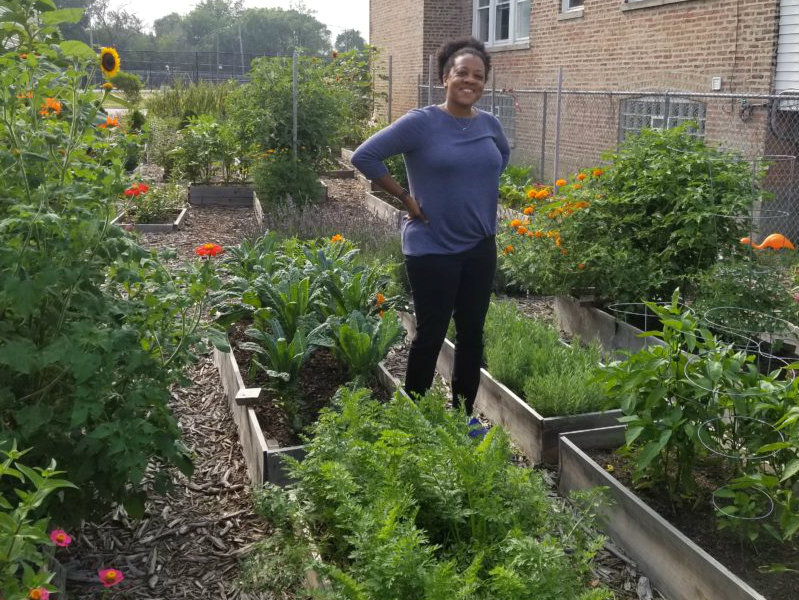 Marlene Fisher's garden in Grand Crossing, a 2018 award winner, is a perfect example of the way a garden can be so much more than just a pretty face.
Fisher initially took over a vacant lot in her neighborhood simply to improve an eyesore and grow some herbs and vegetables for herself. Her ambition and scope quickly grew to the point where her garden now provides food to neighbors and friends, and a habitat for bees and insects.
As the citation for her award states: "[She] has single-handedly accomplished what often takes a dozen or more people to do. She has changed her entire neighborhood."
Got an inspiring story to share or a garden that stops passersby in their tracks? Enter for free online.
All types of gardens are eligible — residential, community, school, church, business and urban farms — as long as they're within Chicago's city limits.
Judges will visit gardens from mid-July to early August, with winners notified by late summer. An awards ceremony will be held in October at a venue to be announced.