LINCOLN PARK — It was a rare trifecta, a single stage production that launched its star into Hollywood orbit, rescued the play from terminal chaos in New York City and became a critical pivot for the Chicago company that put on the show. Unlikely, yes, but that was the fallout from Steppenwolf's epochal mounting of Sam Shepard's "True West," a play that returns to the troupe's stage this summer.
It will be Steppenwolf's first-ever revival in almost 40 years, and it comes with an updated twist.
"That play and its ensemble style of acting was a big part of the Chicago aesthetic, its bravado and fearlessness," says Jonathan Berry, Steppenwolf's associate artistic director. "It was why we went back to the seminal production, to reach back and touch it again, but also to build a bridge to the next generation."
The year was 1982. Founded eight years before by a ridiculously talented band of Highland Park outliers, which included the likes of John Malkovich, Joan Allen, Gary Sinise, and Laurie Metcalf, Steppenwolf was still struggling to stage work that would showcase its acting chops and make money. Critics savaged an early dark comedy by Wallace Shawn,"Our Late Night." Non-Steppenwolf productions siphoned off ensemble members. Finally the company triumphed with Lanford Wilson's 28-character "Balm in Gilead," about a bunch of misfits who hang out in a New York diner. The play proved such a crowd-pleaser it had to be relocated from rented space in the Jane Addams Hull House to the larger Apollo Theater. It was time to get serious. Sinise, all of 25 when he took on the title of artistic director, began looking for another signature hit to grow the brand.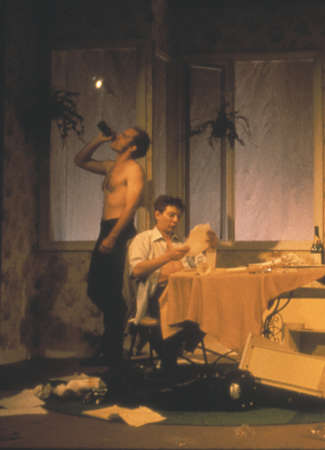 "True West," by Sam Shepard, winner of the 1977 Pulitzer Prize for "Buried Child," looked like the ticket.
The tale of two brothers — one an aspiring screenwriter, the other a volatile recluse — who swap identities in a ferocious second act had become another Shepard hit at the Magic Theater in the playwright's hometown San Francisco. Its next staging at Joseph Papp's Public Theater in New York promised even more buzz — until it became a notorious flop. The New York Times' Frank Rich lamented, "The play wasn't misdirected: it really looks as if it hasn't been directed at all." Papp blamed Robert Woodruff, the Magic director he'd been forced to import and who then quit; reviewers jumped on the Public's two star hires, Peter Boyle and Tommy Lee Jones, who wandered aimlessly through their parts; Shepard, who refused to come to New York because he didn't fly, denounced Papp, vowing, "He'll never see another play of mine."
 Far from discouraged, Sinise read Rich's closing line, "These men [Shepard, Woodruff and Papp] owe New York a true 'True West,'" and packed his bags. He was going to New York to buy rights.
Too poor to pay for a hotel room, he slept on the floor of a friend and showed up in the office of Shepard's agent, Lois Berman, with his wild hair and dressed in a corduroy jacket and paisley tie. Berman announced she'd never heard of Steppenwolf and in Chicago preferred the more established Goodman Theatre.
"The play wouldn't leave me," wrote Sinise in his recent book, "Grateful America." "I had to direct this, and I knew it would be great for the company."
He got his wish months later, when the Goodman passed and Berman called to say, "I guess you can have it."
Sinise cast Malkovich as the hustling drifter Lee and ensemble member Jeff Perry as the buttoned-up striver Austin. He picked Francis Guinan to play Saul, the sleazy producer who strikes a golf-course deal with Lee behind Austin's back, and tapped Metcalf for the mother who wanders into the play's second act to find her home wrecked and her sons about to kill each other. With Malkovich burning up the stage in Chicago, the play got rapturous reviews and Sinise plotted a New York reprise to show the city all it had missed. There was only one problem. Steppenwolf then was in the midst of a much-anticipated move from Hull House to a new permanent home, the rehabbed St. Nicholas Theater on Halsted, and most everyone worried an out-of-town production would stretch resources and undermine the tight-knit troupe's cohesion. Both Guinan and Perry balked at going, then the New York producer vetoed Perry stand-in Tom Irwin, insisting Sinise both direct and play Austin. In what soon became a page in Steppenwolf lore, Sinise stopped by the St. Nicholas and took a chain saw to the risers to speed up its renovation and to convince doubters that New York was worth the bother and not an ego trip. 
It proved the right move at the right time.
 "Taking 'True West' to New York was transformative," says longtime Chicago theater critic Tony Adler. "It vindicated Sinise and proved a turning point for Steppenwolf."
The New York critics recanted their previous pans of the play and salivated over Malkovich, who was tagged the next Marlon Brando. Celebrities ranging from John F. Kennedy Jr.  and Jackie O to Bernardo Bertolucci flocked to the Cherry Lane Theater for a backstage meet with Malkovich, who went off to star in "The Killing Fields," the first of many big movies.
In the wake of its Manhattan Lazarus act, "True West" claimed its place as a classic examination of American character and over the years has attracted a marquee pairing of actors to tackle the battling bros, among them Jim Belushi and Gary Cole, the Quaids — Dennis and Randy — and Philip Seymour Hoffman and John C. Reilly, who swapped roles every night. (The latest Hollywood drop-in, Ethan Hawke as Lee, couldn't rescue his co-star, Paul Dano, from blah reviews in New York this winter and the play closed in six weeks.) 
Steppenwolf, meanwhile, survived its New York splash of fame and planted itself firmly on Halsted as evidence of the gonzo muscularity that made Chicago — and Steppenwolf — such power players on the national theater scene.
To honor that achievement, the company is going back to the 1982 play that helped put it on the map. "But we wouldn't have done it," cautions Berry, "without some of the ensemble from that time to step in and guide us."
One person was Guinan, who in 1982 had played well over his age, but now gets a second shot as Saul, the shifty producer. Another ensemble vet is Randall Arney, who took over Guinan's role when the play moved to the Apollo. This time he was tapped to direct.
Even more of an attention-grabber will likely be the actors cast as the battling brothers, Namir Smallwood and Jon Michael Hill, both of whom are African American. Their casting has historical resonance, according to Arney. "I've been reading how vital and relevant African Americans were in the true west. One in four cowboys was African American and two of the other three were Mexican," Arney says. "It's going to be an absolute blast. The play is red meat for actors."
Hill, who will play Austin, agrees. "It'll be no holds barred," promises the star in the TV police drama, "Elementary."
"Arney is the Sam Shepard whisperer, he wants his actors to get down in the mud and get dirty. I've been playing a very clean police detective for seven years. It's going to be fun to get messy."
Shepard, who died in 2017, would have cheered. 
Jonathan Black, the former Managing Editor of Playboy, is a freelance writer and author of several non-fiction books. He is currently at work on a book about longevity. 
Do stories like this matter to you? Subscribe to Block Club Chicago. Every dime we make funds reporting from Chicago's neighborhoods.