CHICAGO — Barbara Sechrest, a longtime North Center resident who gained fame after getting a Cubs tattoo at 82, has died.
Sechrest, who preferred to go by "Babs," was a North Center resident for more than 80 years and was known for volunteering throughout the neighborhood — when she wasn't busy going to Cubs games, that is. She was 85 when she died Thursday.
Sechrest was born in Chicago and always lived close to Wrigley Field, going to her first game when she was 5 or 6 years old, said her daughter, Karen Donohoe.
"She was all about the neighborhood, the community, her church," Donohoe said. "And, of course, her love for the Cubs — her insane love for the Cubs.
"Growing up in the neighborhood, back then, you could go to the Cubs game and it was a nice way to spend an afternoon. For her, that was the most important thing: She loved the feel of the ballpark; that was big to her. She loved the roar of the crowd."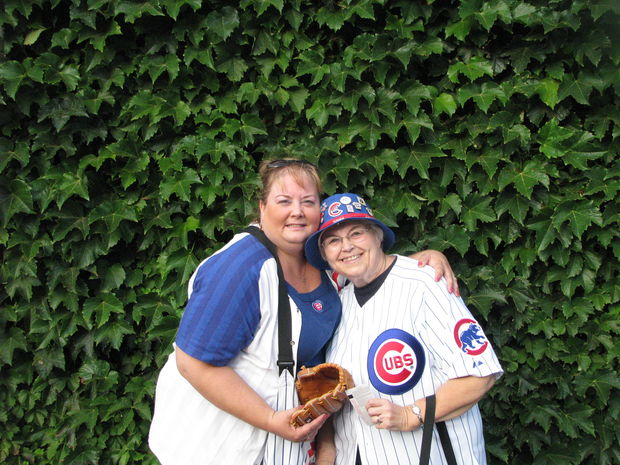 That love for the Cubs lasted all of Sechrest's life: She got her first and only tattoo, of the Cubs logo, on her upper chest when she was 82 years old in honor of the team's World Series run. The tattoo landed her spots in newspapers and on TV, and for years she showed it off to as many people as she could.
"When we would go to the hospital … if they were putting on a heart monitor … she'd be like, 'Oh, well, would you like to see my tattoo?'" Donohoe said, laughing. "She was always, always showing it off.
"Honestly, that was her proudest thing — was that she, at 82, she got that tattoo."
RELATED: 82-Year-Old Mom And Her Daughter Get 1st Tattoos To Honor Cubs
Sechrest debated adding the year of the Cubs' World Series win to the tattoo, but ultimately decided against it because she wanted everyone to know she'd always loved them — not just in 2016.
Sechrest shared her fandom with her four kids: John, David, Janine and Karen. Donohoe said her mom would take her to Hero's, a now-closed sandwich shop at Western and Addison, so they could grab subs before heading to the stadium.
When Sechrest and her husband, Richard, decided to buy a home for their younger family, they settled on one that was exactly 1 mile west of Wrigley Field's third baseline. This way, they were close enough where Sechrest could walk the kids to games but far enough where Richard Sechrest didn't have to deal with the hassle.
Donohoe said she was in the 3rd grade when her mom randomly pulled her out of school one day.
"Oh my gosh, what's going on?" Donohoe asked her mom.
"Nothing. We're just going to walk to the Cubs game," she replied.
The two ambled over to Wrigley Field, where Sechrest taught her daughter how to keep score on a scorecard. It's one of Donohoe's favorite memories.
"One of the things she taught me from a very young age was to listen to the crack of a bat," Donohoe said. "When you heard the crack of a bat in a certain way you knew it was going to be a big hit."
Sechrest went to her last Cubs game in May 2018. Her illnesses had made it difficult to go more frequently, her daughter said.
But during Sechrest's last weeks she'd joked about wanting her "Senior Make-a-Wish" wish to be attending a Cubs game in a suite, which she'd never gotten to do. Her supporters were trying to set that up before she died.
"Her second wish was that Kevin Costner would come over and give her a hug. Neither happened," Donohoe said, laughing. "We just didn't have enough time."
In between games — Sechrest went to 40-50 a year when she was younger — the Chicago native was heavily involved in the North Center community. She was part of the PTA at Bell School, led Girl Scout and Brownie troops, was on a committee at Concordia Place, organized Halloween pageants and volunteered at church and the local Boys and Girls Club, her daughter said.
"Our whole lives were all about the Cubs and … the neighborhood," Donohoe said. Her mom "did as much as she possibly could for all the neighborhood kids, as well."
Sechrest, who lived in a flat on Bradley Place for more than 30 years, even set up an "epic" annual block party there starting in the late '80s or early '90s, Donohoe said.
"She was just an absolute treasure," said Donohoe, who cared for her mother in her final years. "Anybody that ever met her, they immediately fell in love with her.
"Like a typical Irish grandma, right? She had this way of making you immediately feel like you were her favorite person in the world. She was just a beautiful soul. Truly a beautiful soul."
Sechrest is survived by her four children, nine grandchildren and three great-grandchildren. The thing she was most proud of was that family, Donohoe said.
"Probably her family and her friends and how she instilled just such a sense of love and community in all of us," Donohoe said.
Do stories like this matter to you? Subscribe to Block Club Chicago. Every dime we make funds reporting from Chicago's neighborhoods.