CHICAGO — DJs are no longer welcome to play rap songs at Boystown's Progress Bar — and the new policy is being called racist by critics.
Progress Bar, 3359 N. Halsted St., is a gay nightclub that frequently hosts DJs and dance parties and was known for its diversity of music. But on Wednesday night an email from the bar leaked, showing Progress Bar was now banning DJs from playing rap music.
"This is not a suggestion!! If you play RAP you will not be asked back," the bar wrote in the leaked email, which was shared on social media.
The bar instead suggested DJs play music reminiscent of "DJ AM for 2019 — a super open format POP/DANCE focused atmosphere." The email also suggested DJs "think KSSFM/B96 opposed to WGCI." WGCI is a radio station that largely plays rap and hip hop.
DJs should tell patrons who ask them to play rap songs about the new rule, the bar's leadership wrote. They also noted there will be security near the DJ booth to "help with this transition."
The change was slammed online, where critics said the bar was trying to push out black customers and other people of color.
"This is f—ing racist as f—," one person wrote on Twitter. "Progress is frequented by [people of color] and banning rap is basically saying 'f— you' to these patrons."
"I already don't go to Boystown as it is because of how it caters to the white gays, but Progress Bar was one of the few places that most of us [people of color] could hang out at," another person tweeted. "It's sad that even in a neighborhood designated to all gays, they try and push the black ones out."
The bar racked up more than a dozen one-star reviews on Yelp in just hours as word of the rap ban spread.
Drag performer Quinn Hegarty also criticized the move, writing on Facebook, "… Are you just gonna come out and say black people aren't welcome in your establishment?"
The pushback led to Progress posting a statement on Facebook defending the move without apologizing.
"Progress ownership wants to make it VERY clear that EVERYONE IS WELCOME HERE!!!" according to the statement. "We have no ill intentions here. That can not be stressed enough. … We are still going to play hiphop, please don't read too much into this."
The bar's leadership said they're "looking to try something new" by not playing rap and said the move had "NO racial intentions."
But the statement was widely criticized, too, with hundreds of people leaving comments saying they would no longer support Progress Bar.
"Typical White response. Make a racist statement. Tell people of color who are offended by your statement to not make a big deal about it," one person wrote in response. "Fire whoever wrote that email and fire whoever wrote this post. If it's the owner, sell your bar now. It will tank. Happy Pride!"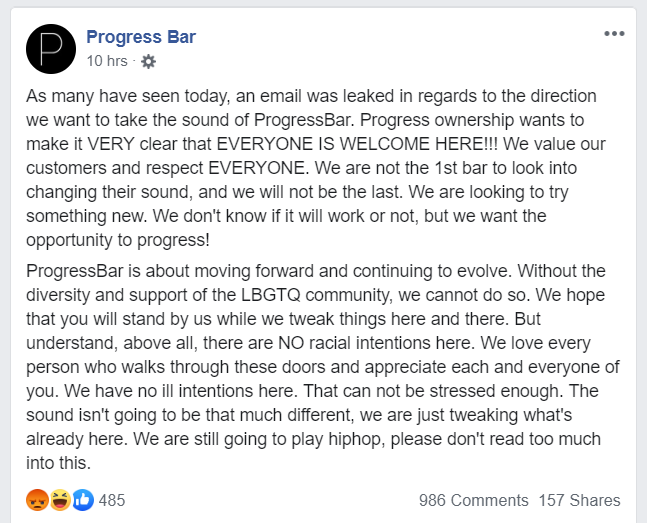 Do stories like this matter to you? Subscribe to Block Club Chicago. Every dime we make funds reporting from Chicago's neighborhoods.