CHICAGO — The city's new mayor and Chicago's longest serving alderman wasted no time getting into a showdown at the first City Council meeting under new leadership.
And when the skirmish was done, it was Mayor Lori Lightfoot getting a round of applause and Ald. Ed Burke (14th) taking his seat.
The showdown pitted Lightfoot, a former federal prosecutor, against Burke, a former cop and current 50-year alderman who is now out on bond for federal corruption charges.
Their short back-and-forth started less than an hour into Wednesday's meeting, Lightfoot's first as mayor.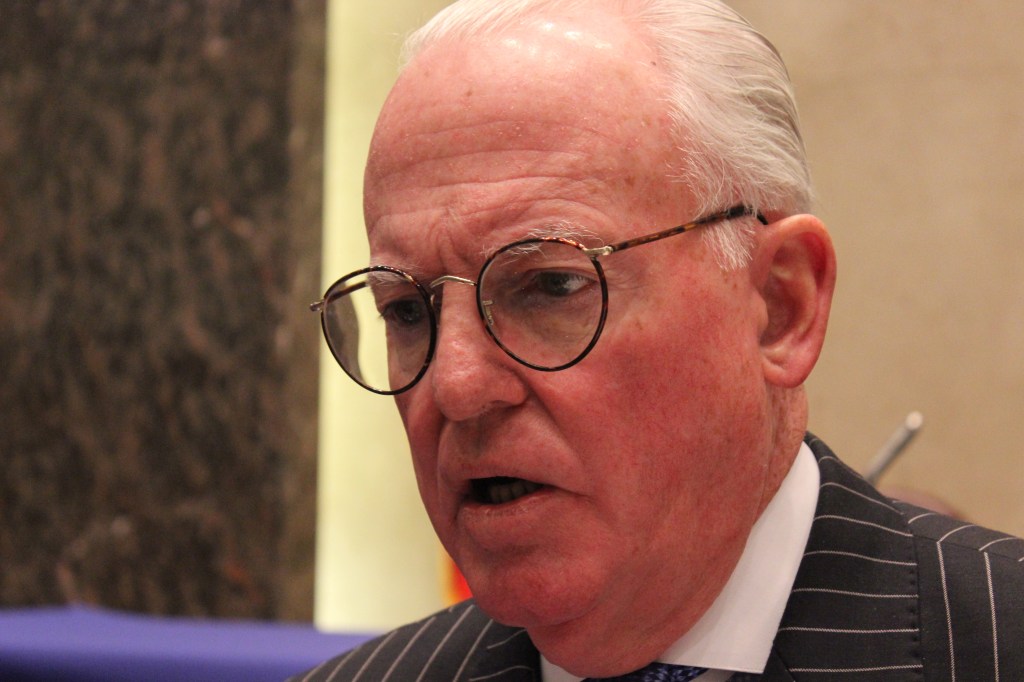 The council was discussing its rules when Burke, who is known for delivering long history lessons during City Council meetings, called for more gender-neutral language, suggesting changing words like "his" to phrases like "his or her." He said the male-focused language was "a serious flaw."
But Burke spent several minutes going over the suggestion, appearing to annoy Lightfoot. It led to this exchange, delivered like a cross-examination:
Lightfoot: "Ald. Burke, you've been in the City Council for approximately 50 years. Is that correct?"
Burke: "Yes, ma'am."
Lightfoot: "And you're a lawyer. Is that also correct?"
Burke: "Yes, you are."
Lightfoot: "You're aware that, under the terms of the law and particularly as provided in the municipal code, that gender, whether it's designated as 'his' or 'her,' applies with equal force. So if you're making an objection please make it so we can move forward."
When Burke continued to try to object, Lightfoot replied, "Sir, we'll take your issue under advisement. We're gonna move forward." The comment led to a small round of applause.
Afterward, while trying to speak with another alderman, Lightfoot criticized Burke's comments as a "soliloquy."
And when Burke tried to speak again several minutes later, Lightfoot pointed to Burke and said, "Alderman, I will call you when I'm ready to hear from you."
There was then another brief round of applause.
Burke's sway over the City Council was greatly diminished earlier this year following the announcement of his federal charges. He lost his position helming the council's powerful Finance Committee, and even had to take a less prominent seat in the chamber.
He was, however, reelected by the voters of the 14th Ward, setting up his future under Lightfoot, who surged to a landslide mayoral victory after several Burke-allied candidates faded.
After the City Council meeting, Lightfoot said she wasn't going to play Burke's games.
It was "showmanship. Apparently Ald. Burke has forgotten that I'm a 30-year trial lawyer," Lightfoot said.
"Ald. Burke is somebody who likes to test people," she told reporters. "He likes to see if there are weaknesses, and he has attempted to do this in the past with me and he's failed spectacularly every time.
"And every time he tries it, he will again fail spectacularly. I'm not going to start off my term as mayor with the City Council putting up with somebody just playing games for the sport of it."
She also dismissed his initial attempt to stall the City Council hearing to discuss gender-neutral pronouns.
"The notion that Ed Burke, fill in the history, is somehow now concerned about gender equity is laughable, that was just a stunt," Lightfoot said.

Watch the showdown below. The back and forth happens after the 44-minute mark: