BUCKTOWN — As newly inaugurated Mayor Lori Lightfoot takes leadership over Chicago, Ald. Daniel La Spata (1st), Ald. Brian Hopkins (2nd) and Ald. Scott Waguespack (32nd) took time on Thursday to meet with constituents to discuss property taxes, crime and corruption.
The event, titled, "State of the Wards," was sponsored by the Wicker Park Bucktown Chamber of Commerce and took place at Goddess and Grocer, 1649 N. Damen Ave.
For the returning aldermen, Thursday was a chance to catch residents and business owners up on various ward projects, criminal investigations, staffing changes and other matters. Both men returned to City Council after winning uncontested elections in February.
La Spata, on the other hand, has only been alderman for four days. He was inaugurated on Monday after ousting the ward's previous leader, Ald. Joe Moreno, on Feb. 26. He still doesn't have an official phone line and the location of the new 1st Ward office has yet to be announced.
"I feel like it was yesterday I was in your shoes," Hopkins told La Spata.
In the meantime, La Spata said constituents should report issues via email to info@the1stward.com.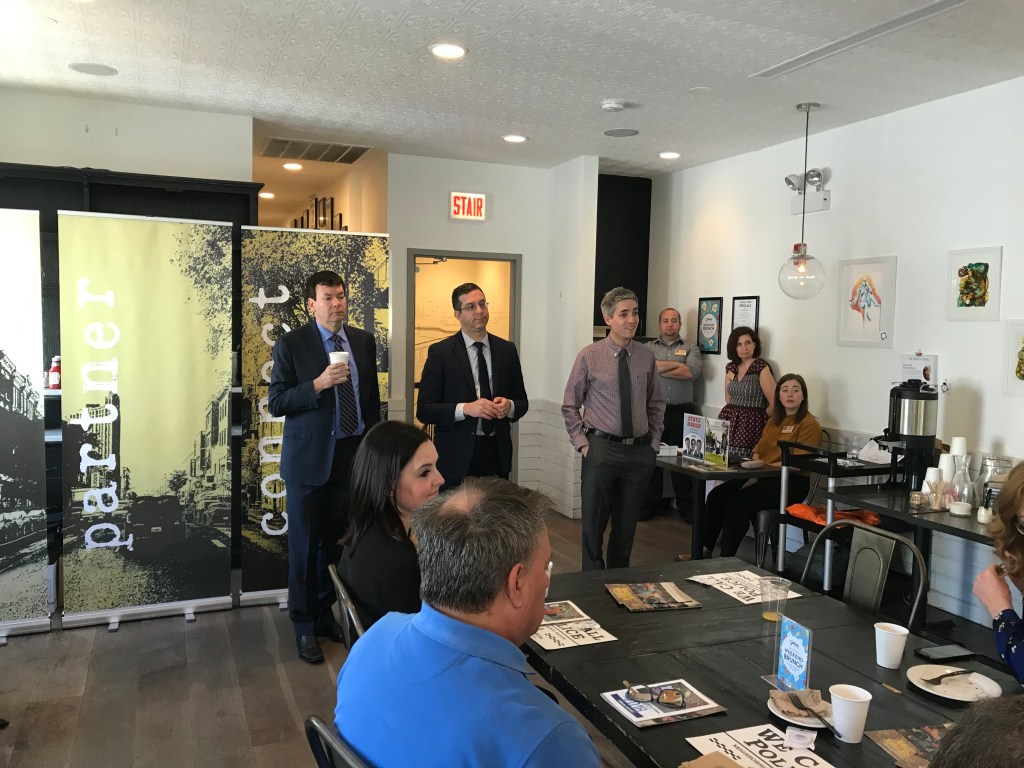 Before taking questions from the crowd, Hopkins and Waguespack each took a few minutes to give a rundown of what's up in their wards.
In the 2nd Ward, Hopkins said his office will…
Offer "satellite offices" at the Polish Triangle during this summer's weekly Tuesdays at the Triangle and at the Wicker Park Farmers Market during the fourth Sunday of each month.
Temporarily issue 1st Ward residential parking permits on behalf of La Spata.
Work with Melvin Roman, the new commander of the Chicago Police Department's Shakespeare District, on an ongoing gang activity investigation in Noble Square.
Keep the community updated on the progress of the Hyatt Place hotel, which is scheduled to open at 1555 N. Ashland Ave. by the end of this year.
Oversee improvements to the CTA Blue Line Division stop, including the replacement of 80-year-old wiring.
Support business-friendly changes to a proposed fair work week scheduling law working its way through City Council.
In the 32nd Ward, Waguespack said his office will…
Work with the Shakespeare District on informing residents and business owners about the "astronomical" increase in car thefts. Last month, 14 laptops were stolen from unlocked cars in the 14th District, Waguespack said.
Work with the community to establish a plan of operation for future use of the vacant building at 1735 N. Damen Ave.
Assist the completion of the Cortland Greenway, an east-west designated bike and pedestrian route route that could lessen bike traffic on Milwaukee Avenue.
Work with the new City Council and the city's Department of Business Affairs to streamline and restructure permitting processes to lessen aldermanic prerogative and privilege.
Support Cook County Assessor Fritz Kaegi's proposed statewide bill that would give Illinois and Cook County the opportunity to collect operating income and expense data from commercial properties.
All three aldermen then took time to field questions from the crowd, which consisted of residents and business and property owners.
Short-term rentals and 'gig economies'
Several residents complained about noise and crime emanating from AirBnb rentals on their streets.
Catherine Crews, board president for the chamber, said she would like to see app-based companies, such as pet-sitting service Rover, regulated and taxed.
"I think it's an opportunity to regulate what's happening in our neighborhoods," she said. "Your neighborhood can literally have 12 dogs in a crate that they're making money off of."
Waguespack agreed, but he said he wanted to see regulation that wouldn't push companies like Wag and Rover out of Chicago.
If the city can figure out how to strike that balance, Waguespack said he hoped the extra business tax revenue would lead to a decrease in the city's reliance on property tax revenues.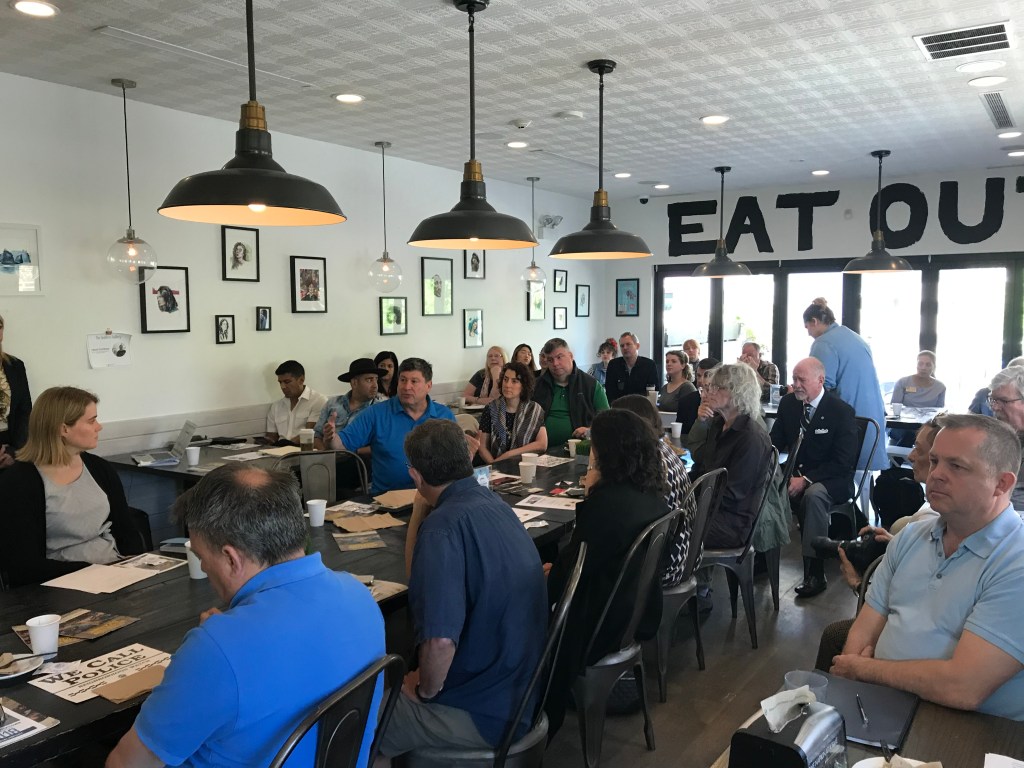 Hopkins said he'd like to see a greater increase in taxes paid by ride share companies. But if voters agree, then they need to call their City Council representatives and the mayor's office to express support for such changes.
"Help us," he told constituents. "It's not an easy layup."
Take AirBnb, for example.
Ald. Michele Smith (43rd) and Ald. Brendan Reilly (42nd) recently led charges to regulate AirBnb, but the company is "an incredibly wealthy, powerful corporate behemoth," Hopkins said.
"It's not a mom and pop operation," he said. They have an "army of lawyers, an army of lobbyists [and] seemingly unlimited funds. … They're making a mockery of the whole thing. … I just think we have to collectively put some real teeth behind enforcement."
Waguespack and La Spata said they also supported regulatory action against AirBnb and similar companies.
Waguespack said a SWAT team was recently sent to his neighborhood where more than 50 people were partying in a rental. Officers found guns at the party, he said.
In addition to crime, La Spata said he was concerned that wards were losing rental units potential housing stock to full-time AirBnbs.
Property tax burdens
A handful of residents and property owners throughout the three wards raised concerns about increasing property taxes.
The rates — which have increased by as much as 90 percent in one year — are not only pushing homeowners out. They're also threatening the livelihoods of condo owners.
What can City Council do to protect mom-and-pop landlords who do not want to sell their buildings to developers who will thrust more gentrification onto the neighborhoods?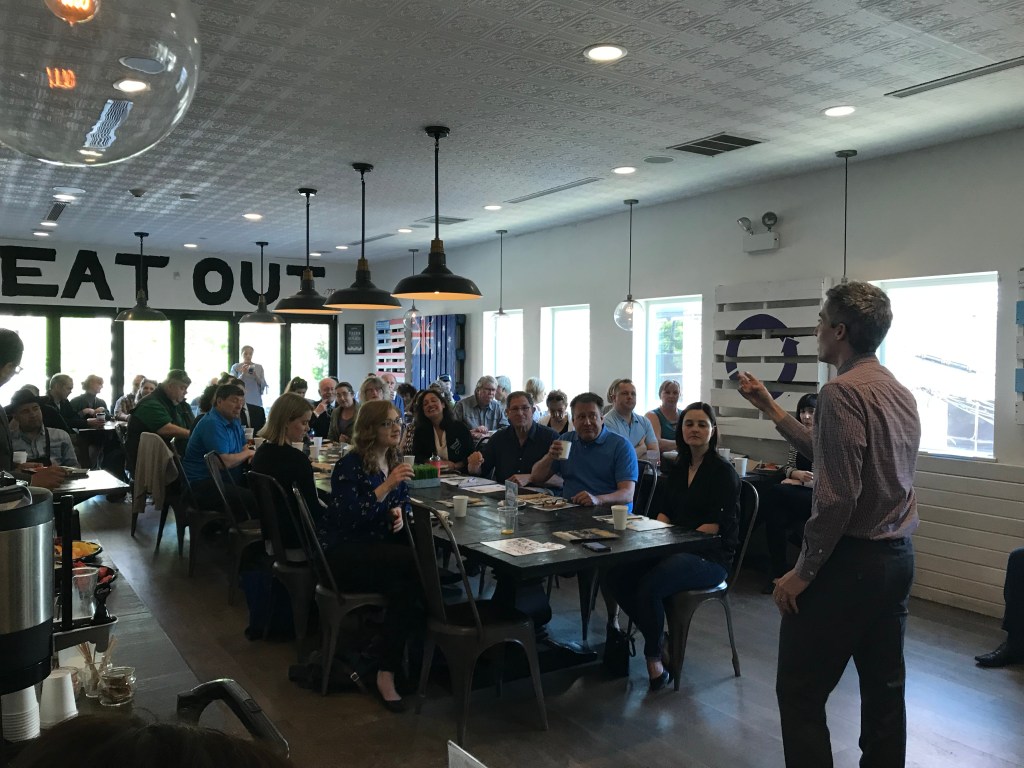 "I'm just a solid middle class guy," one landlord said. "If a 4-flat can [more easily] convert into 5-flat, you just increased by 25 percent without [much] change to the block. The landlord now has more income and you can have an affordable housing unit."
"I definitely hear what you're saying," La Spata said.
A condo owner in the 1st Ward said he hoped for a better relationship with La Spata than the one he had with Moreno.
"I'm just fed up," he said. "I think the citizens lose when it's the zoning attorney that gets the favorable end of the stick, not the residents."  
Waguespack said he has faith in Kaegi to solve the mistakes of former Cook County Assessor Joe Berrios, under whose leadership property taxes across the city skyrocketed.
"We got a guy coming in saying, 'I want to create fairness,'" Waguespack said.
Do stories like this matter to you? Subscribe to Block Club Chicago. Every dime we make funds reporting from Chicago's neighborhoods.