LOGAN SQUARE — After about 23 years of teaching art to CPS students, Audrey Phelan is retiring. But, unlike many folks in her position, Phelan isn't taking a break — she's just teaching out of a new classroom.
Phelan recently teamed up with her son, Sean, to open ArtSpace, a community-driven art studio at 3418 W. Armitage Ave., right next to blues club Rosa's Lounge.
At ArtSpace, both kids and adults can take an array of classes on everything from adult coloring (with jazz and wine) to woodworking for between $12 and $40. Most of the classes are taught by Phelan and teachers Phelan met through CPS. The cocktail-making class, though, is taught by Phelan's son, a longtime bartender who also worked for CPS. Wine and other cocktails are served during adult classes.
For Phelan, the art studio is a way to continue teaching art on the Northwest Side — and engage with the broader community in a meaningful, creative way.
"We're not a chain paint and sip," Phelan said. "We're a community resource arts space, so all things art are in this space. What that means is a much broader picture, but it's also a more human picture. These are people who live in the community and want to continue to live in the community."
Phelan currently teaches at Prosser Career Academy in Belmont Cragin, but spent the bulk of her teaching career at Foreman College and Career Academy in the Portage Park neighborhood. At Foreman, Phelan helped build up the school's art program — and made special connections with her students in the process.
Daisy Hernandez, 21, one of the teachers at ArtSpace, whose cousin and sister had Phelan as a teacher, said of Phelan: "There's this big bubble of love around her."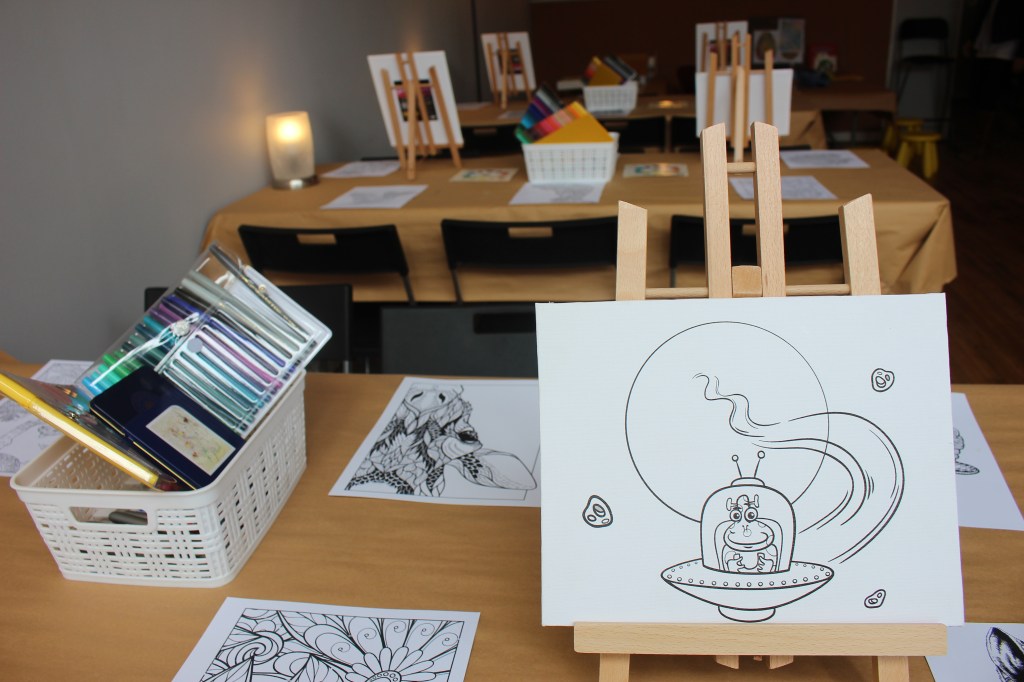 Phelan's time at Foreman came to an end about two years ago when she was among a large group of teachers laid off due to district budget cuts.
But getting laid off wasn't "as tough as you would think," Phelan said.
"Everything I did at Foreman, from being union delegate, department chair, teaching AP — each one, I had goals set and I reached all of my goals within those categories, so I felt really complete," she said.
When Phelan landed at Foreman, the school was home to about 130 teachers; by the time she left, the teaching staff had dwindled to about 40.
"Sadly, most of my friends had already left and were let go, so I wasn't really saying goodbye to anyone," she said.
Prosser, where Phelan currently teaches, has a "really amazing staff and administration," just like Foreman, Phelan said. But, after teaching out of CPS classrooms for more than two decades, Phelan said she's ready to focus on ArtSpace full-time.
ArtSpace is a small storefront art studio with rows of art stations and baskets of art supplies. The bathroom is covered in art book cut-outs decoupaged by Phelan.
Phelan, a native Chicagoan, had an illustrious art career before she began working for CPS. She spent many years living in Ireland and Australia, doing commissioned portraits and public installations. She once designed a mausoleum and painted a church's glass windows.
Phelan went on to attend the School of the Art Institute before embarking on her teaching career.
With ArtSpace, Phelan is putting both her teaching skills and formal art training to use.
"My need to mentor people is really strong," she said.
To learn more about ArtSpace classes, or sign up, visit the art studio's website.