CHICAGO — Lori Lightfoot was sworn in as Chicago's new mayor Monday, becoming the city's first openly gay mayor and the first black woman to run the city.
And one who promised change from Day 1 — including stripping unchecked veto power from aldermen, the controversial practice known as "aldermanic prerogative" that Lightfoot contends is a root cause of corruption.
READ LIGHTFOOT'S INAUGURAL SPEECH HERE
"I know, I know … putting Chicago government and integrity in the same sentence is …well… a little strange," she said to laughs. "But that's going to change. It's got to change.
"For years, they've said Chicago ain't ready for reform.
"Well, get ready … because reform is here."
At the inauguration ceremony at the South Loop's Wintrust Arena, Lightfoot became the 56th mayor of Chicago, taking over for Rahm Emanuel who served eight years in office. Also in attendance was former Mayor Richard M. Daley, a rare public appearance for the 77-year-old who was the city's longest serving mayor at 22 years.
In her inaugural speech, Lightfoot pledged to tackle the city's financial and public safety problems, bring affordable housing to more parts of the city and improve city schools.
She also reflected on her journey to City Hall's Fifth Floor.
"As I stand here today, I can't help but think of where I came from — and I know, in my heart, that a story like mine of a kid from a working class family growing up to realize the dreams of my father and mother through education, hard work and sheer determination needs to be the story of possibility in every neighborhood," she told the audience.
"Kids who look like me and come from families like mine shouldn't have to beat the odds to get an education, pursue their passions, or build a family. Black and brown kids, low-income kids, every kid in this city should grow up knowing they can pursue anything, they can love anyone — that's my Chicago dream.
"I know we're just a little bit closer to that dream as I stand here today, inaugurated as Chicago's first black woman and first openly gay mayor. I know we're a little bit closer as we celebrate that, for the first time in the history of Chicago, women of color now hold all three of our city-wide elected offices."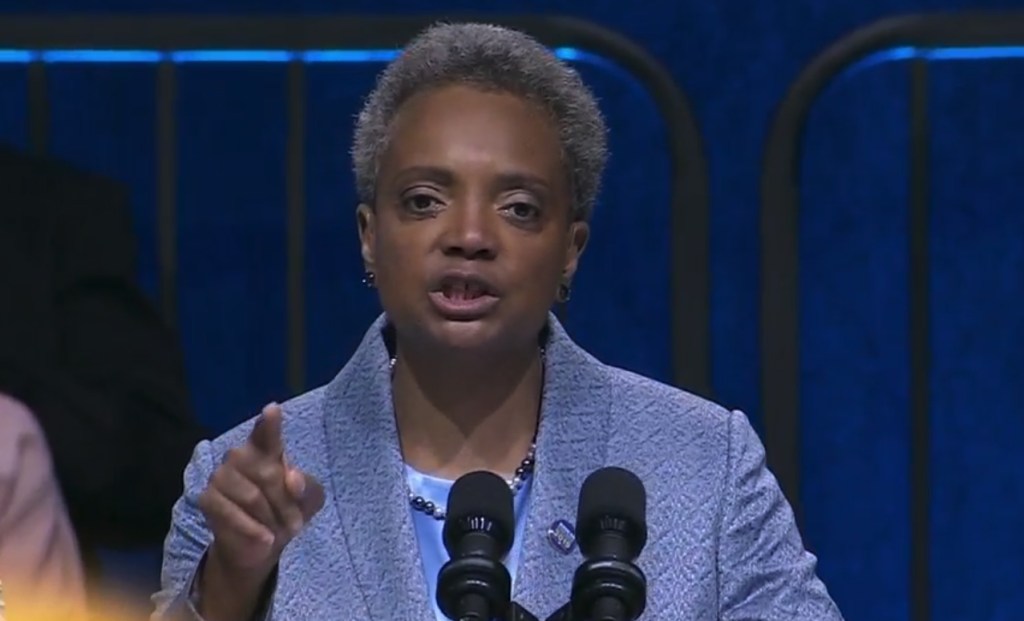 Lightfoot pledged to make Chicago a more equitable place for everyone, where someone "shouldn't have to beat the odds" to build a life for themselves and their families.
Her inauguration came before 8,000 well-wishers and admirers determined to usher her into office on a wave of goodwill, where she will face dozens of seemingly intractable problems including a massive budget deficit and pervasive violence.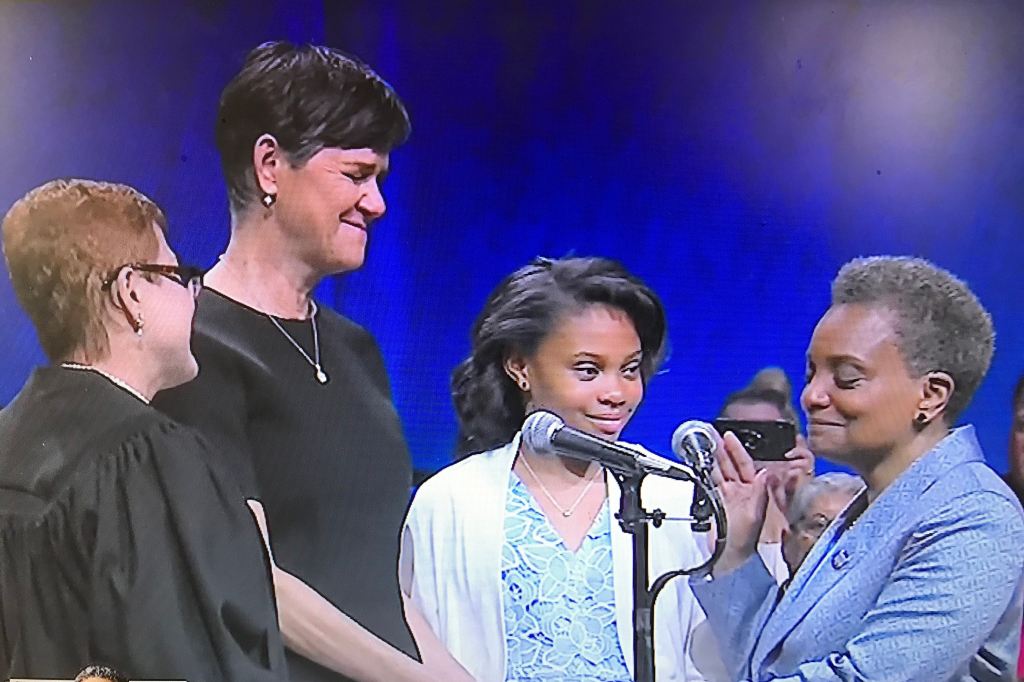 She addressed the challenges in her speech, and pledged "to face them together."
"I stand here today as your Mayor, humble and hopeful, and I make one solemn promise to the generations who came before us and to the generations who come after us: We will continue to build this great city, and leave it better, stronger, fairer, and more prosperous than we found it.
"The challenges we face today did not arise overnight, and they will not be solved overnight," she said.
"… Folks, we are and must be in this together. Our challenges can only be solved if we face them together. We cannot fail.
We will not fail. We are Chicago."