EAST PULLMAN — A historic neighborhood once considered a food desert is now home to the first food hall ever to open south of Roosevelt Road.
Thursday's grand opening of One Eleven Food Hall at 756 East 111th Street, also makes it the first venue to feature three African-American chefs.
Three restaurants — Laine's Bake Shop, Exquisite Catering and Events and Majani Soulful Vegan Cuisine — have set up shop in the 111th Gateway Retail Center, which opened in October 2017.
The food hall restaurants join Potbelly, Walmart, Planet Fitness, Ross Dress for Less and the Blue Door Neighborhood Center, a community health and wellness hub operated by Blue Cross Blue Shield Illinois.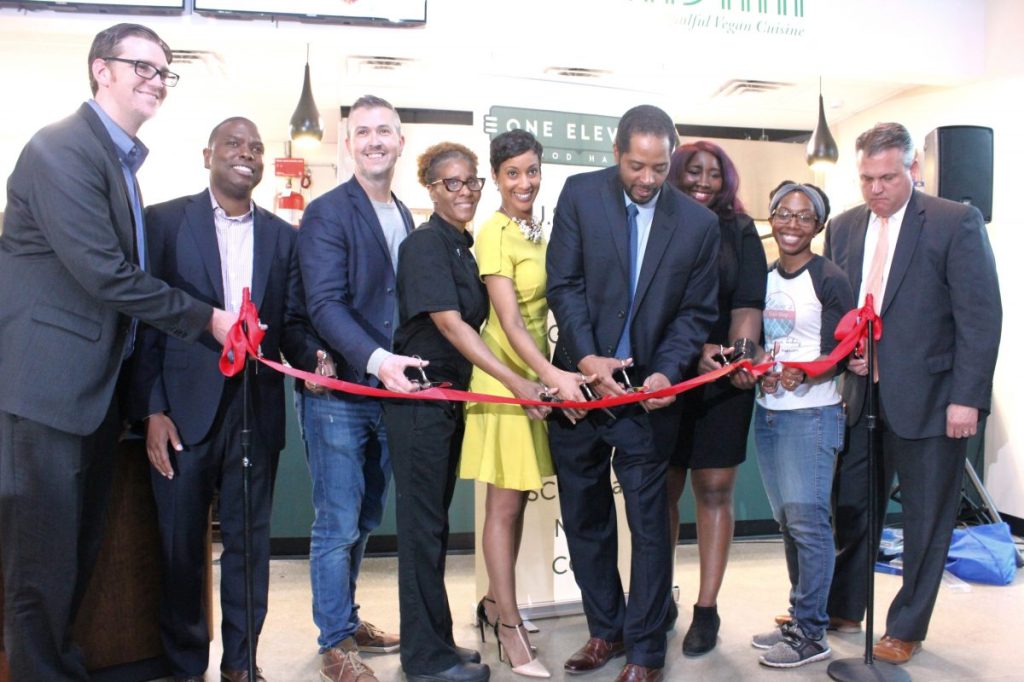 This is the second location for Majani's Soulful Vegan Cuisine, a healthy dining option from husband and wife team Tsadakeeyah and Nasya Emmanuel, who opened their South Shore restaurant in June 2017.
One Eleven is the latest in a series of strategic moves to revitalize the Pullman/Roseland area, a community often ignored unless there's a tragedy involved, according to David Doig, president of Chicago Neighborhood Initiatives, a real estate development firm that fosters economic growth in underserved communities.
"People know Pullman's history, some have moved here because of the history," said Doig. "But now to actually showcase it, and do it a way that's respectful, high quality and modern is really exciting."
Historically, black entrepreneurs have a difficult time securing loans from traditional lenders; even if they are approved, they're rewarded with low loan amounts and higher interest rates. But in this case, CNI had previously worked with the three business owners, and helped them secure loans to build out the food hall through their micro lending arm, CNIMFG.
That, combined with $4.5 million in New Market Tax Credits from the National Community Investment Fund and U.S. Bank, and $500,000 in TIF money from the city, allowed CNI to offer short term leases and below market rate rents to the three restaurants.
For Tiffany Williams, owner and executive chef of Exquisite Catering and Events, the grand opening was the actualization of a long-held dream.
"I'm a single mother of three, but I never let it stop me. I decided to step out on faith and start my catering business," said Williams, a Woodlawn native who has catered for celebrities like Beyonce and Chance The Rapper.
"I had a lot of acknowledgment in the area from being a general manager, from being an executive chef, and from a lot of different roles in different spaces, so putting them together wasn't the hard part. It was managing it, making sure I had enough people helping me with events, making sure I was on time."
"When I walked in to see so many people here, and this space filled, I said 'We did something here. We really did."